Politics
Elizabeth Warren's office compiled a report on the Trump administration's Hatch Act violations. They counted more than 50.
"The American people deserve a president and administration that respect the law."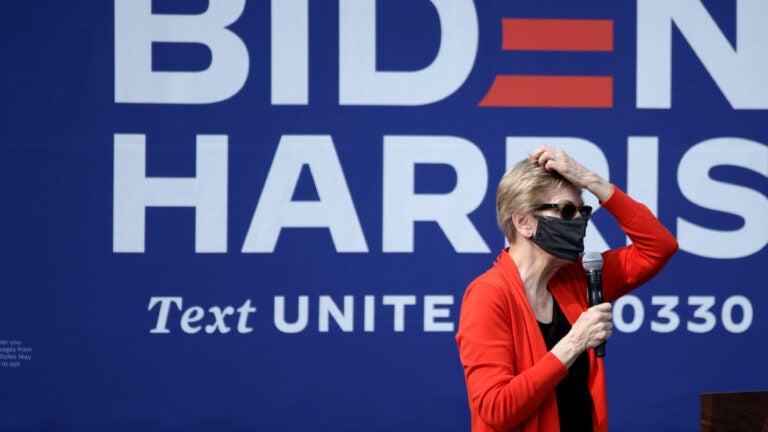 Sen. Elizabeth Warren often calls President Donald Trump's administration the "most corrupt" in the country's history — and not just because of the headline-grabbing stuff.
In a report Thursday shared exclusively with Boston.com, the Massachusetts senator's office put together a list of all the confirmed and alleged violations of the Hatch Act by Trump administration officials, finding a pattern of disregard for the law with "almost no consequences."
In short, the Hatch Act is an 80-year-old law that generally forbids federal executive branch employees from engaging in partisan political activities — like stumping for or against a candidate — while on the job so that taxpayer money isn't effectively being used as if it were a campaign donation. There are some exceptions, including for the president and vice president, as well as even stricter rules for employees involved in national security, law enforcement, or elections.
According to the U.S. Office of Special Counsel, which enforces the Hatch Act, the law also seeks to ensure "that federal programs are administered in a nonpartisan fashion, to protect federal employees from political coercion in the workplace, and to ensure that federal employees are advanced based on merit and not based on political affiliation.​​​"
Other presidential administrations have also been hit for violating the Hatch Act.
However, despite a change narrowing the criteria for violations in 2014, the new report from Warren's office says Trump's administration is openly flouting the act.
In total, the Cambridge Democrat's Senate staff counted more than 54 violations of the Hatch Act by 14 administration officials dating back to 2017, as well as nearly 100 additional pending investigations for alleged violations by 22 officials.
Perhaps most notably, former White House adviser Kellyanne Conway was found by the Office of Special Counsel to have violated the Hatch Act 35 separate times dating back to 2017 in speeches and on social media.
Housing and Urban Development administrator Lynne Patton and White House aides Alyssah Farah and Madeline Westerhout were also found to have multiple violations. Violators also include several high-ranking cabinet members, including Agriculture Secretary Sonny Perdue, former ambassador to the United Nations Nikky Haley, and former Interior Secretary Ryan Zinke.
And many other well known names — from Attorney General William Barr to White House adviser (and Trump's son-in-law) Jared Kushner to Education Secretary Betsy DeVos to HUD Secretary Ben Carson — remain under investigation for alleged Hatch Act violations following complaints by watchdog groups.
Trump's daughter Ivanka Trump, who has a paid job as a White House adviser, accounts for nearly a quarter of those investigations, following 23 complaints for using her official Twitter account to promote her father's re-election campaign. Peter Navarro, a White House economic adviser, has 27 complaints, mostly for attacking Democratic presidential nominee Joe Biden on social media and in cable news interviews conducted in his official capacity.
"The Hatch Act isn't some nebulous, technical code buried deep in some federal manual," Noah Bookbinder, the executive director of the watchdog group Citizens for Responsibility and Ethics in Washington, said in statement in August cited by the report Thursday. "It's the law meant to keep officials from using taxpayer dollars and the authorities of the federal government to keep themselves in power, as totalitarian regimes do."
Other violations and complaints range from Patton using her official government Twitter account to "like" partisan tweets to Secretary of State Mike Pompeo's speech at the Republican National Convention. According to the report, Trump himself may have violated the act by ordering the use of "executive branch powers for partisan ends," such as the Ukraine call that was at the heart of his recent impeachment trial.
Additionally, Warren's office says the Hatch Act isn't being adequately enforced.
Cases are initially handled by the Office of Special Counsel, which is limited to issuing advisory opinions to the president for cases involving employees in confidential and policymaking roles. Appeals are also normally handled by a separate board consisting of three-members appointed by the president. That board has been completely empty since March 2019, resulting in a backlog of cases, the report said.
The Office of Special Counsel did ultimately recommend Conway's removal in June 2019. However, she only voluntarily left the White House more than a year later this past August. And most others who violated the act only received warning letters, according to the report by Warren's office. Perdue, who was ordered to reimburse taxpayers after he used an event to promote Trump's re-election, was the only other exception.
"No one is above the law," the report by Warren's concludes.
"The American people deserve a president and administration that respect the law, not senior officials who openly flout or mock the anti-corruption rules protect our democracy," it continues. "The President of the United States must enforce the Hatch Act and establish a culture of compliance with all anti-corruption laws and rules to prevent executive branch officials from wasting taxpayer dollars and abusing the power of their federal government positions for partisan purposes."
For his part, Trump has argued that disciplining officials for Hatch Act violations would be a violation of their free speech rights. Conway herself even mocked the notion of disciplinary action for her Hatch Act violations.
"Blah, blah, blah," she told reporters last year when asked about the Office of Special Counsel's findings.
"Let me know when the jail sentence starts," Conway added.
Get Boston.com's browser alerts:
Enable breaking news notifications straight to your internet browser.