Politics
Elizabeth Warren reportedly wants to be Treasury secretary if Joe Biden wins
"I think the door's gonna open a crack here for real change in this country."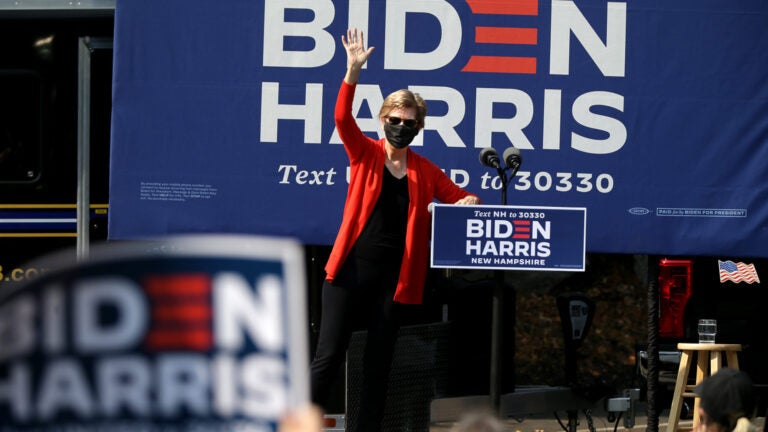 Sen. Elizabeth Warren says she's focused on the election next week — but the Massachusetts senator is also reportedly thinking about her future after Nov. 3 if Democratic presidential nominee Joe Biden emerges victorious.
According to a Politico report Thursday evening, Warren wants to be Treasury secretary and will make a case for it if Biden wins, setting up a potential post-election fight between the Democratic primary's progressive wing and its more business-friendly members over who has the country's top finance post as it — hopefully — emerges from a pandemic-induced recession.
The report cited three three Democratic officials who have spoken with Warren's inner circle. Earlier on Thursday, the Cambridge Democrat herself was asked during a GBH radio appearance about potentially being Treasury secretary in a Biden administration, but refused to entertain any such hypotheticals.
"I'm not gonna focus at all on having an eye on what to do after November 3," she said. "Right now — focus, focus, focus. We've got to make it through November 3. We've got to win."
"I think the door's gonna open a crack here for real change in this country," Warren added, referring to a potential Biden administration.
Before joining the Senate, the former Harvard bankruptcy law professor and Wall Street critic had reportedly sought a position in President Barack Obama's administration in an attempt to press for more populist economic policies. Warren was also sharply critical of the moderate Biden as a fellow Democratic presidential primary candidate for not proposing more "fundamental change." Even before the primary, the two Democrats had a long history of public clashes.
However, since Biden wrapped up the nomination, Warren has offered her unequivocal support, vouching for the former vice president in the general election campaign against Republican President Donald Trump and even working to shape his platform as an advisor. Warren is also scheduled to campaign for Biden in New Hampshire this weekend. During her appearance on GBH, Warren said she talks to Biden "a lot about economics."
"We talk a lot about what is possible," she said. "We talk about Franklin Roosevelt."
Progressive groups — and some of Biden's advisors — have already been readying a push to ensure that the Democratic Party's left wing has a voice in his White House if he is elected; some have outspokenly advocated for Warren as Treasury secretary.
Despite her past criticisms, Warren said Thursday Biden now "understands that the moment has changed," referring to the COVID-19 pandemic and the recent racial justice reckoning.
"The world as it was in the middle of our Democratic primaries, or the 30 years before that, is not today's world," she said, later adding, "We have … deep systemic problems that the coronavirus both exposed and made worse. And that makes today a day that is both about the urgency of change, but it's also about the opportunity for change."
Warren's interest in Treasury secretary would potentially open up a Senate seat in a state with a deep bench of Democrats, including several that — more or less — haven't been shy about their interest in the position.
Under the current Senate vacancy rules in Massachusetts, if Warren did take a position in Biden's administration, Republican Gov. Charlie Baker would appoint a temporary replacement and then call a special election within 145-160 days — which could, at least for a few months, cost Democrats a Senate seat. However, the Massachusetts state Legislature has been known to change those rules.
Get Boston.com's browser alerts:
Enable breaking news notifications straight to your internet browser.