Politics
What went wrong for ranked choice voting in Massachusetts?
"It's hard to make this kind of structural change, especially during a pandemic."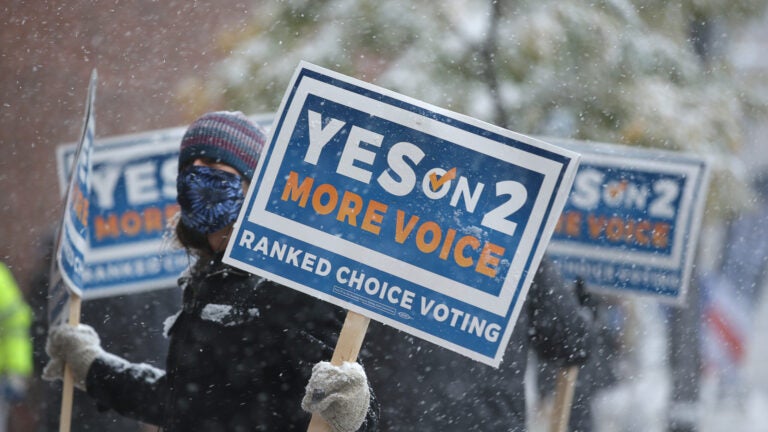 The campaign to bring ranked choice voting to Massachusetts seemed like it had a lot going for it: endorsements from the deep-blue state's top elected Democrats, an enthusiastic base of support, a roughly 3,000-to-1 fundraising advantage over a last-minute opposition campaign.
Pre-election polls even showed the ballot measure, Question 2, with a slight lead.
But when it came down to it Tuesday, the initiative more than a year-and-a-half in the making could not overcome public skepticism about overhauling the state's elections at a time when voting — and, perhaps more importantly, campaigns — across the country had been disrupted by the COVID-19 pandemic. With nearly 99 percent of precincts reporting, the measure was rejected by a margin of 55 percent to 45 percent.
"The idea behind it is a reasonable idea, but it's complex, and many voters didn't really grasp what it would mean for them," Secretary of State Bill Galvin said at a press conference Wednesday, adding that the fact Massachusetts voters already had to learn about the expansions of early and mail-in voting this year probably didn't help Question 2's cause.
"We weren't really competing against a no campaign," Evan Falchuk, the board chair of the Yes on 2 campaign, told Boston.com in an interview. "We were competing to make sure we could educate enough people about what rank choice voting is."
If passed, Question 2 would have implemented ranked choice voting for all state and federal elections — with the exception of the presidential race — in Massachusetts beginning in 2022. Under the system, in races with more than two contestants, voters can rank candidates by preference (first choice, second choice, and so on). And in cases where no candidate gets at least 50 percent of the vote when the first-choice votes are counted, votes are reallocated based on who supporters of the last-place finisher (or finishers) picked as their next-favorite pick.
Proponents argue that the system mitigates the fear of the "spoiler effect," where like-minded candidates cannibalize each other's support, allowing a less-desirable candidate to win.
And they have pointed to polling that suggested that voters who understand the system support ranked choice voting.
However, according to Falchuk, the pandemic disrupted their outreach campaign.
The Yes on 2 side had planned to replicate the successful 2016 ballot measure in Maine, which became the first state in the country to adopt ranked choice voting, with widespread "ground-level" campaigning and house parties. Before the pandemic, Falchuk said the group held events where they had people fill out mock ranked choice voting ballots based on their favorite desserts or, at least in one case, bourbons.
"Wish you all could've come to a beer-ranking party. Or a donut-ranking party," Mike Zarren, the Boston Celtics assistant general manager and a Yes on 2 board member, tweeted early Wednesday morning after the campaign conceded defeat. "You'd see that ranked choice voting isn't confusing."
The campaign ultimately leaned into a more media-heavy strategy in Massachusetts, pouring several million dollars into TV and social media advertising this fall (overall, according to its most recent state finance report, the campaign raised nearly $10 million).
It also utilized high-profile surrogates, including Sens. Elizabeth Warren and Ed Markey, six of the state's nine members of Congress, Attorney General Maura Healey, and former Govs. Deval Patrick and Bill Weld — who argued that ranked choice voting would encourage more diverse, positive campaigns, in addition to more majoritarian results.
"Massachusetts is very good at being progressive in theory, less so in practice," Rep. Ayanna Pressley said during a rally Tuesday morning in support of Question 2.
Despite the measure's support from local Democrats, the question ran well behind Markey and Democratic presidential nominee Joe Biden in cities and towns across Massachusetts in the election Tuesday.
While the Yes side won with often-large margins in Boston and its surrounding liberal suburbs, including 3-1 majorities in cities like Cambridge and Somerville, those results were drowned out by double-digit losses across the rest of the map. Even some traditional Democratic strongholds, including the state's second and third biggest cities, Worcester and Springfield, voted against the measure. Question 2 also lost by double digits in Brockton and New Bedford; it lost by 25 percentage points in Fall River.
According to a poll last week, Question 2 had 2-1 support among registered Democrats.
"We could not get to as many people as you needed to get to," Falchuk said.
However, opponents of Quesiton 2 said they used the measure's established support to sow doubt in the minds of undecided voters.
"We were able to tell people, 'Do you really believe that this system breaks the trend of entrenched power?'," said Anthony Amore, a former Republican secretary of state candidate and a volunteer surrogate for the No on 2 campaign, which only spent a few thousand dollars in the race.
Opponents also disputed the argument that the more people learn about ranked choice voting, the more they support it. In the information packet sent by Galvin's office to registered Massachusetts voters, the Massachusetts Fiscal Alliance also invoked California Govs. Gavin Newsom and Jerry Brown, two Democrats who blocked efforts to replace their state's open-party runoff elections with ranked choice voting on the basis that it was too "overly complicated and confusing" and doesn't necessarily fulfill all its promises.
Republican Gov. Charlie Baker also came out against Question 2 a week before the election Tuesday, though Falchuk says they didn't notice much impact from the announcement.
Still, after a number of competitive state primary elections this summer, MassFiscal spokesperson Paul Craney said most voters "tuned in to this debate very late."
"And they saw that whatever limited benefits ranked choice does have does not outweigh the costs associated with it," Craney said.
While ranked choice voting ballot measures did pass in five cities across the country Tuesday, a similar statewide initiative in Alaska appears on track to lose.
Falchuk says they saw the "reform-minded" electorate in Massachusetts as a benefit, adding that it is "possible" they could try another ranked choice ballot measure in the future. And he took some solace in the accomplishment of receiving nearly 1.5 million votes.
"It's hard to make this kind of structural change, especially during a pandemic," Falchuk said.
Get Boston.com's browser alerts:
Enable breaking news notifications straight to your internet browser.