Politics
Charlie Baker says Trump's claims about the election are 'damaging to democracy'
"At some point, everybody's got to get used to the idea that we need to move forward as a country."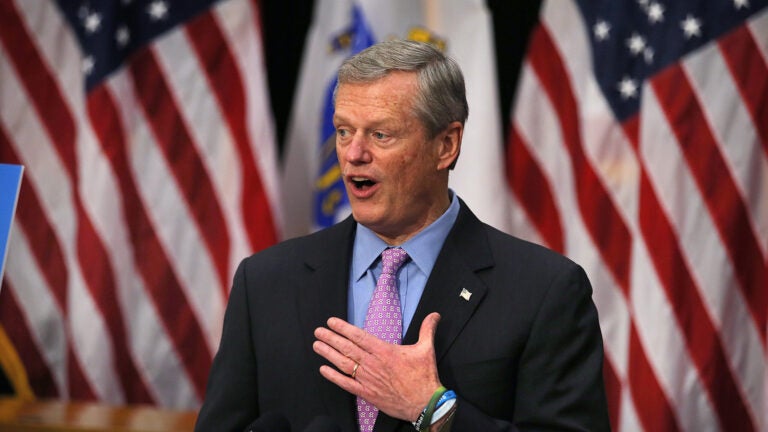 Massachusetts Gov. Charlie Baker rebuked President Donald Trump's efforts to undermine vote counting in the election on Friday, joining the small number of prominent elected Republicans who have directly criticized the incumbent GOP president for his unsubstantiated claims.
"The president's comments that there's some national conspiracy around this aren't supported by any of the facts, and they are damaging to democracy," Baker told reporters during a press conference Friday afternoon, adding that Trump's recent comments "cheapen" those who have run for office or voted in the 2020 election.
The moderate Republican governor's remarks come as the continued vote counting in states like Arizona, Georgia, Nevada, and Pennsylvania show Trump trailing former vice president and Democratic presidential nominee Joe Biden. In response, Trump has accused — without evidence — Democrats of stealing the election.
When asked about Trump's claims, Baker noted that ballot counting processes in those states were being conducted on a "bipartisan basis" and often overseen by members of the president's own political party.
"Pennsylvania has a Republican House and a Republican Senate and a Democrat governor," he said. "Georgia has Republican governor, a Republican House, a Republican Senate, a Republican Secretary of State. Arizona has a Republican governor, Democrat House, and I think a Republican Senate."
(Republicans actually also control Arizona's State House of Representatives, but Baker got all the other ones right.)
Baker added it was "perfectly appropriate" for states, like Georgia, to pursue recounts under their established rules and procedures and also urged the courts to "move quickly" if they needed to get involved. But given the fact that the drawn-out 2000 presidential election led state and federal lawmakers to both modernize how elections are administered and clarify voting rules, Baker suggested that the post-election maneuvering wouldn't affect the outcome.
"We're in like the seventh or eighth inning of this game," he said. "At some point, everybody's got to get used to the idea that we need to move forward as a country and deal with all of the significant issues that we have to deal with here."
In a statement Wednesday, Baker called "for every vote to be counted" and said Trump "especially" should support the process. The governor, who revealed on Tuesday that he again voted for no presidential candidate in this election, has repeatedly criticized Trump in the past for violating democratic norms, such as suggesting the election be delayed due to the COVID-19 pandemic or refusing to commit to a peaceful transfer of power.
According to Baker, the president's most recent comments were also an unfortunate distraction from the fact that the country appears on pace for record turnout in the 2020 election.
"We should be celebrating this," he said.
Get Boston.com's browser alerts:
Enable breaking news notifications straight to your internet browser.