Politics
'If I had just stayed home they would've tied': Meet the voter who may have pushed Webster from red to blue with one ballot
"We ended up at 6:30 driving an hour down to Webster and getting to the polls at 7:30, so a half hour before they closed."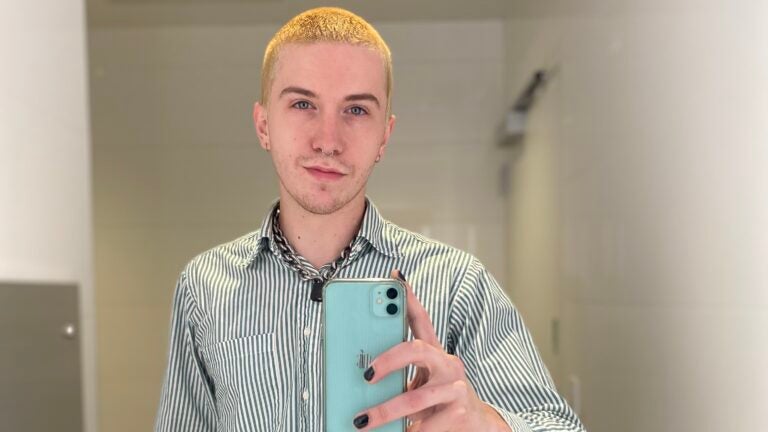 For former vice president Joe Biden, all it took to flip the town of Webster in his favor was a single ballot — and maybe an hour's drive for one determined voter.
Jake Beaumont, a 24-year-old who moved to Boston earlier this year from the central Massachusetts community, set out after dusk on Election Day to his former neighborhood with a personal mandate to cast his ballot in the contentious presidential election.
Beaumont filled out state forms in September to update his voter registration to his new address, he said. But upon arriving at his new polling place in Allston around 5:30 p.m. on Tuesday, he was informed that poll workers couldn't find his name listed. A supervisor made a call and, minutes later, told him he was still registered in Webster, where he voted in 2016, Beaumont said.
He was crushed.
"They were like, 'Well, here's the voter registration form, you can fill this out for next election,' and I was just so upset, I just threw it in the trash and walked out," Beaumont told Boston.com. (Don't worry: He will indeed re-register before then, he said.)
When the coronavirus pandemic hit, Beaumont, who had been employed as a bartender, sold his car to make ends meet, he said. In the months since, he's gotten around the city on a bicycle, making the 54-plus-mile journey to Webster improbable on his own.
Beaumont said he was so distraught that his girlfriend pulled up her GPS and eventually offered to drive him out to the central Massachusetts town where he attended high school.
"We ended up at 6:30 driving an hour down to Webster and getting to the polls at 7:30, so a half hour before they closed," Beaumont said.
"(I) was just in and out, voted in like five minutes, and went out to the car with a big thumbs up and a smile and holding my 'I voted' sticker," he added.
Beaumont didn't realize just how potentially significant his vote was until he was scrolling through Reddit the next morning, where he learned Biden carried Webster with 4,003 votes to President Donald Trump's 4,002. Libertarian candidate Jo Jorgensen raked in 130 votes. (Mail-in ballots received by 5 p.m. Friday could change that tally, as long as they're postmarked by Nov. 3.)
Trump won the town, which sits on the Connecticut border, by 460 votes in 2016.
Beaumont responded to the online thread in astonishment: "HOLY S*** I drove an hour from Boston to Webster last night to vote after being turned away at my Boston Polling Station. If I had stayed home they would've tied."
Before long, his phone was blowing up. One person even sent him $20 for Domino's Pizza.
"I was just getting hundreds and hundreds and hundreds of messages throughout the day, of like, people thanking me and commending my commitment to voting and tons of people calling me like a hero and a legend," Beaumont said with a laugh. "Definitely a little unwarranted."
Beaumont hopes at least his story encourages others to get out and vote. While Biden easily carried Massachusetts's 11 electoral votes, Beaumont said it was still satisfying to see a single vote shift Webster to blue.
"I got a lot of comments with people saying that like, 'Oh, you think your vote mattered? It really didn't. Massachusetts has been blue for decades,'" he said. "But that's not what it's about. It's about the small changes, you know?"
Get Boston.com's browser alerts:
Enable breaking news notifications straight to your internet browser.