Politics
Marty Walsh says he'll announce whether he's running again 'sometime in the new year'
The mayoral election already has two contenders on the campaign trail.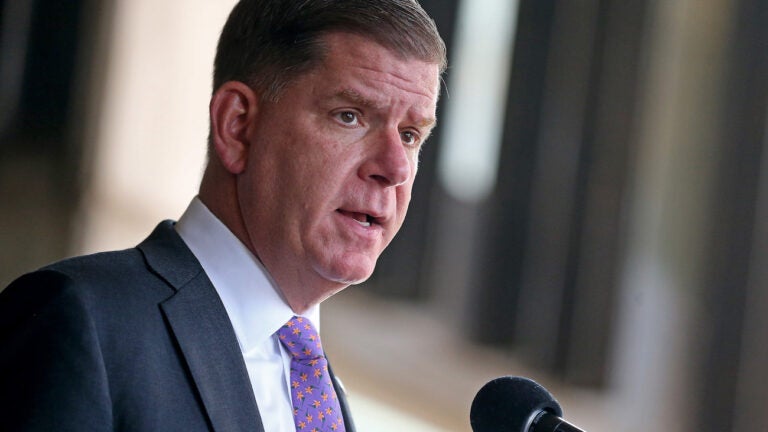 While his potential challengers have already hit the campaign trail, Mayor Marty Walsh indicated Friday that voters will have to wait a bit longer to hear whether Boston's chief executive will seek a third term.
Appearing on GBH's monthly "Ask the Mayor" segment on "Boston Public Radio," the Dorchester Democrat — who has hinted at an intent to run for re-election but has not said decisively that he will — was pressed to offer up his plans for the future by co-host Jim Braude.
Walsh was asked whether he would consider running for Sen. Elizabeth Warren's seat, should Warren leave it vacant for a position in a Joe Biden administration.
Warren has reportedly expressed interest in serving as Treasury secretary. Votes in the presidential election in key states were still being tallied when Walsh was on air Friday, with Biden slightly ahead of President Donald Trump in Pennsylvania, Nevada, Arizona, and Georgia.
"I'm focused on being the mayor of Boston right now," Walsh said.
Speaking of being mayor, Braude said, what about Walsh's potential foray into the growing field of candidates for next year's mayoral election?
City Councilors Michelle Wu and Andrea Campbell launched their campaigns for Walsh's seat earlier this fall.
"Don't worry, I'll announce sometime in the new year — we'll be talking about what my plans are," Walsh told Braude.
The radio host, later on, quipped that with the election set for November next year, Walsh would have to announce sometime before then.
"The papers come out in April … you have to pull your papers, you have to get your, I want to say, 1,500 signatures to get your name on the ballot, and then we're all off and running," Walsh said.
With the potential of an open Senate seat in the Bay State, Walsh was asked earlier in the segment whether Republican Gov. Charlie Baker should appoint a Democrat to take Warren's place if she leaves.
The governor would be required to appoint a temporary replacement until a special election for the Cambridge Democrat's successor is held within 145 to 160 days.
"I think he should appoint the best person to represent Massachusetts," Walsh said. "I mean, for all intents and purposes, maybe he will pick a Democrat, maybe he'll pick a Republican. I'm not sure what he's going to do."
Walsh noted Baker would likely face pressure from Senate Republicans in Washington to appoint a party member.
"I know I would put a Democrat in there if I were the governor," he said. "But I mean, again, I can't speak for Gov. Baker, what he's going to do there. That'll be an interesting race, obviously, because there's been a lot of names floating around for that for that seat."
As for his own prospects of a cabinet position in a Biden administration, Walsh said he has not thought about it.
"I'm just excited about the election," he said. "Honestly, I am."
Get Boston.com's browser alerts:
Enable breaking news notifications straight to your internet browser.