Politics
The Democrats went all out against Susan Collins. Rural Maine grimaced.
Maine offers an example of how a nationalized, big-money effort can backfire.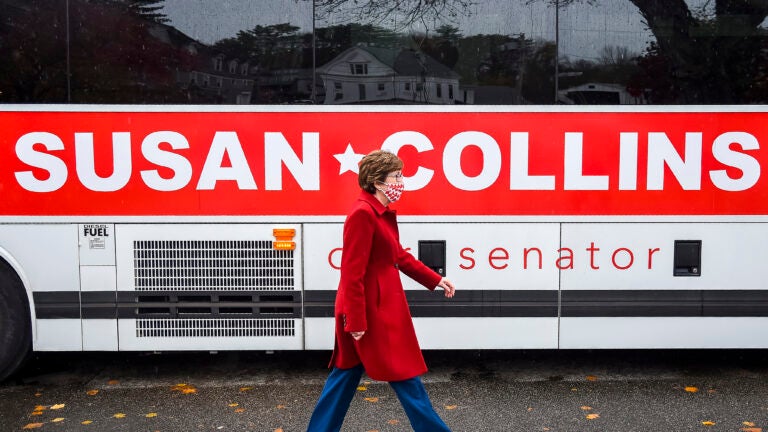 RUMFORD, Maine — In the great Democratic heave to remove Susan Collins from her Senate seat in Maine, Matt Gilbert should have been low-hanging fruit.
He is the son of a four-term Democratic state representative in one of Maine's traditionally Democratic mill towns. As a high school principal, he had complaints about Collins, a Republican, mostly centering on Trump-era education policy.
But over the weeks leading up to Election Day, Gilbert was first put off, and then "disgusted," by the negative tone of the Senate showdown, in which spending by candidates and outside groups totaled more than $180 million.
The relentless television advertisements. The cold calls. The mailings, fistfuls of them every day, "crumpled up and in the recycling bin" before he even glanced at them.
By the time the Democratic Party distributed yard signs, Gilbert refused to display one for Sara Gideon, Collins' opponent, leaving a gap among the signs he displayed in support of Joe Biden; Jared Golden, his Democratic congressman; and Black Lives Matter. He ended up voting for Lisa Savage, an independent candidate.
"The approach on the ads and campaigning was disgusting enough that I didn't want to vote for the person anymore, even though I agreed with the policy stances," he said.
"I don't think you could sit there and say this is a classy way to do this," he added. "I don't think that's what Maine represents."
The Democratic effort to remove Collins is bound to be analyzed by strategists seeking to avoid a similar disappointment. She has long been an object of frustration for the left, voting like a Democrat on issues like abortion but defending President Donald Trump at critical moments like the impeachment proceedings and the nomination of Brett Kavanaugh to the Supreme Court.
In a state tilting away from Trump, Collins appeared to be easy pickings, and donors poured money into the state. For weeks before the election, polls showed Collins struggling for survival, outspent 2-to-1 by her rival. But on Nov. 3 she won by 8 points, in large part thanks to a groundswell of support in small towns.
In Rumford, which flipped Republican in 2016, voters thought the reasons were clear: The Gideon campaign, they said, was too focused on national politics. It was too negative, they complained. And it cost too much money, too much of it from outside the state.
"It was like being a local in Woodstock in 1969," said Dan Shea, a professor of government at Colby College. "When it first started, it was exciting and fun, but by the end, it was muddy and dirty. My guess is that there were diminishing returns by September."
Targeted spending on advertising does, of course, work in some cases. Mark Kelly, the Democratic Senate candidate in Arizona, was buoyed by $38.7 million in donations in the last three months of the race, and defeated Martha McSally, the Republican incumbent, in a traditionally conservative state.
But Maine offers an example of how a nationalized, big-money effort can backfire. Maine's media market is tiny and the cost of advertising so low that the campaigns were hard-pressed to spend the money they had.
As a result, viewers were flooded with advertisements starting in the spring, accusing Collins of selling out to special interests or caving to Trump. And that spending — perceived as coming from outside the state — did not sit well with many Mainers.
"If you pump $100 million in here, you're trying to buy the election," said David Libby, 65, a boilermaker from Rumford.
"I'm not opposed to someone bringing their views here, but you can't shove it down our throat," he said. "You cannot force something down the throat of a Mainer. If we agree with it, we agree. If we don't, we don't. And we certainly will let you know either way."
Heidi Arsenault, who was shampooing a customer at the House of Beauty, in the adjoining town of Mexico, said the campaign spending was particularly unappealing at a time when many Mainers were struggling to feed their families.
"To think that kind of money was spent is kind of like a slap in the face of America," she said.
Many voters complained that Gideon's campaign tried to cast Collins through the lens of national politics, tying her to Trump and Sen. Mitch McConnell of Kentucky, the majority leader — an approach that fell flat in towns that have relied on Collins for decades for constituent services, and to bring money into the state.
"You don't need to tell us who Susan Collins is," Gilbert said. "We've seen her for 30 years. She's had a relationship that was before Trump, and it's going to last after Trump."
Jeanne Lapointe, 60, the nutritionist for Rumford's school district, agreed. "I don't think the relationship with the Republican president was a whoop-de-do for anyone," she said. "Mainers reward someone who shows up, and she does show up."
Of course, the negative spending went in both directions. According to the Center for Responsive Politics, a campaign watchdog group, outside Republican groups spent almost $42 million on ads opposing Gideon, compared with the nearly $52 million spent by Democratic groups against Collins.
Those funds went to ads that damaged Gideon — one that claimed "Sara Gideon's family business wasn't paying their taxes," citing delinquencies on properties owned by her husband's company; another that asserted that, as speaker of the Maine House of Representatives, she failed to respond to sexual abuse allegations against a Democratic lawmaker (though he was not charged with any crime, and Gideon did ask him to resign).
But voters were more jolted by the attacks on Collins, who has represented Maine in the Senate for 24 years. Gideon is a relative newcomer, having moved to Freeport 16 years ago — "from away," as Mainers call those born in other states.
In the last weeks of the campaign, Collins deftly cast Gideon as an aggressive outsider in a series of advertisements that are now widely viewed as game changing. They featured Bill Green, a retired sportscaster with a snow-white mustache and an unassuming, salt-of-the-earth vigor.
In his 47-year history on Maine television, Green had steered clear of political partisanship, preferring subjects like clam rakes and runner sleds. He is a registered Democrat. But starting last summer — specifically, with a bumper sticker that he saw around that read "Bye-Bye, Susan" — he was irritated by the tone of the challenge to Collins.
"What I really think happened was that the national Democratic Party was too heavy-handed," he said. "This was like when you're a little kid and somebody is bullying somebody. You're supposed to stop it. It was nothing more sophisticated than that."
So he offered Collins his help — for free. In the first advertisement, wearing an L.L. Bean jacket and a look of good-humored incredulity, Green said, "You are seeing more than $40 million in false attacks against Susan Collins by out-of-staters who don't give a darn about Maine, and it's shameful."
In an interview at the Capitol on Thursday, Collins said she believed that the Democratic ad campaign had backfired.
"They were over the top, and they were so outrageous," she said. "I started hearing, at the end, 'I am so sick of those lying ads.' And I started hearing that all over the state."
Toby McGrath, a former deputy chief of staff for Sen. Angus King who headed Barack Obama's presidential campaigns in Maine, said there were messaging errors by "Gideon and D.C. Democrats," who "wanted to make this race about D.C. and Mitch McConnell and Trump and tie Susan Collins to that."
It was also, he said, a challenge to spend such a large amount of money in a state as small as Maine.
"This race got out of control with the amount of resources," he said. "I think if this race is $30 million from both sides, you're in a better place. There's only so much you can do with that money. When you have that much money, you're throwing stuff at the wall."
Maine's mill towns were reliably Democratic until they flipped red for Trump in 2016. Once wealthy communities, they have steadily lost population, and remain dotted with relics of their old prosperity, like Rumford's elegant, neoclassical Hotel Harris. The paper industry began a long decline in the 1980s, and Rumford's mill workforce contracted from a high point of 3,000, in the 1960s, to around 650 today.
"They're fed up with politics, politicians in general, Democrats and Republicans," said Kerri Arsenault, whose memoir, "Mill Town," traced the industry's decline.
"There's a lot of angry Trump people who work in that mill," said Deano Gilbert, 57, a union official at the mill. "I deal with guys that have had union jobs for decades that are superstrong Trump supporters. In the 1970s, everyone would be trying to vote their jobs, but now that's all over."
Asked how Democrats could better reach voters in towns like Rumford, he said, "Know your audience."
In Rumford, Gideon won 35% of the vote, performing significantly worse than her fellow Democrats, Biden (44%) and Golden (55%). As for the voters, many of them are just glad the barrage of appeals has fallen silent. Denise Cormier, 53, said that in the end, all the campaign materials ended up in the same place.
"We just put them in our pile, our burn pile, and burned them," she said. "We knew who we were going to vote for."
Get Boston.com's browser alerts:
Enable breaking news notifications straight to your internet browser.