Politics
Here are the Massachusetts cities and towns that had the highest turnout in the 2020 election
Five towns saw more than 90 percent of registered voters cast ballots.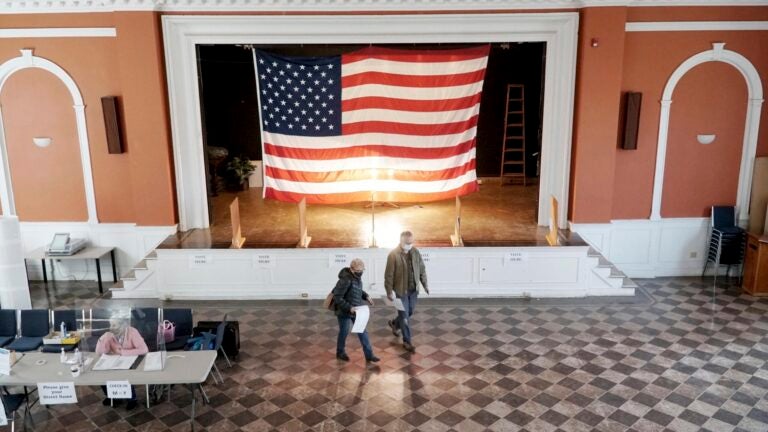 The final results are in — and certified.
Massachusetts set a record this year for the most ballots cast in an election with a total of 3,657,972, or 76 percent turnout. On a percentage basis, it was the highest turnout the state has seen since 1992. And in some cities and towns, voters were apparently even more determined — and able — to make their voices heard.
According to community-level data released Friday by Secretary of State Bill Galvin's office, five Massachusetts towns saw more than nine out of every 10 registered voters cast ballots in the general election.
Leading the way was the town (not to be confused with the university) of Harvard with 90.98 percent turnout, followed by Westhampton, Mount Washington, Medfield, and Dover all with more than 90 percent.
They were followed by Sudbury, Wenham, Cohasset, Carlisle, Plainfield, Eastham, Middlefield, Nahant, West Newbury, and Shutesbury all with more than 89 percent turnout.
Boston, the state's largest city, recorded just shy of 69 percent turnout.
Springfield, the third largest city in Massachusetts, had the state's lowest turnout rate — just under 53 percent. In fact, seven of the state's 10 biggest cities, including Worcester, were among the bottom dozen for turnout rates.
With expanded early and mail-in voting options this year due to the COVID-19 pandemic, the most popular form of voting was to request a mail-in ballot (which could be returned through the mail or in person). Galvin's office says that 41.7 percent of voters in Massachusetts voted by mail, while 23.1 percent voted early in person and 35.1 percent went to the polls on Election Day.
According to Galvin's office, there were 20,036 — or roughly 0.8 percent of — early or absentee ballots that were rejected.
However, that doesn't mean all of those voters weren't able to vote; many would have had the opportunity to vote in person if they had forgotten to sign their ballot or made a mistake.  Additionally, according to the data, more than 25 percent of rejected ballots were rejected because the voter had already voted in person. Galvin's office said this generally happened when voters had "mailed a ballot and then decided to vote in person because of concern about whether or not that ballot would arrive on time."
Galvin has said he was generally happy with the high-turnout election and is hoping make some version of early mail-in voting permanent in Massachusetts.
"Even in the midst of a global pandemic, our voters showed up in the way that worked best for them," Galvin said in a statement earlier this week.
Get Boston.com's browser alerts:
Enable breaking news notifications straight to your internet browser.