Politics
Boston City Councilor Matt O'Malley won't seek re-election next year
"This wasn't an easy decision to make, but the right one for me and my family," the District 6 councilor said.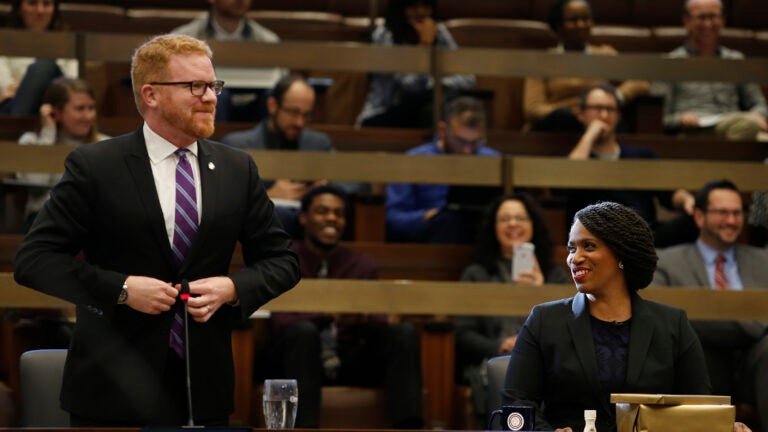 A decade after he was first elected in District 6, Boston City Councilor Matt O'Malley, a fervent advocate for environmental resiliency and protection on the council, announced Wednesday he will not seek re-election next year.
In a message to constituents posted on his website, O'Malley highlighted the recent birth of his first child, his daughter, Margot.
"Building a just, sustainable, and more equitable planet for Margot and every other child is what drives me, now more than ever. The work ahead of us is daunting, but we can and must do it. I look forward to continuing this work, albeit in a different role in 2022," the councilor wrote.
"It is with an appreciative heart, that I share with you today that I will not be seeking reelection next year," O'Malley continued. "I am incredibly proud of our achievements over the last decade, and profoundly excited about the opportunities that lay ahead for our district. This wasn't an easy decision to make, but the right one for me and my family."
The Roslindale native didn't offer an immediate plan for what his next move will be once he finishes his term in January 2022 but wrote that he wanted to inform residents of the decision as soon as he and his wife, Kathryn, reached it.
O'Malley will head out of City Hall amid serving on the most diverse council in the body's history, as more women, minorities, and progressives have been elected in recent years.
The 2021 race, with just under a year until Election Day, is already shaping up, as Councilors Michelle Wu and Andrea Campbell are seeking Mayor Marty Walsh's seat. Kendra Hicks, co-director of Radical Philanthropy at Resist, announced earlier this fall she will seek O'Malley's seat.
District 6 spans Jamaica Plain, West Roxbury, and parts of Roslindale, Roxbury, and the Back of the Hill.
O'Malley has been at the forefront of the city's burgeoning environmental policies over the last decade. He led the successful push for the city's plastic bag ban, helped drive through the wetlands protection ordinance, and got Boston to launch a community choice program for renewable electricity, among other ordinances and initiatives.
"I feel incredibly proud and lucky to have helped make Boston a national leader on environmental resiliency and climate justice," O'Malley wrote to supporters.
He also highlighted his office's work in renovating Jamaica Pond, Millennium Park, the Jamaica Plain branch library, the Egleston Square firehouse, and upgrades to Billings Field. Through constituent services, the councilor and his team helped get streets plowed, telephone poles moved, gas leaks fixed, and even found housing for those in need, he wrote.
In 2013, O'Malley broke the record for most votes received by a district city councilor that was set 30 years earlier by then-councilor Thomas Menino.
Serving on the council was a dream fulfilled, O'Malley said. He wrote about how a "geeky, red-haired teen designed his nascent political logo on the back of a calculus textbook" some 25 years ago.
"While politics (particularly in Boston) can be rough and tumble, the support and votes of confidence this district has given me time and time again is a lot to walk away from," O'Malley wrote. "I am forever grateful."
Get Boston.com's browser alerts:
Enable breaking news notifications straight to your internet browser.