Politics
Ayanna Pressley to MBTA leaders: 'Abandon' plan to make 'catastrophic' cuts
The T's advisory board also said Friday that the plan is "too high a price to pay."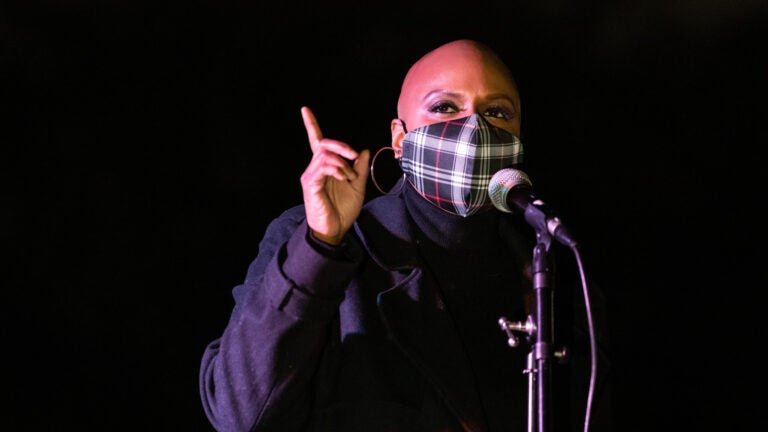 Rep. Ayanna Pressley is urging MBTA leaders to "abandon" their plans to finalize proposed cuts due to the COVID-19 pandemic this month.
In a letter Thursday to the T's Fiscal Management and Control Board, the Massachusetts congresswoman said the sweeping service reductions "would be catastrophic" for communities and workers who continue to rely on public transit and could undercut the Boston area's economic recovery in the wake of the pandemic.
"Cutting services without a firm plan to return offerings would dramatically impact our public transit system's vital role in any long-term economic recovery for the Commonwealth," Pressley wrote. "At this time, the MBTA's goal must be to provide consistent and reliable services so that riders— many of whom are essential workers serving on the frontlines— are able to travel as safely as possible while taking precautions and remaining physically distant."
Faced with a sustained drop in fare revenue due to the collapse in ridership since the onset of COVID-19, the MBTA has proposed deep, systemwide service reductions to close an expected budget gap next fiscal year that officials say could reach $600 million (federal relief funds from the CARES Act has helped the T cover losses in the current fiscal year). The ostensibly temporary cuts — which the FMCB could finalize at one of its upcoming meetings this month — include increased wait times and shortened hours across the system; the elimination of ferry service, 25 bus routes, and weekend commuter rail service; and closing some commuter rail and Green Line E Branch stops.
While MBTA officials say their plan focuses on preserving service for the riders who most depend on transit, Pressley argued Thursday the proposed cuts are premature and "driven by a series of misguided and inequitable policy decisions."
"The MBTA must continue prioritizing the needs of residents today while policymakers do the much-needed work to fight for federal and state funds in the weeks and months to come," the Boston Democrat said in her letter, which was also sent to MBTA General Manager Steve Poftak and Massachusetts Transportation Secretary Stephanie Pollack.
Pressley, who has been an advocate in Congress for transit equity and access, added that she was working with fellow lawmakers and the incoming administration of President-elect Joe Biden "for long overdue relief." As The Boston Globe reported this week, transit agencies across the country are facing similar significant financial challenges — and in some cases even more far-reaching cuts — in the absence of additional federal aid.
"The challenges facing the MBTA are daunting but not impossible," she wrote. "It will require a strategic partnership between Congress, the State Legislature, and the MBTA. However, before we can work towards any solution, we must agree that transit is essential now and that vital transit services will be critical to the Commonwealth's economic recovery."
The letter comes amid a growing tide of public opposition to the MBTA cuts.
A poll Thursday showing that two-thirds of Massachusetts residents oppose the cuts and want state lawmakers to allocate the MBTA more funding even elicited pushback from Gov. Charlie Baker's administration, which questioned the notion of devoting more funding to maintain service levels amid a 75 percent decrease in ridership.
Under the proposed plan, the cuts to commuter rail and ferry service would be phased in as soon as January, while changes to subway and bus lines would take effect beginning in the spring and summer.
State officials have stressed that the proposed reductions are not intended to be permanent and that they will restore service as the pandemic fades and ridership (and fare revenue) rebounds. Even with additional federal funding, Pollack has suggested moving forward with the cuts and saving the money for operational costs when riders do return.
"The T is committed to providing essential service for riders who rely most on the T for reliable transit, including low-income people, people of color, seniors, people with disabilities, and people in zero and low-vehicle households," Poftak said in a statement following the poll Thursday. "The vast majority of MBTA service will continue, the proposed service changes are not permanent, and the MBTA will periodically realign service as feasible to match current and future ridership patterns when durable revenue is available [to] pay for such service."
Still, the MBTA's own advisory board, which is made up of local municipal representatives, released a report Friday finding "no budgetary justification to cut so much public transportation service at this time," arguing for other cost-saving measures in order to spare dramatic service reductions.
"The Advisory Board's view is that risk of permanent loss of ridership, increased congestion, and other negative effects of service cuts to people and communities is too high a price to pay right now, just as a vaccine is on the horizon," the group wrote.
Get Boston.com's browser alerts:
Enable breaking news notifications straight to your internet browser.