Politics
Charlie Baker calls raising revenue to avoid MBTA cuts a 'bad idea'
The stance puts him at odds with Boston Mayor Marty Walsh, transit advocates, and the Greater Boston Chamber of Commerce.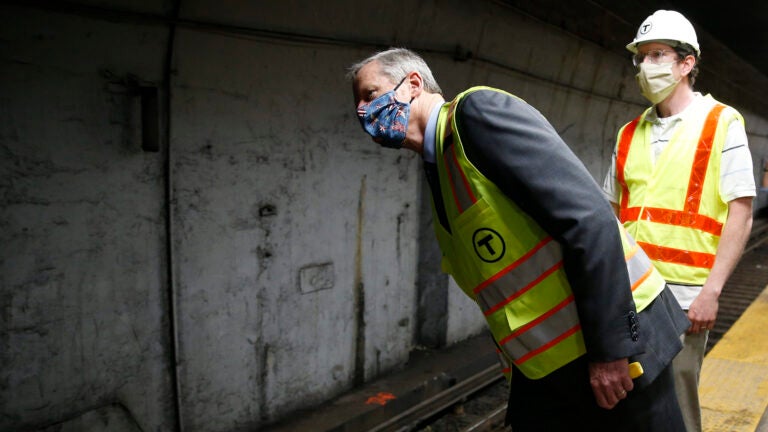 Gov. Charlie Baker expressed opposition Monday to the calls to raise additional revenue to avoid looming MBTA cuts
"I think raising taxes to run more empty buses and trains is a bad idea," Baker told reporters during a press conference Monday afternoon.
The Republican governor's comments echoed a statement from aides last week in response to a poll showing broad opposition to the proposed service reductions, questioning whether additional funding should be allocated to maintain service level with ridership still down roughly 75 percent across the board due to the pandemic.
"Running empty trains and buses, as a general rule, is bad public policy," Baker reiterated Monday. "I think making sure that you have a system that actually serves the people who want to ride it when they want to ride it — and the way they want to ride it — is the right way to go."
Not unlike many other transit agencies across the country, the resulting collapse in fare revenue  — and the absence of additional state or federal aid — has the MBTA looking ahead to a budget deficit in the fiscal year beginning next July that officials say could be as high as nearly $600 million.
Since this past summer, the MBTA has maintained near-normal service levels, amid efforts to promote social distancing on its trains and buses for the essential workers who still rely on the network. But with the moderate rebound in ridership leveling off as the pandemic worsens, MBTA leaders say that approach isn't financially sustainable.
The proposed cuts — which MBTA leaders insist would be temporary — include reduced frequencies and shortened hours across the system; the elimination of weekend commuter rail service, all ferry service, and 25 bus routes; closing some commuter rail stops, and cutting short the Green Line's E branch.
Baker said Monday that the service reductions, which aim to preserve service for the most transit-dependent populations, allow the MBTA to continue making long-term capital investments to improve and modernize the system "so that, when we get past all this, we have a much better infrastructure on which the system can run than the one we have now."
However, his opposition to raising revenue to allow the MBTA to maintain service levels puts the governor at odds with a coalition of local activists, elected officials, and even the Greater Boston Chamber of Commerce, which argue the cuts threaten to undermine everything from the post-pandemic economic recovery to efforts to reduce greenhouse gas emissions to transit-oriented housing development.
The agency's Fiscal Management and Control Board had been scheduled to vote on the plan during its meeting Monday but postponed finalizing any decisions amid crescendoing opposition, as well as renewed optimism about additional federal stimulus.
Still, with or without more federal relief, some local leaders say the state should be doing more as well.
Some Democrats in the State House recently pushed, unsuccessfully, to increases taxes aimed at the wealthy to raise money to fill the MBTA's budget hole. Recent efforts to increase the gas tax and fees on ride-sharing companies like Uber and Lyft have also stalled, despite support from the area's largest business group; as the Greater Boston Chamber of Commerce noted in testimony to the FMCB, the state's gas tax has increased just 14 percent since 1991, while MBTA fares have gone up more than 200 percent.
During a press conference Monday morning, Boston Mayor Marty Walsh said that state legislators should at least allow regional ballot questions so that cities could propose ways to raise additional revenue if Beacon Hill was not going to increase the gas tax or ride-sharing fees.
"If they don't want to do that, then let us raise our own revenue for them," said Walsh, who voiced support for increasing the gas tax and ride-sharing fees.
Additionally, while Baker said Monday that the MBTA's plan would allow them to reinstate service "pretty quickly and pretty easily, if and when riders come back," transit advocates argue the cuts make that rebound less certain.
"Not running trains & buses, as a general rule, is worse public policy," Jim Aloisi, the state's transportation secretary under Gov. Deval Patrick, tweeted Monday in response to Baker, "because once you make transit appear to be (or actually be) highly unreliable, inconvenient or incomprehensible (or all 3) you will push riders away & it will be very hard to get them back."
Get Boston.com's browser alerts:
Enable breaking news notifications straight to your internet browser.