Politics
Elizabeth Warren and Ed Markey urge fellow Senate Democrats to demand stimulus checks in COVID-19 relief bill
In a letter, they called the recent Manchin-Romney proposal "unacceptable."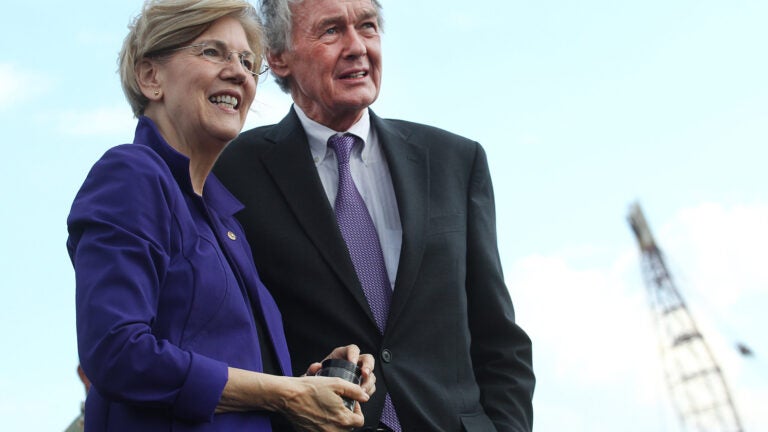 Sens. Elizabeth Warren and Ed Markey believe that any new COVID-19 relief package needs to include a new round of stimulus checks — and they're imploring fellow Senate Democrats to hold firm on the position in the midst of the dual public health and economic crises.
The two Massachusetts senators signed onto a letter Tuesday urging colleagues to "join us in demanding that any new COVID-relief proposal includes a $1,200 direct payment to adults and $500 to their children," similar to the first round of checks that were included in the CARES Act last spring.
The letter — which was led by Vermont Sen. Bernie Sanders and also signed by New York Sen. Kirsten Gillibrand and Oregon Sens. Jeff Merkley and Ron Wyden — was in response to a recent bipartisan COVID-19 relief proposal led by West Virginia Sen. Joe Manchin and Sen. Mitt Romney, the Utah Republican and former Massachusetts governor.
While the six Democrats wrote that they "very much appreciate the hard work" that went into the bill, they stressed that it "does not go anywhere near far enough" to address the scale of the situation, in which a quarter of the workforce is either unemployed or making less than $20,000 a year.
They specifically pointed to the lack of any direct payments and the proposed $300 emergency boost to weekly unemployment benefits, which is half of what was included in the CARES Act. They also took issue with the inclusion of protections for corporations against COVID-19-related lawsuits, which Republicans have repeatedly pursued in the face of Democratic opposition. The letter Tuesday argued that the so-called liability shield would effectively remove an incentive for corporations to implement "common sense safety standards needed to protect workers and consumers – and make a bad situation worse."
The group also noted that the "targeted" $908 billion framework includes $560 billion in unused CARES Act funds — meaning it only allocates $348 billion in new funding. That's a fraction of the $2 trillion included in the CARES Act, as well as the $1.8 trillion proposal floated by President Donald Trump's administration in October (that package also included another round of $1,200 direct payments).
"Given the enormity of the crisis today, it would be unacceptable to take a major step backwards from those previous efforts by passing legislation that only included $348 billion in new money," the senators wrote Tuesday, noting that President-elect Joe Biden has also signaled support for an additional round of stimulus checks.
With the GOP currently holding a 52-48 seat majority in the Senate, ostensibly only eight Democrats (or Democrat-caucusing independents like Sanders and Maine Sen. Angus King) would be needed to support the Manchin-Romney proposal for it to reach the 60-vote majority necessary to overcome a filibuster if Republicans also back it.
Manchin was joined by King and three other Democrats supporting the proposal: Virginia Sen. Mark Warner and New Hampshire Sens. Jeanne Shaheen and Maggie Hassan. While they acknowledged the need for additional relief legislation, the Democrats backing the bill contended it would provide immediate relief to the unemployed, small businesses, and local governments as winter approaches.
Last week, House Speaker Nancy Pelosi and Sen. Chuck Schumer — the top Democratic leaders in their respective chambers — said they believed the proposal "should be used as the basis for immediate bipartisan, bicameral negotiations."
"Of course, we and others will offer improvements, but the need to act is immediate and we believe that with good-faith negotiations we could come to an agreement," they said.
However, Sanders announced Friday he would oppose the proposal "unless it is significantly improved," objecting to the liability shield and lack of stimulus checks. Sen. Josh Hawley, a populist Missouri Republican, also told Politico in an interview Monday that he lobbied Trump to veto any bill that does not include stimulus checks.
"I said, 'I think it's vital that any relief include direct payments, and I'm not gonna vote for it if it doesn't,'" Hawley said, adding that it was "wild" not to include checks in the proposal (the Washington Post reported Tuesday evening that the Trump administration also has begun pushing Senate Republicans, who have mostly opposed additional direct payments, to include $600 checks).
Asked if she could support a proposal that doesn't include direct payments, Warren told reporters Monday that it would depend on "how much help there is" and whether corporate liability protections were included.
"I think direct checks are an excellent way to get money into the hands of people who desperately need it," Warren said, adding that they were worried "the dollar amount is too low," according to a transcript shared by her office.
"People need help," she continued. "Folks who've been getting an extra $600 of unemployment relief are barely making it. Cutting that in half does not make their lives easier. I'm also very worried about where the liability provisions land. We cannot agree to release employers who have caused their employees to get sick or to die from their responsibilities. Part of the reason for that is that will affect future behavior. COVID cases continue to climb and that means we need employers to be more vigilant not less."
In addition to more robust stimulus checks, Markey pressed for increased energy assistance for low-income families to be included in relief efforts as winter approaches, as well as the extension of state moratoria on gas and electric service disconnections, rate hikes, and other fees resulting from nonpayment due to the effect of COVID-19.
"We're making it very clear to the leadership that we want funding included in the COVID relief package and into the appropriations bills," Markey told reporters during a press conference on energy assistance Tuesday. "That's the fight that we have right now."
Get Boston.com's browser alerts:
Enable breaking news notifications straight to your internet browser.