Politics
'State A.G.s became the de facto U.S. Department of Justice': 6 key takeaways from Maura Healey's Vanity Fair interview
"I am very happy to see him go."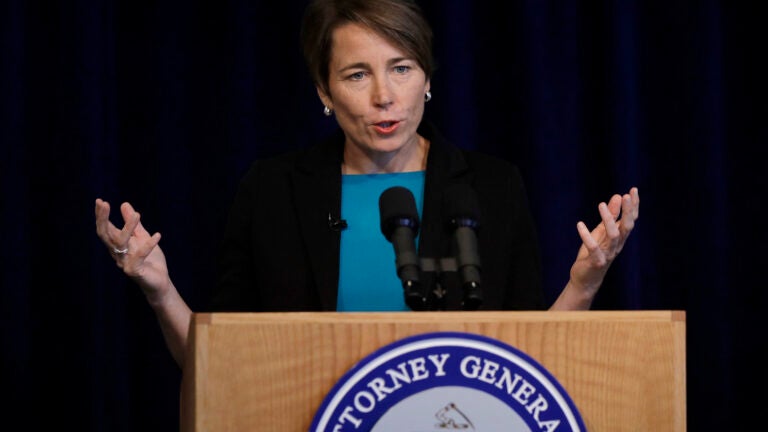 President Donald Trump will soon be leaving the White House, and so too will end an unprecedented era of litigation against his administration that Massachusetts attorney general Maura Healey is all too familiar with.
Coalitions of state attorneys general have sued the Trump administration 138 times in his single term — for comparison, Barack Obama and George W. Bush were both sued less than 80 times with terms that lasted twice as long. Healey signed on as a plaintiff in nearly half of the lawsuits against Trump, including major cases against the travel ban in 2017, family border separation in 2018, and postal service meddling this year.
Healey reflected on her perspective as a plaintiff during a tumultuous period of American politics in a Vanity Fair interview published Tuesday. Here are seven key takeaways from the Q&A:
On taking the president to court over and over again:
"What a sad commentary that in order to defend the Constitution, to protect the rule of law, we found ourselves taking Donald Trump and his administration to court over 100 times, but it was absolutely necessary. The good news is we won over 80% of those cases… The numbers are staggering, but when you have a president looking to gut health care or roll back environmental protections or reverse years of progress and reproductive freedom, that's why it's been really important for us to be active."
On filing a suit for a mother separated from her daughter by ICE at the border:
"I remember hugging her as she cried in my arms. I said to her, 'We're your government too.' I've felt that to my bones, that I have an oath and an obligation as an elected official to make sure we abide by the Constitution, that we stand by our principles, and I felt really satisfied that shortly after we took that case to court, that girl was on a plane to be reunited with her mother… These aren't just fights about principles and policies and laws and rhetoric. It involves humanity."
On how states were able to win so many cases against the president:
"The problem for them was that they actually didn't have the defense. Donald Trump was doing things that were illegal and unconstitutional. That's why we had the success rate that we had. These really weren't even close calls. You had a president doing things that had never ever been done before, contemplated before."
On the unusual role state attorneys general played the last four years:
"We had a Justice Department that completely abdicated their responsibility. As a result, state A.G.s like myself became the de facto U.S. Department of Justice. They weren't there to protect people. We had to be there. I'm looking forward to that being different… Time and time again, A.G.s had to be in court, whether it was defending voting laws or the time [period] in which ballots would be counted. The role of state A.G.s was never more important than in protecting the vote and upholding the will of the people."
On whether Democrats should adopt Republican tactics:
"I don't think we should debase ourselves and engage in tactics we've seen from the RNC… I have no tolerance for that. You don't fight fire with that kind of fire, but you do have to fight. You have to fight against misinformation and disinformation campaigns. We need to be smart and strategic. I think the Democratic Party spends a lot of time talking and debating amongst ourselves, sometimes not seeing the bigger picture, sometimes not being prepared to get beyond the party differences within our ranks to actually get things done."
On the path forward:
"I couldn't care less about Donald Trump. I am very happy to see him go. I think about his incompetence as there are tens of thousands of COVID-19 cases every day. It's outrageous what he's done — his callousness, his incompetence, his narcissism, his bullying, how he's hurt so many people. Either he's ignorant or callous or both, and I think members of his family are as well. They're very good at emotionally appealing to people and saying things that resonate. But he only cares about keeping himself in power. I'm about moving forward."
Read the entire Vanity Fair interview here.
Get Boston.com's browser alerts:
Enable breaking news notifications straight to your internet browser.