Charlie Baker
Harvard professor Danielle Allen exploring 2022 run for Massachusetts governor
"We all have a role to play in putting our society back on a track that really distributes opportunity fairly, and if our elected officers are not delivering that, then we have to make a change."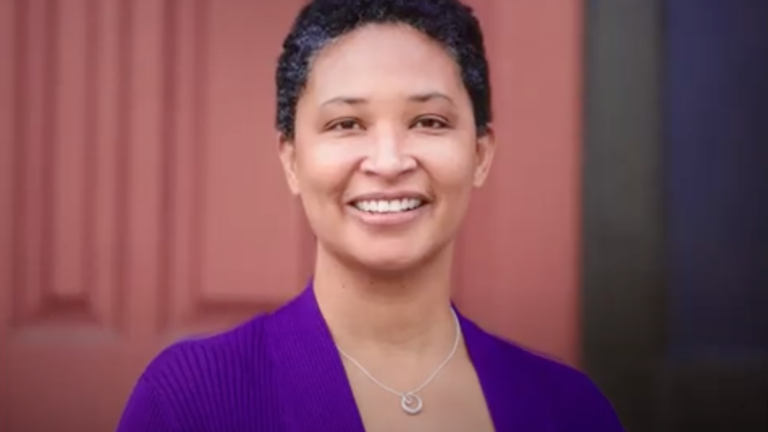 The 2022 gubernatorial race in Massachusetts hasn't quite begun yet, but one candidate is already testing the waters.
Danielle Allen, an author, political theorist, and Harvard University professor, announced Monday that she is exploring a 2022 campaign to be governor of Massachusetts. According to the state's Office of Campaign and Political Finance, Allen filed candidacy papers Monday afternoon to run as a Democrat.
"We all have a role to play in putting our society back on a track that really distributes opportunity fairly, and if our elected officers are not delivering that, then we have to make a change," the 49-year-old Cambridge resident said in a campaign announcement video, specifically mentioning issues like income and wealth inequality, food insecurity, education, and climate change.
"The pandemic, for me, has been the last straw," she said. "I had a profound sense of betrayal in the first few months. I've pulled together a huge network of scholars, doctors, and public health experts with economists in order to try to achieve an integrated policy. And all my work — everything I do —  I try to start with listening."
Allen, who has earned doctorates in philosophy and government, serves as the director of Harvard's Edmond J. Safra Center for Ethics, which released a report last spring on economic recovery from the COVID-19 pandemic. She also led a recent commission focused on strengthening American democracy and was an honorary chair of the unsuccessful Question 2 ranked-choice voting ballot campaign in Massachusetts.
Allen's announcement — which came within minutes of Massachusetts electors casting their votes in the 2020 presidential election Monday afternoon — makes her the second potential candidate to file papers in the 2022 race (Scott Khourie, a Quincy Democrat, filed Friday), though Gov. Charlie Baker has signaled interest in a third term. Earlier this fall, Baker told reporters that "you're going to be stuck with me for at least the next two years."
The child of mixed-race parents, Allen grew up in California and got her master's and doctorate degrees at Harvard in 1998 and 2001, respectively. According to her website, Allen's grandmother "dreamed of sending one of her flock to college in Massachusetts, first state in the union to end enslavement."
After teaching at the University of Chicago and Princeton University, she returned to Harvard in 2015 to lead the Safra Center (Allen was also named a MacArthur Foundation Fellow in 2001).
Allen's campaign website elaborates on why the would-be first-time candidate decided to explore a gubernatorial run at a time when her state's moderate Republican governor enjoys remarkably high, if recently slipping, approval ratings — especially among Democrats in the deep-blue state.
In the wake of the COVID-19 pandemic, Allen calls for leadership that "harnesses the strength of our biotech sector, and all the other remarkable assets in our state to deliver for all the people of Massachusetts" and that "moves proactively to establish a stable foundation of flourishing for all."
"Under the impact of COVID-19, Massachusetts's knowledge economy has fully split into a tale of two commonwealths," the website says. "Those who can telecommute are riding out the pandemic reasonably well while others are hit hard. The state has the highest unemployment in the country even while the stock market has soared. Homegrown Moderna is saving the world, yet we can't even keep our own schools open. Our world-changing biotechnology sector is a tremendous asset but in the COVID crisis its strengths have been engaged too slowly and underutilized."
Allen, who tearfully recalled her late cousin's struggle with the prison system in her campaign launch video, also believes in a more "health-based" approach to addressing violence and substance abuse, according to her website.
"She believes that securing a foundation of health requires innovation through the state's Medicaid system to strengthen the efficiency and cost-effectiveness of health care provision to all residents of the state, and that the state needs to prioritize a new level of public health investment, including investment in health resources inside of schools," says the website.
The website also calls for democracy reforms like Election Day registration, ranked-choice voting, and the permanent use of pandemic-related innovations, like expanded early voting, vote centers, and the use of stadiums, arenas, and "other locations of public celebration" as voting facilities.
"Danielle also knows that she will learn from the people of Massachusetts about all these issues, and that solutions will come from building on the strengths of the state," the website says.
Get Boston.com's browser alerts:
Enable breaking news notifications straight to your internet browser.