Politics
How the Massachusetts police reform bill would actually affect law enforcement use of facial recognition technology
A look at the provision that has pitted the Boston Celtics against Charlie Baker.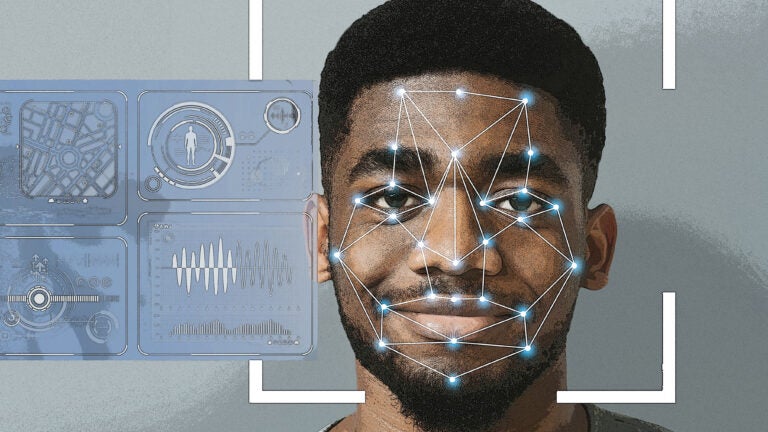 After months of negotiations, Massachusetts state lawmakers sent a sweeping compromise police reform bill to the desk of Gov. Charlie Baker earlier this month.
But one particular provision has emerged as a new focal point of disagreement.
"I'm not going to sign a bill into law that bans facial recognition," Baker told the State House News Service earlier this month, after sending the entire bill back to legislators, threatening a veto unless a number of changes were made, including the removal of a section that would limit the ability of law enforcement to use facial recognition technology.
The move elicited a backlash from progressives, including Rep. Ayanna Pressley, as well as the entire Boston Celtics team, who urged the state's Democratic legislative supermajorities to reject Baker's changes.
Studies have found that many facial recognition programs misidentify people of color at a disproportionately high rate. Amid racial justice demonstrations this past summer, Boston banned the use of the technology by city officials, and big tech companies — including Amazon, IBM, and Microsoft — announced they would stop letting police use their facial recognition software.
"This technology supercharges racial profiling by police and has resulted in the wrongful arrests of innocent people," the Celtics team wrote in a Boston Globe opinion piece last week. (Even when used properly, civil liberty advocates say the technology presents privacy concerns, especially in the absence of defined rules and oversight.)
But would the Massachusetts bill actually "ban" facial recognition technology?
Not quite.
It would place a general moratorium on the use of technology — which can automatically identify individuals based on scanned images of their physical characteristics — for all local and state agencies, except for the Registry of Motor Vehicles, which could keep using it for its drivers license database.
The bill would also create a commission to study facial recognition technology and make recommendations for future rules regarding its use.
However, in the meantime, there would be some exceptions allowing law enforcement to use facial recognition through the RMV.
If they get a warrant from a judge, agencies could get the RMV to run a facial recognition search for investigations involving violent felony offenses. And even without a warrant, law enforcement officials would be able to ask the RMV to do a search in the case of life-threatening emergencies involving immediate danger of death or serious physical injury.
During the moratorium period, law enforcement officials would have to file a sworn statement with the court system within 48 hours of accessing any data obtained through facial recognition explaining the reason for the search.
The RMV would also be required to document each facial recognition search it does for law enforcement and report a breakdown of the overall number on its website each year.
So how does that change how police in Massachusetts are currently using facial recognition technology?
Police have had access to the RMV's system since the agency started using it in 2006, but that's not the only facial recognition program available to law enforcement in Massachusetts.
The FBI has a separate – and much larger — database that state police in Massachusetts can access, and there's evidence of private companies pushing their own programs to local departments.
While the city of Boston and a half dozen other communities in Massachusetts have banned public use of facial recognition, emails obtained by the local American Civil Liberties Union chapter last year showed how one private firm aggressively pitched its technology to the Plymouth Police Department. Additionally, a BuzzFeed investigation found in February that a number of Boston-area police departments had run facial recognition searches using the technology of a different company.
If passed in its current form, the police reform bill would at least temporarily make it illegal for Massachusetts police for access the FBI's database or any private systems (while still allowing limited access to the RMV database, as detailed above).
Kade Crockford, the director of the Technology for Liberty Program at the ACLU Massachusetts, says the changes are "absolutely appropriate," given the current lack of statewide regulation of the emerging technology.
While state police stress that they use facial recognition "only for clearly defined law enforcement purposes and under rigorous protocols," Crockford says the lack of actual rules means there's nothing ensuring that's the case. Currently, there are no requirements that law enforcement officers must meet to ask the RMV to run a search. And records obtained by the ACLU suggest that the RMV has never declined a police request to perform a facial recognition search.
In addition to the accuracy and bias concerns, Crockford also notes that there's evidence suggesting potential misuse; the records reviewed by the ACLU found dozens of instances in RMV logs where solely the word "Karen" was written where a law enforcement official's name and department was supposed to be.
"That indicated to us that the system was in some dire need of reform," Crockford said in an interview.
"Right now, with no regulations in place, police in Massachusetts could be taking pictures of people outside an AA meeting," she said. "They could be taking pictures of people at protests and sending those to the RMV and asking the RMV to identify those people, and there's literally nothing to stop that from happening."
Dave Procopio, a state police spokesman, said the agency uses facial recognition as "an investigative tool, not a surveillance tool."
In an email, Procopio noted that the technology is used to compare — and potentially match — images of unidentified suspects to known persons, but that police also confirm or rule out those leads with other evidence.
"We do not use these potential matches alone as the foundation for criminal charges," he said.
"The images used for facial recognition have been obtained through prior investigative steps, and any potential identifications made through the technology are subsequently confirmed or rejected by other investigative methods," Procopio said. "When used, the technology greatly assists our efforts to solve crimes and provide justice to victims."
Still, other places have seen the use of facial recognition go awry. Crockford notes how it led to the wrongful arrest of a Black man in the suburbs of Detroit earlier this year, which was hardly the first example. The lack of oversight in Massachusetts, she says, is "a huge problem."
Why isn't the governor on board?
Baker, however, feels the benefits outweigh the risks.
In a letter to lawmakers sending back the police reform bill, the Republican governor wrote that the proposed facial recognition section fails to "balance legitimate oversight of policing with the necessary work of solving crime and keeping the public safe" and proposed striking the moratorium from the 129-page bill.
"The restrictions on the technology, with only significantly limited exceptions for law enforcement, ignores the important role it can play in solving crime," Baker wrote. "For example, in the last few years here in Massachusetts, a child rapist and an accomplice to a double murder are both now in prison thanks to facial recognition technology."
However, supporters note that the bill would still allow police to access the RMV's facial recognition system for those types of criminal investigations through the warrant process or through the life-threatening emergency exception included in the legislation.
"If police really think face recognition will help solve crime, let it go through the same process as every other invasive investigative tool," Celtics players argued in their Globe piece.
Crockford even indicated that the ACLU, which has been campaigning for a statewide moratorium on facial recognition technology for several years, would support a compromise to also give police in Massachusetts the same regulated access to the FBI database.
"We are not the obstacle to that," she said.
Baker's office says he is generally "eager to compromise and supports almost every section" of the legislation as a whole. However, aides indicated that Baker's opposition to the facial recognition section also has to do with its loose relation to the legislation's larger police "accountability" focus.
"He amended sections dealing with facial recognition and training — sections that do not affect the Administration's and Legislature's common goal: creating accountability for all law enforcement in the wake of too many tragedies against people of color," Sarah Finlaw, Baker's press secretary, told Boston.com in a statement. "And while he cannot support a final package that does not reflect these amendments, he is proud that Massachusetts is now closer than ever to enacting this important bill."
Crockford acknowledged that the facial recognition section is more forward-looking than the other parts of the bill.
"The bulk of the police reform legislation aims to undo harms that have unfolded historically," she said. "This is the only piece of the police reform bill that aims to prevent harm in the future."
But that isn't a good reason to eliminate the entire section, Crockford said.
"We are very, very hopeful that the legislature and the governor will not miss out on this crucial opportunity," she said, reiterating the ACLU's openness to further discussions to get "language that everybody can agree is the right set of regulations." 
"We cannot risk something happening in Massachusetts like what we saw happen in Detroit, where multiple black men have been wrongfully arrested — because the technology is totally unregulated," Crockford said.
Get Boston.com's browser alerts:
Enable breaking news notifications straight to your internet browser.