Politics
'It doesn't make any sense to me': Charlie Baker knocks COVID vaccine line-cutting
"It's inconsistent with the message that we have all tried to send on this."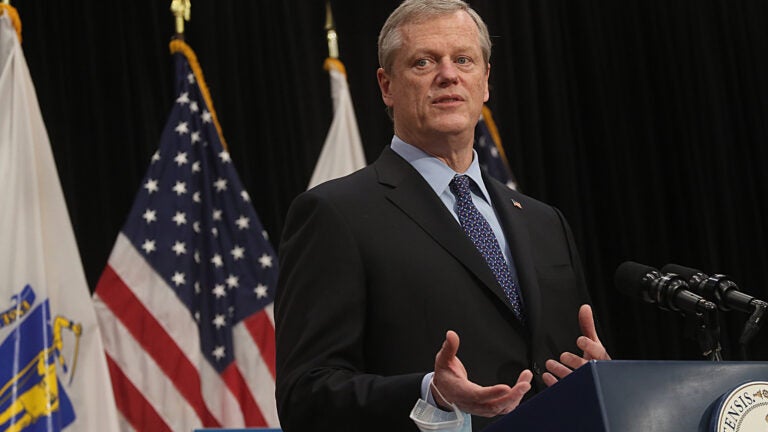 Gov. Charlie Baker has said he'll wait to get the COVID-19 vaccine when he qualifies as an individual under the official prioritization guidelines. Now, he's questioning why other public figures aren't doing the same.
During a press conference Wednesday, the Massachusetts governor criticized the increasing number of people — from public figures to congressional aides to pharmaceutical executives — who are being offered the vaccine at a time when state and federal guidelines say the limited number of doses should only be available to the individuals who are most exposed or vulnerable to the disease.
"I don't understand why a lot of the people who cut the line cut it," Baker said. "I just don't. It doesn't make any sense to me. And I think it's inconsistent with the message that we have all tried to send on this, which is: While we recognize and understand that everybody would like to be vaccinated today, there are some people who are at far greater risk, from a health point of view, than others, and they really ought to be prioritized."
State and federal guidelines call for the first doses of the COVID-19 vaccine to be allocated to frontline health care workers, followed by staff and residents in nursing homes and other long-term care facilities, while supplies remain limited in earliest stage of the rollout.
Many elected officials and public figures, including members of the Massachusetts delegation and Boston Cardinal Seán O'Malley, have already received their first dose, both based on medical advice and to demonstrate confidence in the vaccine. Moderna, the Cambridge-based biotech firm that developed one of the two COVID-19 vaccines that have currently been approved in the United States, announced Tuesday that it would offer it vaccine to its "workers, contractors and board members," as well as any adults who those individuals live with. The announcement drew mixed reactions, The Boston Globe reported Wednesday.
Baker didn't reference any specific groups or individuals Wednesday, though his comments came in response to a question about a limited number of congressional staff members in Washington, D.C. getting the vaccine and whether his office has similar plans. Baker said he and Lt. Gov. Karen Polito felt "while we work a lot, we are not, from our point of view, worthy of cutting the line."
"We also said from the beginning that we wanted to make sure that we focused on our health care community because our health care community's health has a lot to do with our ability to actually serve, not just people who have COVID issues, but people who have other health care issues as well," he said.
Asked about Moderna's plan to offer their vaccine to board members, Baker said he didn't want "anything to happen that slows down the ability of any of these companies to manufacture vaccines and get it to people." The governor noted that his administration provided personal protective equipment to a company in Massachusetts that was manufacturing ventilators during the spring COVID-19 surge for similar reasons.
"If you're part of the team that's actually making vaccines, or providing the materials that are critical to making vaccines, I think we should all want those people to be as healthy as possible, so that they can make vaccines, deliver on their production schedules, and make sure we are in a position to inoculate as many people as quickly as we can," Baker said.
In contrast to Moderna, officials at Pfizer, the other manufacturer of a federally approved COVID-19 vaccine, said they plan to vaccinate employees as they become eligible per under federal guidelines. Pfizer has 88,000 employees globally, compared with Moderna's 1,200-person workforce.
"There are no plans to prioritize the vaccination of our executives or board members ahead of other high-risk groups," a Pfizer statement said, as first reported Tuesday by CNBC.