Politics
What to know about Kim Janey, the woman poised to make history as Boston's first Black mayor
If Walsh is confirmed as the new labor secretary, Janey will replace him and serve in the role until a new mayor is elected.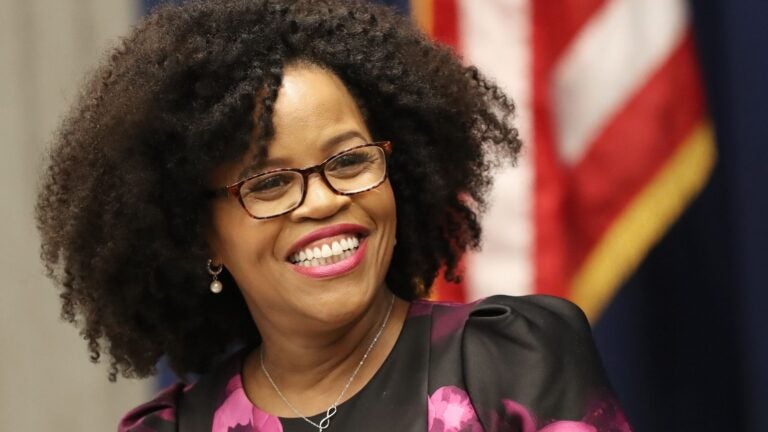 President-elect Joe Biden officially selected Boston Mayor Marty Walsh Thursday evening to act as his labor secretary, and soon after the announcement came another: City Council President Kim Janey would take over the corner office at City Hall on an interim basis, becoming the first Black Bostonian and first woman to serve as the city's mayor. 
If Walsh is confirmed, city rules cite that Janey will replace him and serve as acting mayor until a new mayor is inaugurated in November, when the city's mayoral election is scheduled, or during a special election, which the City Council could hold if Walsh leaves his position before March 5. 
Janey, who grew up in Roxbury and was voted president of the council in 2019, tweeted a statement about the impending transition Thursday night, congratulating Walsh on his nomination.
"His deep love for the City, and his dedication to working people and good jobs, have left a remarkable impact, and his legacy will show that dedication," she wrote in her post. "Should Mayor Walsh be confirmed, I'm ready to take the reins and lead our city through these difficult times."
I want to start by congratulating @marty_walsh on his nomination for U.S. Secretary of Labor. His deep love for the City, and his dedication to working people and good jobs, have left a remarkable impact, and his legacy will show that dedication. pic.twitter.com/H6CEe2W4Fv

— Kim Janey (@Kim_Janey) January 8, 2021
She will assume the role after a trying year for Boston, a city still reckoning with its racist past, and grappling with some of the highest COVID-19 cases and death counts since the beginning of the pandemic. 
"I look forward to working with the Walsh administration and my colleagues on the Council to ensure a smooth transition, as we address the unprecedented challenges facing our city," Janey said in the statement. 
Throughout her education, Janey was immersed in Boston Public Schools and attended Edwards Middle School in Charlestown during the second phase of desegregation busing. She then attended Reading Public Schools through the METCO program, according to the bio on her website. 
Janey, who is a member of the Massachusetts Women's Political Caucus, and previously served on the Executive Committee of the Boston branch of the NAACP, also graduated from Smith College as an Ada Comstock Scholar. 
In 2014, Janey organized parents to successfully advocate for a new dual-language school, and two years later, according to her bio, she helped write BPS policy to close opportunity and achievement gaps. 
By 2017 she was elected to the City Council as the first woman to represent District 7.
"Kim has co-sponsored legislation calling for a transfer fee on luxury real estate transactions which would generate hundreds of millions of dollars for affordable housing, pushed to include resident voices in major planning decisions, and worked to pass regulations for the short-term rental industry," her site reads, adding that she's always focused on implementing programs and practices to increase access, opportunity, and equity in education. 
Janey was also one of five city councilors who voted against Mayor Walsh's budget in 2020, calling instead for more funds to be cut and reallocated from the city's police budget amid a wave of protests against police brutality toward Black people.  
Janey's work on the council ranges from championing education and social justice issues, to overhauling the city's process of picking prospective marijuana operators, to enacting multiple reforms in health and public safety alongside a diverse council with the greatest number of women and people of color in Boston's history. 
Walsh's departure and Janey's transition now acts as a possible shakeup in the mayoral race currently underway. 
Last fall, City Councilors Michelle Wu and Andrea Campbell announced their intention to run, both of whom Janey has previously worked with. 
Janey has yet to comment on whether she plans to add her name to the 2022 race, but if she were to, it would create a remarkable slate of candidates in a city that has only ever been led by white men. 
"Every mayor of this city has been a white male,'' Michael Curry, president of the Massachusetts League of Community Health Centers, told The Boston Globe. And as Janey is poised to take up the position during a social justice movement that continues to sweep across the state and nation, Curry called to how her roots in Roxbury were both steeped in community and activism. "She is no novice to politics and she's not new to the community."
Get Boston.com's browser alerts:
Enable breaking news notifications straight to your internet browser.