Politics
Here's what Joe Biden said about nominating Marty Walsh to be his labor secretary
The president-elect revealed that he gave "serious consideration" to picking Bernie Sanders, but that the Vermont senator thinks he "made a good choice."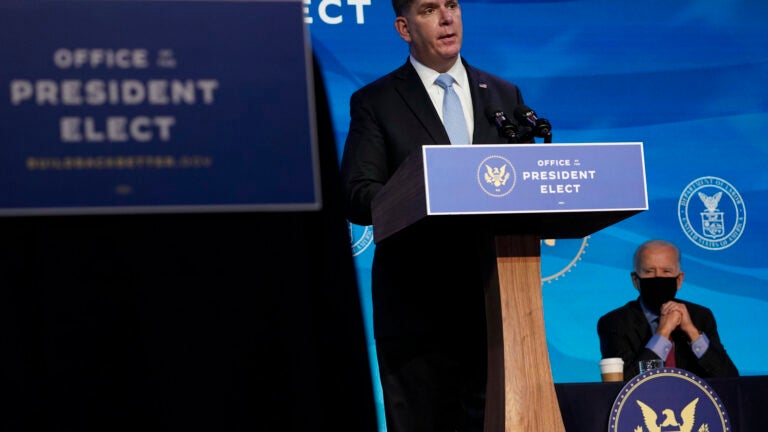 President-elect Joe Biden stood in front of the cameras Friday afternoon to officially announce the nomination of his "good friend" and "stand up guy" Marty Walsh, the mayor of the "iconic American city of Boston," to be his administration's secretary of the Department of Labor, "one of the most important departments to me."
The only "downside," Biden joked, was that Walsh's parents immigrated from a different county in Ireland than his own ancestors.
"They're not from Mayo, they're from Galway," the president-elect said.
The press conference Friday came after months of billowing speculation that Walsh — a union leader and Massachusetts state representative before becoming mayor — was Biden's top pick to lead the Department of Labor. Biden's transition team made the choice public Thursday night, along with the nomination of Rhode Island Gov. Gina Raimondo to be commerce secretary.
During the press conference, Biden called Walsh, a survivor of childhood cancer and alcoholism, "tough as nails" and said the 53-year-old Dorchester native would work to protect and encourage unionization. He specifically mentioned Walsh's support of raising the minimum wage and paid family leave, as well as an overtime rule proposed under President Barack Obama that was "weakened" by President Donald Trump's administration.
"Marty understands, like I do, the middle class built this country, and unions built the middle class," Biden said. "He sees how union workers have been holding this country together during this crisis, health care workers keeping our hospitals safe, clean, and effective — and efficient. Public service workers fighting against budget shortfalls to keep communities afloat. Port workers, car haulers, warehouse workers, folks keeping our air and rail systems running. They're literally what's keeping us going. They deserve a secretary of labor who knows how to build their power as workers."
In his own remarks, Walsh said "the word labor means everything to me," recalling his family's immigration story from Galway to Dorchester, where his father joined the laborers' union. In the midst of the pandemic, Walsh said he'd seen up close how workers face "impossible conditions."
"But this isn't just because of the COVID crisis or the economic crisis that threatens their well being," Walsh said. "Working people have been struggling for a long time under the erosion of their rights and the deep inequalities of race, gender, and class. For the last four years they've been under assault, attacks on their rights, their livelihoods, and the unions that built the middle class. We are facing hard times. But nobody's tougher than the American worker. And now, now we have the opportunity to put power back in the hands of working people all across this country."
The two Democrats, who share a working class, Irish Catholic background, have forged a friendship during Walsh's tenure as mayor. Walsh recalled Friday that they "spent many memorable days together" in Boston, including at a rally for striking Stop & Shop workers, the mayor's second inauguration, and Biden's impassioned speech on the anniversary of the Boston Marathon bombing (though neither mentioned Friday how Biden infamously accidentally called the wrong Marty Walsh to congratulate him after the win in 2013).
"I trust Mayor Walsh, and I'm honored he accepted," Biden said.
Biden had faced pressure from minority groups to appoint a person of color to the position, as well as interest in the job from Vermont Sen. Bernie Sanders. However, he led his remarks Friday by touting the historic diversity of his other Cabinet picks, which are mostly people of color and evenly composed with as many women as men.
Biden did reveal that he gave "serious consideration" to nominating Sanders, an icon of the left, to be labor secretary.
"I'm confident he could have done a fantastic job," Biden said. "I can think of no more passionate and devoted ally to working people in this country."
But after the results of the Georgia runoff elections Tuesday giving Democrats an effective 50-50 majority (with ties broken by Vice President-elect Kamala Harris) in the Senate, he said it would have been too risky, even in deep-blue Vermont, to put Sanders's seat at risk of being flipped to Republicans in a special election.
"[Sanders] agreed we couldn't take that chance," Biden said, adding the Vermont senator agreed to work closely with the administration going forward.
Even though Walsh has sometimes faced criticism (and primary challengers) from the left, Biden said Friday that Sanders "thinks I made a good choice."
Get Boston.com's browser alerts:
Enable breaking news notifications straight to your internet browser.