Politics
Boston city officials consider run for mayor as North End state rep. takes option off the table
Marty Martinez, the city's chief of health and human services, said he is "absolutely considering" launching a campaign.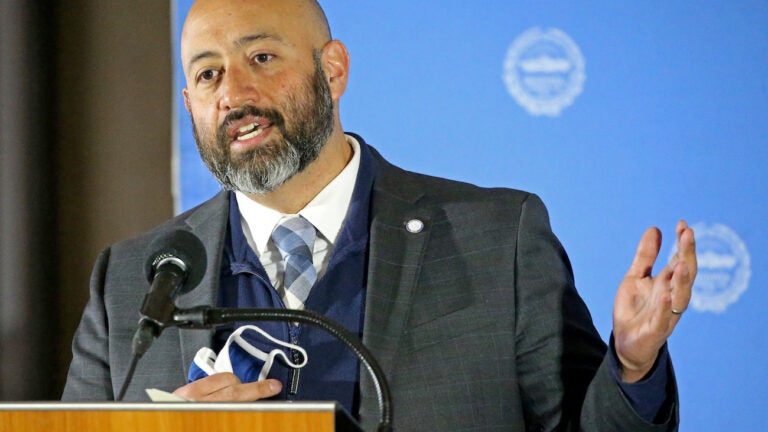 Some Boston officials are giving more thought to the possibility of launching mayoral campaigns this year as Mayor Marty Walsh plans to become the secretary of labor in President-elect Joe Biden's administration.
Marty Martinez, the city's chief of health and human services, confirmed to reporters on Thursday he is "absolutely considering" a campaign.
"I've been focused this entire year on the COVID response, and leading that response, and I'm proud of the work we've done, but there's much more to do. And so I'm still intensely focused on it," Martinez said during a regularly scheduled press conference on the city's pandemic response. "Having said that, the next mayor who's elected to the city of Boston will have a huge responsibility to make sure we can finish this response and get to an equitable recovery."
With Walsh's likely departure, Martinez finds himself in good company of those mulling over vying for his seat.
Though City Councilors Michelle Wu and Andrea Campbell are the only candidates to have officially entered the race, reports have circulated that their colleagues, Councilors Annissa Essaibi-George and Michael Flaherty, are probing the viability of doing the same.
City Council President Kim Janey, who would become acting mayor if Walsh is confirmed by the U.S. Senate and steps down from his office in Boston, has not indicated whether she'll seek a full term. Her friends recently told the Globe though they would be "surprised if she does not give it strong consideration."
Others who have been said to be considering following suit are state Sen. Nick Collins, a South Boston Democrat, and Boston Police Commissioner William Gross, among potentially others.
Flaherty told The Boston Globe last week that whether Gross enters the race would be a factor in his decision, nothing that the city's top cop is "well-liked and respected across the city and he would be able to raise a lot of money quickly."
On Wednesday, Flaherty, who mounted an unsuccessful challenge against Mayor Tom Menino in 2009, wrote to supporters in a fundraising email that he is "keeping my options open," according to Universal Hub.
"In the upcoming days, we'll see who is running for mayor," Flaherty wrote. "If I feel that the candidates aren't addressing the issues of concern that I feel matter to voters, I'll throw my hat into the race. I want the decision to be based on issues and not funds or lack of funds.
"The next mayor faces many challenges and needs to be ready to hit the ground running," he continued. "I feel well prepared regarding the issues and challenges. What I don't have is the large campaign war chest that those who were running against Mayor Walsh have amassed."
Meanwhile, North End Democratic state Rep. Aaron Michlewitz, whose name had also arisen as a potential candidate in recent days, announced on Thursday he opted against joining the race.
"I will not be seeking the office of Mayor," Michlewitz said in a statement. "I believe I can be most effective to the residents of the City of Boston in my current role as the chair of Ways and Means with a seat at the table leading us through the economic recovery necessary to see the Commonwealth of Massachusetts out of the damage caused by the pandemic.
"At this time, I will not participate in the race, but I do believe that the next mayor should be the person who can most reflect, understand, and identify with a progressive majority minority city like Boston," he added.
An update on the Boston Mayoral Election: pic.twitter.com/kMQX0g0XAi

— Aaron Michlewitz (@RepMichlewitz) January 14, 2021
While potential candidates make their assessments, sitting city leaders are facing another major decision.
With an already-scheduled municipal election this fall, officials are contemplating whether to forgo a special election to elect Walsh's successor.
Under the city charter, Boston is currently required to hold a special election if Walsh leaves his position within 16 months of the previous citywide election or by March 5, in this case.
Get Boston.com's browser alerts:
Enable breaking news notifications straight to your internet browser.