Politics
Why isn't Marty Walsh taking questions from the press?
The mayor didn't take questions in his first briefing since his labor secretary nomination, and canceled TV and radio interviews this week.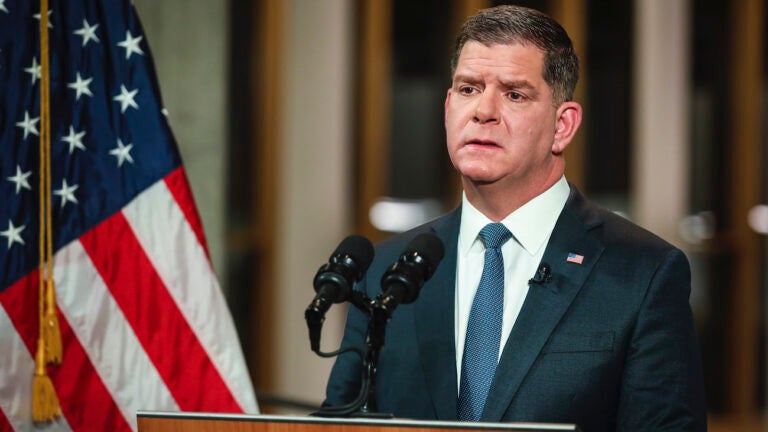 Mayor Marty Walsh did not take questions Thursday from reporters during his first COVID-19 briefing since being nominated by President-Elect Joe Biden to serve as secretary of labor last week.
The Dorchester Democrat issued prepared remarks, but delegated the responsibility of taking inquiries from the press to Marty Martinez, the city's chief of health and human services, and Boston Public Schools Superintendent Brenda Cassellius.
The move was a break from the rhythm of the mayor's regularly scheduled media availabilities since the pandemic's onset last March. Walsh had frequently taken questions on the city's response to the health crisis and plans for reopening, at times giving responses to questions submitted beforehand and even from passersby among the public.
"Because we're focused on COVID and the work … we're leading around COVID and the work we're leading around reopening, we are focused on being able to answer those questions," Martinez said when asked why Walsh was not answering questions himself. "As you all know, the mayor is beginning a process to get confirmed as the labor secretary. And so his focus is both to not only run the city, but to also to be able to do that. So we're able to answer any questions you might have about COVID or BPS reopening, and we're glad to do it."
The shift fueled speculation among political observers as to whether Walsh is heeding a directive from Biden's transition team as he awaits confirmation by the U.S. Senate.
Also fueling the chatter was Rhode Island Gov. Gina Raimondo's move to not answer questions from the press on Wednesday during her first public appearance since becoming Biden's pick for commerce secretary.
Martinez did not provide a specific answer when asked whether Biden's team told Walsh not to take questions.
"The reality is, is myself and the superintendent provide leadership in these areas and we're glad to answer any questions you might have about these two pieces," Martinez said.
Biden's transition staff did not immediately return a request for comment.
In a statement to Boston.com, a spokesperson for Walsh said:
"As Mayor Walsh embarks on his confirmation process to become Secretary of Labor, we believe it's a priority to set up continuity for Boston on important matters such as the city's response to the COVID-19 pandemic. Our health and medical experts have always played a leading role in providing information and answering questions about all the city is doing to stop the spread of COVID-19, and they will continue to do so as trusted voices for Boston. As always, the Press Office will continue responding to media inquiries on behalf of the Mayor, so please don't hesitate to reach out with any questions for the Mayor or members of the administration."
Walsh's absence from the microphone is not just limited to City Hall this week, however.
According to Jim Braude, host of Greater Boston and co-host of Boston Public Radio on GBH, Walsh cancelled scheduled appearances on both programs this week.
Braude, in a tweet, said the mayor has rarely missed time on air and the cancellations are "not who he is."
I would know, too…for years, @marty_walsh almost never missed a scheduled appearance @greaterboston or @bospubpicradio – cancelled both this week…not who he is – gotta be the new boss! #bospoli

— Jim Braude (@jimbraude) January 14, 2021
The mayor's apparent step back from the line of questions on Thursday also came as the city continues to weather a coronavirus surge following the holiday season.
Walsh told reporters at the start of the press update that the city's case numbers "are concerning," and noted "our hospital numbers are much higher than we'd like."
According to data from the Boston Public Health Commission, 98 percent of adult, non-surge ICU beds in the city were occupied as of Tuesday.
"It's the highest we've seen in quite some time since almost the beginning of the first surge," he said, adding though that Boston is not at the point that would require officials to reopen a field hospital launched last spring.
On Tuesday, Walsh gave an emotional farewell to his hometown during his 2021 State of the City address. He acknowledged he accepted Biden's nomination and said he has consulted with City Council President Kim Janey — who would become acting mayor if Walsh leaves for Washington D.C. — and that that transition has already begun.
"I am confident that the operations of city government, including our COVID response, will continue smoothly," he said. "And I want you to know, the work we have done together for the past seven years has prepared Boston to build back stronger than ever."
Meanwhile, Walsh's pending departure has blown open this year's mayoral race, raising possibilities of a large field of candidates beyond the two who have already launched campaigns, city councilors Michelle Wu and Andrea Campbell. (Martinez, on Thursday, said he is "absolutely considering" a run himself.)
City officials are also contemplating whether to forgo the special election that would be trigged by Walsh stepping down in light of the already planned municipal election this fall.
That debate rests on when exactly Walsh will leave City Hall. Under the city charter, Boston would be required to hold a special election if Walsh officially vacates his seat within 16 months of the previous citywide election, or, in this case, before March 5.
Until then, whether Walsh will publicly take questions from the press, of course, also remains to be seen.
Get Boston.com's browser alerts:
Enable breaking news notifications straight to your internet browser.