Politics
Marty Walsh is shipping out of Boston. So… what exactly happens next?
City residents will vote later this year to choose a replacement. The question is when — and how many times?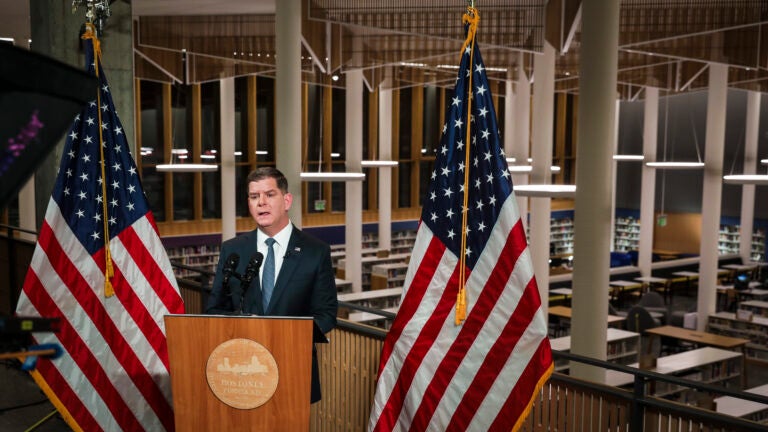 Boston Mayor Marty Walsh bid farewell to his hometown Tuesday night in what his office described as his "final" state of the city address.
After being nominated to serve as President-elect Joe Biden's labor secretary, Walsh is preparing for life in Washington, D.C.
And the wake of his pending departure leaves behind some deal of uncertainty — not just about who will replace Walsh but also when voters will choose that replacement, and just how many times they'll have to do so.
In the short term, Walsh — if confirmed by the Democratic-controlled Senate — hands off to Boston City Councilor Kim Janey, who as City Council president becomes acting mayor for at least a few months.
In the longer term, it's a little less clear.
Walsh is set to leave office in the midst of an election year, with a preliminary election and general election scheduled for September and November, respectively, and two declared candidates — City Councilors Michelle Wu and Andrea Campbell  — are already running to be the next mayor. More are expected to jump into the race; Janey herself is even considering a bid for a full term.
However, according to the city charter, Boston is required to also hold a special election if Walsh officially vacates his position within 16 months of the last citywide election — or, in other words, before March 5.
It's theoretically possible that the narrowly divided Senate doesn't approve Walsh's nomination before March 5, in which case the entire subject becomes a moot point. The first labor secretary under President Donald Trump wasn't confirmed until April of 2017. However, that was only because the process was delayed after the Republican president's first labor nominee withdrew. All of Trump's other cabinet nominees were confirmed by March 2.
Assuming that Senate Democrats confirm Walsh by March 5, a special election would need to be held between 120 and 140 days after he officially vacates office. And while the charter does not explicitly mention it, officials say the city would also hold a preliminary election for that special election.
All that is to say that Boston voters could be staring down four elections over the course of fewer than six months this year.
Some local elected officials say that's unacceptable, especially in the midst of the COVID-19 pandemic.
During a Boston City Council meeting Wednesday afternoon, Councilor Ricardo Arroyo filed a home rule petition to override the special election requirement if Walsh leaves after March 5, calling it "irresponsible" to schedule multiple elections at a time the region is seeing record levels of the contagious disease and with a vaccine still months away for most residents.
Arroyo also argued that an additional election would exacerbate voting disparities and put an additional burden on already-strained city resources.
"Having multiple elections for the office of mayor in the same year in the midst of a pandemic is a serious threat to the health of our residents and communities, will contribute to the disenfranchisement of people of color, disabled and low-income communities, would be a wasteful and costly expenditure for the city at a time when our revenues are down and so many critical services are in need of increased funding," the District 5 councilor said.
As Arroyo noted, the special election would create the possibility of four different people serving as Boston's mayor in less than a year.
"Under these conditions, when we can act to prevent it, we should," he said.
During the meeting, Councilor Kenzie Bok also noted that another logistical issue is that the special election would result in overlapping signature requirements where "we would have a special still running while people were gathering signatures for a general." Even with just one set of elections last year, local signature thresholds faced legal challenges due to the pandemic.
Secretary of State Bill Galvin, the top election official in Massachusetts, also backed the idea of bypassing the special election requirement this week, given the potential confusion for voters with what could become a crowded field.
"It's not about the candidates, it's about the voters, giving the voters the maximum amount of time to make choices," Galvin told The Boston Globe this week.
For their part, at least one of the candidates also supports skipping the special election, even though a shorter runway would ostensibly benefit those who are already organized and have campaign infrastructure in place. Wu told Politico on Tuesday she supported nixing the special election, saying that the "extra costs and public health considerations of having two elections in a year have to be weighed in this current moment." Campbell also added her name Wednesday in support of further discussing the subject at the to-be-scheduled council hearing but has not yet taken a stance on Arroyo's petition itself.
Home rule petitions do face a number of hurdles, including approval from the City Council, the mayor, both chambers of the state legislature, and Gov. Charlie Baker. However, state lawmakers and Baker just recently approved a similar petition to bypass a special election this year in Lawrence, whose mayor officially resigned to take a state job.
Arroyo's office said Wednesday that they were confident they had sufficient support to follow suit in Boston and his petition has received support from civil rights groups, including the local chapter of the NAACP.
However, not all of Arroyo's colleagues are on board.
During the meeting, Councilor Matt O'Malley argued that the additional costs of a special election shouldn't be a consideration, amid concerns about going the majority of the year with an unelected acting mayor.
"Democracy costs money — to do it well, to address these barriers, to do it safely, to make sure that we have early vote, to make sure that we have vote by mail," he said. "To make sure that we're able to allow as much civic input in this important, important election is what we ought to be spending our money on."
O'Malley and fellow Councilor Frank Baker also raised concerns that effectively canceling a special election could give the appearance that the council is putting their thumb on a race involving at least two of their colleagues and further sow distrust in government.
Baker even directly suggested that his colleagues were acting out of self-interest.
"There's a reason why people, right now, don't like politicians, because we're doing things like this, where we — because we have the power to manipulate elections — now we're going to manipulate elections," he said. "And even though we say it's about finance and it's about COVID … it's about who is our person in the race and how does it benefit them directly. I can't help but think that that is the underlying reason."
Several other city councilors, including Annissa Essaibi-George and Micheal Flaherty, are also considering a mayoral campaign in the wake of Walsh's departure.
Arroyo, Baker, Bok, and Councilor Lydia Edwards, who chairs the committee that will hold a hearing on the petition, all made a point of noting that they are not running for mayor, nor have they publicly endorsed either Wu or Campbell.
Councilor Julia Mejia, who has also said she won't run for mayor, shot back that a special election would simply compound the advantage that older, white voters have historically had in low-turnout municipal elections.
"We're going to let a few thousand politically active people decide who will be the mayor of 700,000 people for the next four years, because we already know what's up," Mejia said. "Don't get it twisted here. We know who comes out in droves in special elections. It is not those who are mostly impacted by the decisions that are being made every single day."
During the meeting, Bok suggested that the body shouldn't get stuck in the "obvious political implications." Edwards, who unsuccessfully ran in a 2016 state Senate special election, added that special elections "hurt" all candidates' opportunities to engage with voters.
Edwards made the case that the council should let the process play out and have a "transparent open conversation" with a hearing in her government operations committee with advocates and stakeholders, followed by a potential working session.
"There is no special bending, working around, and trying to manipulate," Edwards said. "We have legal procedures. We are all following them."
Get Boston.com's browser alerts:
Enable breaking news notifications straight to your internet browser.