Politics
Michelle Wu and Andrea Campbell say they would fire city employees who attended Capitol riot
The two mayoral candidates also said they would terminate workers who belong to white supremacist organizations and advocate racism on city and union social media.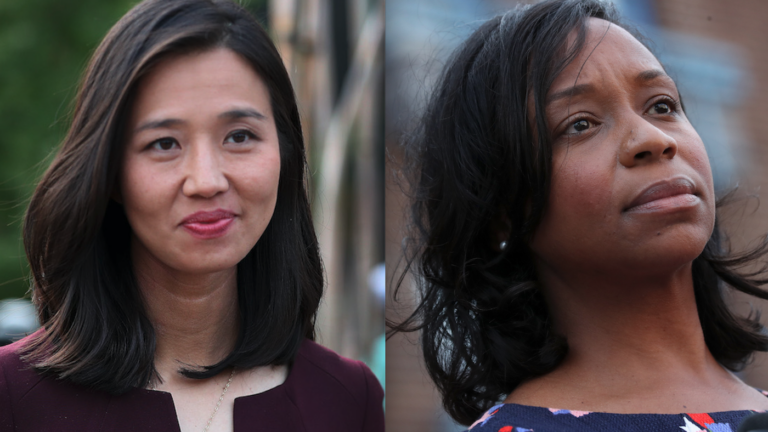 The only two declared candidates in Boston's evolving mayoral race both told voters on Saturday they would fire city employees who attended the insurrection at the Capitol building, who are members of white supremacist groups, or who use city or union social media accounts to advocate racism.
City Councilors Andrea Campbell and Michelle Wu answered without hesitation when posed the question during an online forum organized by Dorchester Democrats in the party's Ward 15.
"Yes," Campbell said when asked if she would terminate those employees. "That was easy."
Wu, posed the same question in a separate interview session, responded that she "absolutely" would, too.
"I'll just add that not only is this a fundamental matter of safety and health for everyone, that we are rooting out white supremacy, but city workers across all departments should be held to standards of accountability and transparency," Wu said. "I think we see that very much in our conversations about police reform, and this should apply across the board."
Days earlier, the City Council unanimously condemned the violence that engulfed the halls of Congress and left five dead on Jan. 6 and supported removing President Donald Trump from office for his role in instigating what happened through his remarks at a rally held beforehand.
On Thursday, The Boston Globe reported the Boston Police Department is investigating whether one of its officers participated in the riot. The officer, who has not been identified, allegedly posted a photo of the rally and threatened Vice President Mike Pence in now-deleted social media posts.
Since the attack, calls to make sure participants experience consequences have flowed around the country, especially as federal law enforcement works to weed out agitators and suspects of particular interest in the mayhem that broke loose.
Among the alleged perpetrators are members of white supremacist and nationalist organizations — extremists and groups that experts say have been emboldened by Trump's presidency.
In sharp contrast lies the country's ongoing reckoning with longstanding and systemic racism following the death of George Floyd last year — a racial justice movement that has forged new law enforcement and criminal justice reform measures across the United States, including in Boston.
Earlier this month, Mayor Marty Walsh signed off on an ordinance his administration created in partnership with the council to create a new agency charged with reviewing alleged police misconduct.
In the city's operating budget last year, Walsh re-allocated $12 million of the Boston Police Department overtime budget into trauma and counseling, mental health, housing, and other services amid pressure to re-focus department funding into community resources.
Asked on Saturday how they would each build on and improve criminal justice reform in the city, both Wu and Campbell highlighted the importance of stepping up City Hall's role supporting former convicts in their lives beyond incarceration.
"My whole life, in many ways, has been affected by the criminal justice system," Campbell said.
Her mother died in a car accident as she was going to visit Campbell's father who was incarcerated when Campbell was eight months old. The councilor grew up with relatives and in foster care while her father — who died when she was 19 years old — was in prison for the first eight years of her life, she said.
Her twin brother, Andre, died in state custody at age 29 as he awaited trial.
"I still have relatives who are incarcerated, sadly," Campbell said. "So when I first got to the council, I expanded the Committee of Public Safety to include criminal justice, and to specifically say that we as a city have to take a more aggressive leadership role when it comes to helping those who are being released from our prisons. So I've pushed for programming to help folks not only obtain better jobs, but also housing, mental health supports — everything, they would need to have a second chance and opportunity."
Campbell said many programs could come through city partnerships with community-based organizations who are already doing the work. Local leaders must also be in close contact with state officials on these issues as well, she said.
"We have to choose to take a leadership role," she said.
Wu told attendees on the Zoom call criminal justice reform is "the central issue that has been shaping many of our neighborhoods for generations as one of the primary drivers of inequality."
"Our Sheriff Steve Tompkins says all the time: The criminal justice system isn't broken. It's doing exactly what it was intended to do, which is to be a punitive system," Wu said. "And we need to move towards a restorative justice system."
Doing that entails thinking about those who are coming back to their communities through re-entry and how the city can provide "wraparound support so people can get back on their feet," Wu said.
The city needs to "take care of the little injustices that are still being heaped on residents that are coming back into community of not being able to get access to a driver's license or housing or jobs," she said.
In the big picture, officials must invest in mental health services, education access, and housing — underlying issues that are "completely interwoven" with the criminal justice system, Wu said.
"We need to ensure that, you know, of our city resources, we're tackling all these issues together — that investing in youth development, giving our youth voice in this government, giving our youth a place for socializing and jobs and professional development, directly impacts the costs that we are spending with accountability down the line," Wu said.
Campbell, in the short term, also said officials must also advocate for increased access to COVID-19 testing and precautions for incarcerated populations.
"I think that requires us to see the humanity in these individuals that we often don't want to do," she said.
Get Boston.com's browser alerts:
Enable breaking news notifications straight to your internet browser.