Politics
Live updates on the inauguration of Joe Biden as the next president of the United States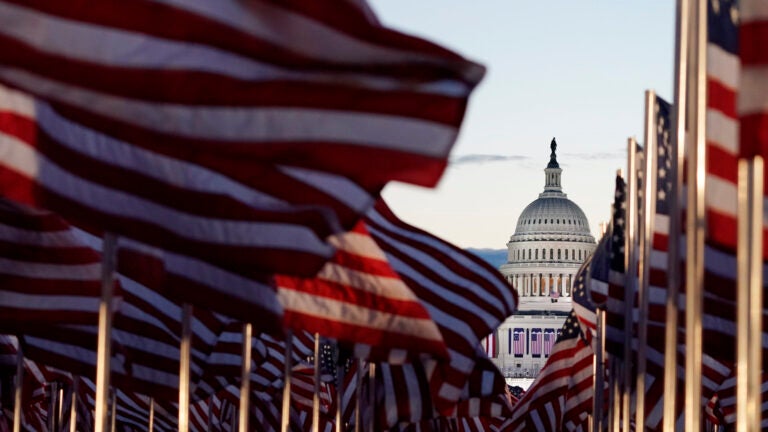 Mass. delegation reacts to Harris' historic swearing-in (12:00 p.m.)
The first, not the last.

Congratulations Madam Vice President. pic.twitter.com/Gn1VAZcLBX

— Congresswoman Lori Trahan (@RepLoriTrahan) January 20, 2021
A historic first, but certainly not the last. Thinking of the millions of young girls who will be inspired and compelled to act by this historic moment. Congratulations, Vice President @KamalaHarris, on your greatest role yet.

— Katherine Clark (@RepKClark) January 20, 2021
Joe Biden sworn in as 46th president (11:53 a.m.)
Joe Biden has officially become the 46th president of the United States.
Biden took the oath of office just before noon Wednesday during a ceremony at the U.S. Capitol. The presidential oath was administered by U.S. Supreme Court Chief Justice John Roberts.
Biden was sworn in using a Bible that has been in his family since 1893 and was used during his swearing-in as vice president in 2009 and 2013. The 5-inch thick Bible, which could be seen on a table next to Biden's chair on the dais, has a Celtic cross on its cover and was also used each time he was sworn- n as a U.S. senator.
Biden's late son, Beau, also used the Bible for his own swearing-in ceremony as attorney general of Delaware and helped carry the Bible to his father's 2013 ceremony.
— Associated Press
Kamala Harris sworn in as vice president (11:50 a.m.)
Kamala Harris has been sworn in as the nation's first female vice president.
The former U.S. senator from California is also the first Black person and the first person of South Asian descent elected to the vice presidency and becomes the highest-ranking woman ever to serve in government.
She was sworn in Wednesday by Justice Sonia Sotomayor, the first Latina to serve on the Supreme Court. Vice President Mike Pence, standing in for President Donald Trump, was sitting nearby as Lady Gaga sang the national anthem accompanied by the U.S. Marine Corps band.
— Associated Press
N.H. teen who bonded with Biden over stutter will have a role in the inauguration (11:32 a.m.)
Thirteen-year-old Brayden Harrington, who became friends with Joe Biden over their shared experiences with stuttering, will have a special part in Wednesday's presidential inauguration festivities.
The Concord, New Hampshire, native will be one of the featured guests in the 90-minute primetime program, "Celebrating America," to mark the occasion, according to WCVB.
He will read a line from President John F. Kennedy's famous inaugural address: "Ask not what your country can do for you — ask what you can do for your country," the outlet reports.
Asked on "Good Morning America" what he thinks Biden should say in his inaugural speech, Harrington responded, "Bring people together and to reunite the country."
Biden and Harrington met last year at a CNN town hall in New Hampshire, where the former vice president shared his own experiences with his childhood stutter and offered his support to Harrington.
Harrington, who is set to release a book, "Brayden Speaks Up," in August, also spoke at the Democratic National Convention last year.
Joe Biden's inauguration ceremony begins (11:24 a.m.)
Joe Biden's presidential inauguration ceremony has begun.
Biden swears the oath of office at noon Wednesday, becoming the 46th president of the United States. The Democrat is preparing to take the helm of a deeply divided nation and inherit crises arguably greater than any faced by his predecessors.
History will be made at Biden's side, as Kamala Harris becomes the first woman to be vice president.
The ceremony in which presidential power is transferred is a hallowed American democratic tradition. And this time it serves as a jarring reminder of the challenges Biden faces: The inauguration unfolds at a U.S. Capitol battered by an insurrectionist siege just two weeks ago, encircled by security forces. It's devoid of crowds because of the threat of the coronavirus pandemic.
Flouting tradition, Donald Trump departed Washington on Wednesday morning ahead of the inauguration rather than accompany his successor to the Capitol.
Former Presidents George W. Bush, Barack Obama and Bill Clinton are attending.
The other living former president, 96-year-old Jimmy Carter, previously announced he would not attend.
— Associated Press
Capitol Police Officer Eugene Goodman accompanies Kamala Harris (11:17 a.m.)
A Capitol police officer hailed as a hero for his actions during the Jan. 6 insurrection at the Capitol is accompanying Vice President-elect Kamala Harris at the inauguration of Harris and President-elect Joe Biden.
Eugene Goodman, the Capitol police officer who led rioters away from the Senate chamber during the insurrection on Jan. 6, is escorting VP-elect Harris at today's inauguration. pic.twitter.com/bjeofucXeA

— NBC News (@NBCNews) January 20, 2021
Officer Eugene Goodman confronted the insurrectionists and led them away from Senate chambers moments after Vice President Mike Pence was escorted from the Senate chamber as the rioters stormed the Capitol.
Goodman is a Black man and was facing an overwhelmingly white mob. He is the only officer seen for a full minute on widely circulated footage captured by a news reporter. Goodman stands in front of the rioters and walks backward as the group follows him to a second-floor hallway, where other officers finally assist him.
A police spokeswoman says Goodman's plainclothes assignment to accompany Harris "is a ceremonial role.″
— Associated Press
Trump lands in Florida (11:14 a.m.)
President Donald Trump has arrived in Florida after leaving the White House for the final time as president.
President Trump arrived in Florida. pic.twitter.com/OAyOUR3Zzn

— CSPAN (@cspan) January 20, 2021
Trump said farewell to Washington early Wednesday, leaving before President-elect Joe Biden's inauguration.
Trump's plane flew low along the coast as Biden's inauguration played on TV on Fox News Channel.
Trump's family was on the plane with him. He spent some of the flight meeting with flight staff, who went up to say goodbye.
Trump has hinted about a comeback despite a legacy of chaos, tumult and bitter divisions in the country he led for four years.
Trump spoke to supporters at Joint Base Andrews in Maryland, where he walked across a red carpet and boarded Air Force One to head to Florida. He said: "So just a goodbye. We love you." And the 45th president added, "We will be back in some form."
Trump departs office as the only president ever impeached twice, and with millions more out of work than when he was sworn in and 400,000 dead from the coronavirus.
— Associated Press
Here are the Mass. lawmakers and officials attending the presidential inauguration (10:22 a.m.)
When Joe Biden takes the oath of office in Washington D.C. Wednesday, Massachusetts will be well represented.
Boston Mayor Marty Walsh, Biden's nominee for secretary of labor, will be in attendance along with several of the Bay State's representatives.
The mayors of Joe Biden's cabinet at his Inauguration: Pete Buttigieg and Marty Walsh pic.twitter.com/RMmewgzVBP

— Tyler Pager (@tylerpager) January 20, 2021
Rep. Stephen Lynch told The Boston Herald he'll be there, but his wife will be staying home after he experienced the insurrection at the U.S. Capitol two weeks ago.
"Because of the security situation, we sat down and figured that this is probably not something that we want — to be trying to find each other in the crowd if violence does erupt," Lynch told the newspaper. "She's a big, big supporter of Joe Biden and Jill Biden and she wants to be there, but this is the reality we're dealing with."
The violence that broke out on Jan. 6 and left five people dead has put Washington D.C. and state capitals around the nation on high alert amid the inaugural festivities.
Rep. Bill Keating told the newspaper lawmakers attending the ceremonies must undergo a screening process with multiple coronavirus tests. The Capitol building now has "rings of security," he said.
"We're cognizant that this is a different threat," Keating told the Herald. "In other inaugurations, there were concerns that foreign terrorists might target this day of transfer of power for our country. Now there's also a clear understanding of the domestic threat."
Also attending is Rep. Jim McGovern and his wife, a spokesman told the news outlet.
McGovern "has received regular briefings on the security measures being taken, and he has the utmost confidence that everything that can be done is being done to make sure the inauguration goes off without a hitch," the spokesman said.
Sen. Elizabeth Warren tweeted Wednesday morning she was at the Capitol with her husband.
"Bruce and I are honored to be at the Capitol for the inauguration of Joe Biden and Kamala Harris," Warren wrote. "This is a great day for Massachusetts and our country!"
Bruce and I are honored to be at the Capitol for the inauguration of Joe Biden and Kamala Harris. This is a great day for Massachusetts and our country! pic.twitter.com/MYjURnU9AY

— Elizabeth Warren (@SenWarren) January 20, 2021
Sen. Ed Markey and Reps. Seth Moulton, Jake Auchincloss, Lori Trahan, and Richard Neal also plan to be there, according to the Herald. Staffers for Reps. Katherine Clark and Ayanna Pressley did not return the newspaper's requests for comment.
Last week, Pressley announced her husband tested positive for COVID-19 and that she tested negative but was self-isolating.
Former Secretary of State and Massachusetts Sen. John Kerry was also spotted at the ceremonies on Wednesday morning. Biden tapped Kerry to serve as "Special Presidential Envoy for Climate," a role in which he will serve on the White House National Security Council.
Former Mass. U.S. Senator and Secretary of State John Kerry spotted at the #BidenInauguration. (📷 AP Pool) pic.twitter.com/fEIOdlsBha

— WCVB-TV Boston (@WCVB) January 20, 2021
According to Walsh's office, the mayor was tested for the virus before leaving Massachusetts; will be tested again upon his return; and "will observe the protocol of the transition team and state guidelines."
He will be tested again upon returning.

Walsh will also "not have any media availability" while in the Capital city. (Reporters are asked to contact his office.)

Last week, Walsh did not take questions during his COVID-19 press briefing:https://t.co/A5zri2XKlE

— Christopher Gavin (@chris_m_gavin) January 19, 2021
What the Mass. congressional delegation is saying on the morning of Biden's inauguration (10:02 a.m.)
Goodbye and good riddance Donald Trump. See you at your trial.

— Ed Markey (@EdMarkey) January 20, 2021
When @JoeBiden and @KamalaHarris are sworn in today, decency and competence will be back in the White House.

Millions of girls will be able to dream bigger.

And we'll be ready to make big, structural change.

Watch it live: https://t.co/Yzxyj8nKz7

— Elizabeth Warren (@ewarren) January 20, 2021
A new day is upon us. pic.twitter.com/FAgCSbb6h7

— Rep. Richard Neal (@RepRichardNeal) January 20, 2021
Preparations are continuing for #InaugurationDay. Soon we will have a President and Vice President focused squarely on the American people, and their hopes for the future. pic.twitter.com/sbJFeXcD7t

— Rep. Jim McGovern (@RepMcGovern) January 20, 2021
Woke up ready to see @JoeBiden and @KamalaHarris sworn in! Who's with me? #BuildBackBetter #InaugurationDay

— Congresswoman Lori Trahan (@RepLoriTrahan) January 20, 2021
Michelle and I are leaving my office and heading over to the Capitol for the #Inauguration of @JoeBiden. It's an honor to represent the Massachusetts fourth, witness history, and turn a new page. pic.twitter.com/Xb98YvS14m

— Rep. Jake Auchincloss (@RepAuchincloss) January 20, 2021
Good morning, sisters! No need to bring your chair. This time we have a seat at the table. ✨ https://t.co/TVWI30kUjD

— Katherine Clark (@RepKClark) January 20, 2021
Trump leaves note for Biden (9:28 a.m.)
President Donald Trump has followed at least one presidential tradition.
The White House says the Republican president left behind a note for his successor, Democrat Joe Biden.
Deputy press secretary Judd Deere declined to reveal what Trump wrote to Biden or to characterize the sentiment in the note, citing privacy for communication between presidents.
Trump has refused to publicly concede to Biden and did not mention the Democrat by name in a pair of farewell addresses.
Trump interrupted many traditions of the presidency, including by not attending Biden's inauguration on Wednesday. Trump also did not invite Biden to the White House for a meeting after Biden was declared the winner of November's presidential election
Trump left the White House for the final time as president on Wednesday morning, saying, "It's been a great honor, the honor of a lifetime."
— Associated Press
President Donald Trump delivers farewell remarks, departs from Joint Base Andrews (9:06 a.m.)
President Trump: "It was my great honor and privilege to be your president…I wish the new administration great luck and great success…Have a good life. We will see you soon."https://t.co/PJQwLJgm0H#InaugurationDay pic.twitter.com/IH5T2USl8S

— CSPAN (@cspan) January 20, 2021
President Donald Trump departs White House aboard Marine One (8:20 a.m.)
President Trump departing the White House: "It's been a great honor. The honor of a lifetime…We've had an amazing four years…I just want to say goodbye, but hopefully it's not a longterm goodbye. We'll see each other again."https://t.co/ITUsoYxOAe#InaugurationDay pic.twitter.com/1oKalhKjl6

— CSPAN (@cspan) January 20, 2021
President Trump departs the White House.#InaugurationDay pic.twitter.com/iR22GbVn2q

— CSPAN (@cspan) January 20, 2021
Rhode Island emergency room doctor among those attending inauguration ceremony (8:20 a.m.)
Dr. Megan Ranney, an emergency room physician and director of the Brown-Lifespan Center for Digital Health, is attending the inauguration ceremony Wednesday as a guest of Congressman Jim Langevin. 
Ranney has been a prominent voice during the COVID-19 pandemic, sharing information with the public about the outbreak on social media and a frequent guest on news programs. 
To follow social distancing protocols, each Member of Congress was given one guest ticket for the inaugural ceremonies. 
In a statement, Langevin said he was thrilled to have a frontline hero from his state accompanying him. 
"Dr. Ranney is a renowned emergency physician and researcher who has been instrumental in Rhode Island's COVID-19 response and recovery operations," he said. "Since COVID-19 first hit, professionals like Dr. Ranney have worked tirelessly to save lives and safeguard communities. As we mark this new chapter in American history, it's important that we recognize heroes like Dr. Ranney and thank them for their service."
I'm thrilled to have one of RI's very own frontline heroes joining me for such a historic moment. Dr. @meganranney is a renowned emergency physician and researcher who has been instrumental in Rhode Island's #COVID19 response and recovery operations.⏬https://t.co/FORuAUx5or pic.twitter.com/17oi1s4ugZ

— Jim Langevin (@JimLangevin) January 19, 2021
The emergency room doctor said in a statement she is "confident" that with Biden in the White House, the nation will be on a path that "crushes the virus and reinvigorates our nation."
"I've dedicated my life to ensuring that communities are safe and healthy – but I am far from the only one. In the months since the spread of coronavirus began, countless health professionals have stepped up.
Early Wednesday, she shared her thoughts on social media. 
"This feels like the end of a fairytale, when the big bad wizard is finally run out of town by the villagers," Ranney said. "May there not be a sequel."
This feels like the end of a fairytale, when the big bad wizard is finally run out of town by the villagers.

May there not be a sequel.

— Megan Ranney MD MPH 🗽 (@meganranney) January 20, 2021
Get Boston.com's browser alerts:
Enable breaking news notifications straight to your internet browser.