Politics
Andrea Campbell grew up a few blocks away from 'Mass. and Cass.' Here's her plan to address the troubled area.
"There is no one who is responsible for coordinating all of these folks."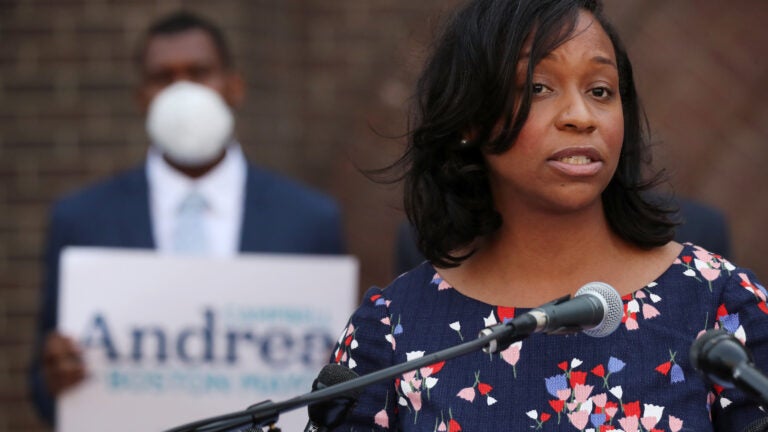 Andrea Campbell finds it "extremely painful" to retrace the streets of the South End neighborhood where she grew up.
For most of her childhood, the Boston city councilor and mayoral candidate lived within a few blocks of the intersection of Massachusetts Avenue and Melnea Cass Boulevard, an area now known as a center of the regional opioid and homelessness crises.
"I grew up right down the street on Mass. Ave., and every time I drive through the area, the crisis only continues to get worse," Campbell, who now lives in Mattapan, told Boston.com in an interview.
Even before the COVID-19 pandemic, city officials struggled to address the public health crisis at "Mass. and Cass," amid complaints from local residents that the homelessness, drug use, and violence around the neighborhood's recovery clinics, halfway houses, and homeless shelters have resulted in unsafe and inhumane conditions. Advocates say the pandemic has additionally exacerbated the situation, with more people living on the streets.
With the open 2021 mayoral race heating up in the wake of Mayor Marty Walsh's looming departure, Campbell is unveiling a detailed Mass. and Cass plan Friday that includes the creation of a cabinet-level position empowered to coordinate resources and lead a team of public health professionals, mental health counselors, and first responders that are dedicated to the area.
"The folks who are doing the hard work are struggling in their response because there is no one who is responsible for coordinating all of these folks," Campbell said.
Her proposed "Mass. and Cass chief" would report directly to the mayor, and work to "decentralize" services around the city. According to Campbell, the decentralization effort would increase access to treatment and recovery sites in other parts of the city, as well as locate different services in a more strategic manner.
"Folks who are dealing with substance use disorder talked about, 'I go into a place for recovery services and situated right next door is a place where you can inject, and that does not make it easier for me to be successful in my recovery,'" said Campbell, who did a walkthrough of the neighborhood in September to hear from residents.
She's also proposing a dedicated first responder unit for the area, which is located at the intersection of numerous police districts, in the hopes that officers can build relationships with residents. However, the team would also include recovery and mental health experts.
Campbell's plan also calls for improving the city's data dashboard on Mass. and Cass and leveraging the convening capacity of the mayor's office to break down existing "silos" between different service providers.
"I will make sure that we bring every resource to bear, so that we actually can activate more safe spaces, more supportive housing, more temporary solutions to folks dealing with homelessness, and do more to decentralize services so that recovery services are available all across the city of Boston," she said.
Campbell's plan comes as multiple local health experts, including state Rep. Jon Santiago and Boston Health and Human Services Chief Marty Martinez, consider jumping into the mayor's race. City Councilor Anissa Essaibi-George, who is also considering a mayoral bid, has made the opioid epidemic one of her main focuses.
Fellow City Councilor Michelle Wu, the only other declared mayoral candidate, has been sharply critical of the Walsh administration's approach to Mass. and Cass — particularly the 2019 sweep of arrests in the area. Wu's campaign calls for a more robust, evidence-based approach to the local opioid epidemic that includes more investments in prevention, treatment, and recovery services.
Walsh's administration also unveiled a plan in 2019 that included assigning more city staff to the Mass. and Cass area, more funding for response and outreach services, and increased coordination between departments.
Campbell argues that appointing a dedicated chief whose "sole responsibly" is Mass. and Cass would be "very different."
"City employees, service providers, task force members have been working really hard, but they're struggling to have an effective and impactful response," she said, adding that the plan is "a step in the right direction."
Campbell acknowledged that it is hardly a city-specific issue.
She is among the chorus of those who support reactivating services on Long Island, a Boston harbor island that used to host programs for those struggling with addiction and homelessness before its bridge was demolished due to structural issues. The island has been the subject of an ongoing legal battle with Quincy, which opposes rebuilding a bridge.
Campbell wants to conduct an economic feasibility study on running ferries to Long Island, which was previously served by buses, under the assumption that it will be years before a bridge is rebuilt.
"While it would require investment, a ferry service could connect those in recovery to treatment, reactivate the unutilized buildings on the island, and alleviate pressure from Mass & Cass," says Campbell's plan.
She also thinks the state should "step up a lot more" to provide funding — both for a potential ferry as well as the city's larger efforts to respond to the opioid epidemic. According to Campbell, Boston's neighboring cities should also pitch in.
"We are bearing the brunt, in many ways, of responding to residents who are not just Boston residents but non-Boston residents — and we have data that demonstrates that — who are coming here to seek services," Campbell said. "And so we need more resources from the state. We also need more support from municipalities around Boston. And we need to know what their plans are with respect to responding to the opioid crisis and helping their residents to create greater partnership in responding to the current storms we're seeing."
Get Boston.com's browser alerts:
Enable breaking news notifications straight to your internet browser.