Politics
Charlie Baker concluded his State of the Commonwealth speech with an unexpected TV reference
"The show that sticks with me is Ted Lasso."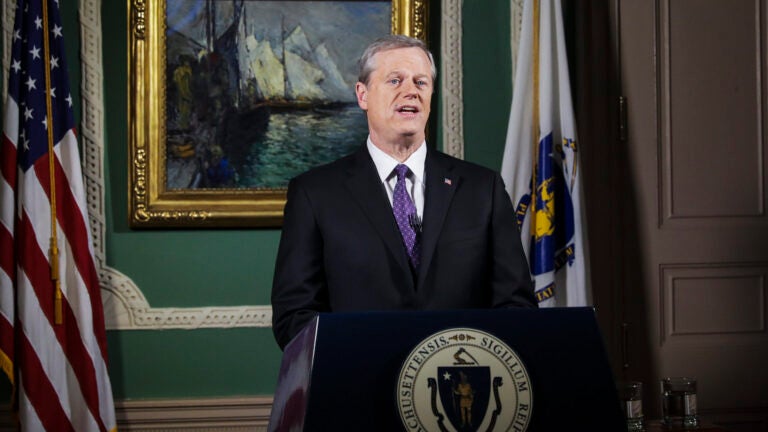 After a tumultuous year, Massachusetts Gov. Charlie Baker covered a lot of familiar ground in his annual State of the Commonwealth address Tuesday night.
The toll of the COVID-19 pandemic and the state's ongoing response. Recently passed legislation on transportation, economic development, health care, and police reform. The coming clash with state lawmakers over a recently vetoed climate change bill.
However, he ended it on a surprising note: By referencing a TV show starring former "Saturday Night Live" star Jason Sudeikis as an out-of-his-depths Premier League soccer coach in London.
"I know many of us watched a lot of TV over the past year," Baker said.
"The pandemic drove us inside, and the streaming services and cable networks took full advantage of that," he continued. "The show that sticks with me is Ted Lasso. It's positive, charming, heartfelt, and subtle. Big high fives to Saturday Night Live's Jason Sudeikis."
📹 @MassGovernor @CharlieBakerMA with a @TedLasso shout out in the 2021 State of the Commonwealth Address #WBZ pic.twitter.com/i0e3uQka2d

— Joe Giza (@JoeGiza) January 27, 2021
Baker, who has frequently complained about the partisanship that dominates national politics, went on to reference a scene on the Apple TV+ show in which the eponymous character, Ted Lasso, played by Sudeikis, quotes a phrase by the poet Walt Whitman in the midst of a high-stakes darts game: "Be curious – not judgmental."
"[Lasso] goes on to talk about how curious people learn things they didn't know, while judgmental people learn…not much at all," Baker said Tuesday night. "And then he sticks the landing."
(We won't spoil any more details about the scene, but it's currently on YouTube.)
Baker, a moderate Republican who has governed with veto-proof Democratic majorities in the Massachusetts House of Representatives and Senate, noted that during his term and a half he has talked "about collaboration and respect, about seeking common ground, about focusing on the issues, and not on the personalities."
"I get that it's harder to collaborate, and it's harder to show respect in a time of high anxiety and trauma," he said. "But I would suggest that it's more important during times like these to ask questions. To be curious. To show empathy – and to maintain an open mind – than it is to make brash statements and name call."
The appeal comes after Baker took criticism from transit advocates for vetoing many parts in a recent transportation bond, arguing they needed to wait and see how travel patterns develop after the pandemic.
However, the bill to which the governor linked that "curious" approach was the state's recent compromise police reform legislation.
"Too many politicians and too many talking heads thrive on takedowns and judgments," he said. "It's become the source of so much anger and hatred in this world that I often wish I could just shut it all off for a month and see what happens. Over time, too much of our daily discourse has come to resemble it. Not curious. Just judgmental.
"In the end, this makes it harder for us to understand one another, to learn from one another, and most importantly, to grow," Baker continued. "My interest in filing a police accountability bill came from conversations with people whose life experiences were different than mine. I listened, I learned, and I grew."
Aside from putting the COVID-19 pandemic in the "rearview mirror," Baker said his "biggest wish for 2021" was for more people to take that Walt Whitman quote to heart.
"If we do, I believe we will all grow," he said. "And hopefully, we'll all learn a few things we didn't know before and be glad that we did. We'll also be happier and healthier – and can use our newfound knowledge and understanding to build a better, stronger Commonwealth as we come out of this awful pandemic."
Get Boston.com's browser alerts:
Enable breaking news notifications straight to your internet browser.