Politics
City Councilor Annissa Essaibi-George enters Boston's mayor race
"I believe in a Boston that sees the inequity, the everyday injustices, the wrongs and tackles them head on."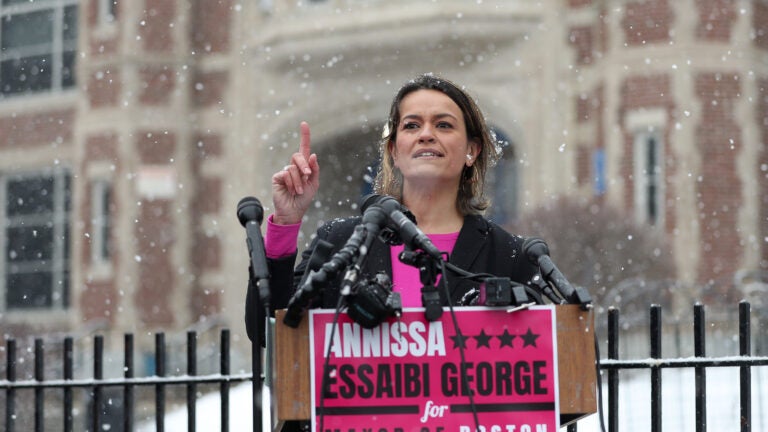 Boston City Councilor At-Large Annissa Essaibi-George officially entered the Boston mayoral race Thursday morning, joining two of her fellow councilors in a field of candidates made up solely of women of color.
The former schoolteacher kicked off her campaign outside East Boston High School, where, before being elected to the council in 2015, she taught economics, health and human services, and business management.
As a light snow fell, Essaibi-George outlined the work ahead to bring Boston out of the COVID-19 pandemic that has wreaked havoc on small businesses and exacerbated and exposed deep, longstanding inequities, from housing to health care.
"I'm running for mayor because I believe in a Boston that sees inequity, everyday injustices, the wrongs, and tackles them head on," Essaibi-George said. "I believe in a Boston that lifts up every neighborhood and embraces all who call it home."
Her foray into the mayoral race comes as the contest has heated up in recent weeks after Mayor Marty Walsh was tapped as President Joe Biden's nominee for secretary of labor.
Walsh's imminent departure, pending his confirmation by the U.S. Senate, will make certain the popular incumbent will not be on the ballot this fall. The change-up has jolted city politics, setting forth officials from across Boston to consider a bid to be the city's next chief executive.
City Councilors Michelle Wu and Andrea Campbell both announced their campaigns last fall. Essaibi-George is the first candidate to enter the race since Walsh's nomination by the Biden administration earlier this month.
All three will seek to make history in a city that has only elected white men as its mayor. However, their candidacies alone are now historical: Never before has Boston had three women all running for mayor at a single time.
A Dorchester native, Essaibi-George, 47, is the daughter of immigrants. Her mother was born to Polish parents in a displaced persons camp in Germany. Her father immigrated to the United States from Tunisia in 1972.
It's going to be a great day. Thank you Mama and Dja Dja, Ma & Dad. Thank you, Boston. pic.twitter.com/bd8hm5UOWl

— Annissa Essaibi-George (@AnnissaForBos) January 28, 2021
"They worked hard and sacrificed to ensure their children could have a shot at the American dream, and it is because of them that I am able to stand before you today as an at-large city councilor, a former teacher, a small business owner, a mom, and now a candidate for mayor in the city they were so proud to make home," Essaibi-George said. "My past, like all of you, is very much a part of who I am and will continue to shape my work." 
Essaibi-George, a mother of four, owns the yarn and fabric shop Stitch House in Dorchester. She is a graduate of Boston Technical High School and holds a bachelor's degree in political science and a master's degree of education from Boston University and UMass Boston, respectively.
Doug, her husband, is a real estate developer.
"I want to say to all the moms out there: I see you, holding your families together during a global pandemic," Essaibi-George said. "You know that you have no choice but to multi-task. To manage priorities. To show up every damn day and do this hard work. It is always unseen and it is always — almost always — without praise or fanfare. City Hall needs to operate in the same way. There's too much to do."
In her time on the council, Essaibi-George has taken on issues surrounding education, mental health, homelessness, and substance abuse, among others.
In October, the City Council passed an ordinance crafted by Essaibi-George to require large pharmacies that sell hypodermic needles to provide kiosks so unwanted sharps can be safely disposed.
Her experience as an educator gave Essaibi-George "a front-row seat to the challenges our families face day in and day out: housing and homelessness; food insecurity, or access to transportation; the need to juggle multiple jobs; language barriers; child care; health care." 
"The road blocks in this city are real — the inequalities persist," she said. "We have to face them head on and fast."
Small businesses — left devastated by the pandemic — need support to rebuild, she said.
Walsh, she added, "has tirelessly dedicated himself to bettering Boston over these past seven years, and there's still so much work to do."
"While Boston is an incredible place to call home, COVID has shone a bright light on our shortcomings and disparities," Essaibi-George said. "But this is a city of scrappy, hard work. I know there's nothing we can't accomplish together. We can and will learn from our mistakes and build a stronger, more resilient city."
Following her campaign kick-off, Essaibi-George was set to embark on a tour of the city Thursday afternoon, with stops in Allston/Brighton, Dorchester, Roxbury, the South End, and Mattapan.
Watch Councilor Annissa Essaibi-George's full remarks:
Get Boston.com's browser alerts:
Enable breaking news notifications straight to your internet browser.