Politics
Elizabeth Warren says the GameStop stock surge shows the need for 'clear rules'
"I want to see more traders in the market. ... But I don't want to see them be able to get in the market so they can get fleeced by insiders."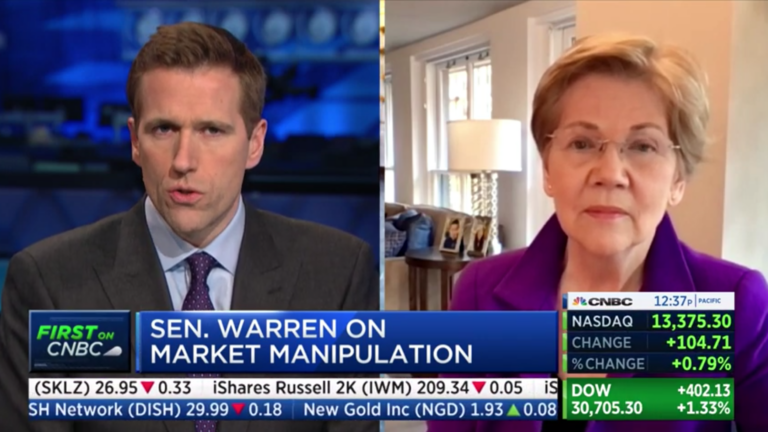 Sen. Elizabeth Warren says she doesn't exactly know what — or who — is behind GameStop's soaring stock price.
According to Massachusetts senator, that's part of the problem.
During a CNBC interview Thursday afternoon, Warren faulted the lack of protections against market manipulation from the Securities and Exchange Commission, the top federal stock trading regulator, for GameStop's volatile run this week — even if her usual foes, big investment firms, found themselves on the wrong end this time.
"For a long time now, the SEC has pulled back and not made sure that we have an honest market," the Cambridge Democrat said.
"All of a sudden, the billionaires and some hedge funds are yelling because they're not the ones, the only ones, who make money when the manipulation works," she added. "But remember the other half of this: There are gonna be a lot of people who are gonna lose money around this, a lot of money that they can't afford to lose. This is why we need an SEC that has clear rules about market manipulation and that has the backbone to go in and enforce those rules."
The interview came as social media users rallied to propel GameStop's share price to stunningly high heights this week — topping out at $469 — at the expense of big investors who had made financial bets against the money-losing video game retailer. However, after several stockbroking platforms blocked individual traders from buying Gamestop and several other stocks, the company's share price settled Thursday afternoon around $230.
While the decision to freeze retail trading was widely criticized, as many individuals made huge profits off GameStop's stock, others have argued that big short-sellers won't be the only losers when the bubble bursts and the share prices falls even further.
Warren said it demonstrates why it is important to "have a cop on the beat."
"The bigger issue for me is the SEC's inability and unwillingness to deal with market manipulation," she said. "It's not just what's happened in the last couple of weeks."
Warren suggested that corporate stock buybacks were an example of market manipulation, as were controversial incentive strategies employed by trading apps like Robinhood. Warren said market manipulation should be "illegal," but that the SEC never finished its rules to determine a definition.
And while the GameStop surge was initially spurred mostly by Reddit users, Warren said it had become unclear who else was fueling its stock price's stunning rise.
"People are liking to tell a David versus Goliath story, but are you entirely sure that's right?" she asked. "Are you entirely sure that there aren't wealthy people on both sides, that hedge funds haven't moved in on the side of the people who bid up the price of GameStop? And that's what happens when you don't have an honest market. When you don't have an honest market, a lot of folks get cheated, and a lot more folks just say, 'I'm not going into a market like that. I'm not going to participate. I'm not going to put my money out there.'"
Warren noted that the frenzy was playing out in the midst of the COVID-19 pandemic and widespread economic hardship. Even if some traders had made short-term games, she argued that it wasn't sustainable.
"This is happening at a time when millions of people are out of work, when millions of people are struggling, and they're looking for another way to try to make money and going into a market that is not honest, that is not transparent, signing away their rights with arbitration agreements, and then getting cut off from being able to trade," she said. "That is not a way for them to be able to build any security at all."
Warren did say she expects the SEC to launch an investigation into the GameStop frenzy, and that it would uncover people ending up getting "hurt."
"I want to see more traders in the market," she said. "I want to see day traders in the market. I want to see them have an opportunity — to be able to evaluate companies and say, 'This is one I like; this is one I don't like.' But I don't want to see them be able to get in the market so they can get fleeced by insiders who are pulling the strings in the back corners."
Get Boston.com's browser alerts:
Enable breaking news notifications straight to your internet browser.