Politics
Boston city councilors are voting to nix a mayoral special election. Does it matter that some are also candidates?
"You don't need a law degree to understand that."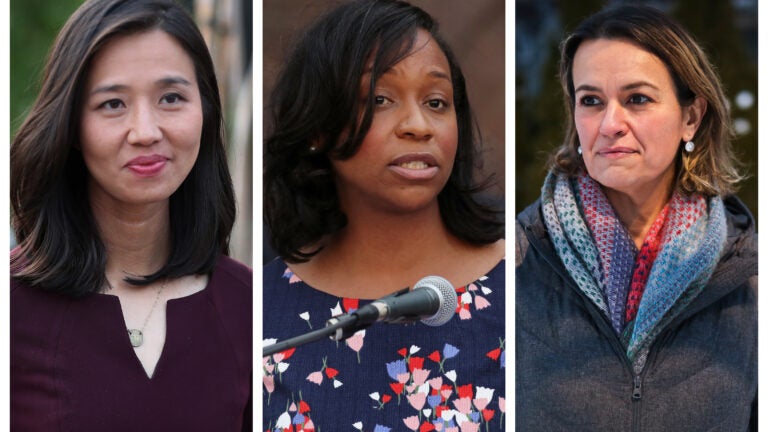 The Boston City Council looks poised to pass a home rule petition Wednesday to skip a special election triggered by Mayor Marty Walsh's departure ahead of the city's regularly scheduled mayoral elections later this year.
But with more than a third of the council running or thinking about running for mayor, some disagreement has emerged on who should actually be voting.
"I think that it's certainly questionable at the least, but very likely unethical for me to take a position on that home rule petition, as it very directly does impact me and my campaign strategy," Councilor Annissa Essaibi George told WBUR last week, after becoming the third candidate to enter the 2021 race.
Her comments came after the two other mayoral candidates in the race, fellow city councilors Michelle Wu and Andrea Campbell, came out in public support of the petition, citing concerns about the confusion, public health risks, and financial costs of holding two rounds of elections in the midst of a pandemic.
"The additional burden on voters and the City to hold possibly four municipal elections in less than 6 months during a pandemic is a risk we don't need to take," Campbell said in a statement last week. "And politics aside, it's in the best interest of all Bostonians that the next mayor of Boston is elected by a resounding majority of an enfranchised electorate, which is most likely in our regularly scheduled fall elections."
According to Boston's city charter, in the likely case that Walsh — who has been nominated to be President Joe Biden's labor secretary — leaves office before March 5, the city would be required to schedule a preliminary and general special mayor election sometime in June or July, ahead of the normal preliminary and general elections in September and November, respectively,
The council will vote Wednesday on the petition to override that requirement. And as The Boston Globe reported Monday night, 11 of the 13 city councilors have indicated they plan to support the measure.
Essaibi George is one of only two councilors who has yet to take a position, citing her ethical concerns.
But her colleagues disagree on whether the matter presents a conflict. Asked about Essaibi George's position, Wu recently told Boston.com that she consulted with various legal advisers, as well as the Massachusetts State Ethics Commission, which is the "ultimate authority on this matter."
"They have been clear that there is no direct conflict for stopping any councilors from voting on this matter," Wu said.
Campbell's campaign said she got similar advice from the state ethics office.
A spokesman for the Ethics Commission declined to comment on the specific situation, citing legal confidentiality requirements.
However, state law only precludes elected officials from voting on "particular" matters — such as city contracts, applications, or other individual matters — in which they or a family member has a financial interest. It does not prohibit officials from voting on "general legislation" and home rule petitions, even if it might incidentally benefit them. After all, city councilors have voted on everything from their own salaries to their term lengths.
According to the Globe, Essaibi George says she wants to hold herself to the "the highest possible ethical standard" as she enters the race.
"I trust my colleagues in government to do what is best for the people of Boston and guarantee that their voices are heard," she said.
It may well be a moot issue, given the apparent consensus on the the home rule petition, which will also need approval from Walsh, the state Legislature, and Gov. Charlie Baker.
However, during a public hearing last week, the head of the local NAACP chapter took aim at the city council's in-house attorney over a legal memo that would have prevented Wu, Campbell, Essaibi George, and Council President Kim Janey, who is set to become acting mayor when Walsh leaves, from voting on the petition due to conflicts of interest.
Tanisha Sullivan, the president of the NAACP's Boston branch, called the legal memo "questionable" and "deeply troubling."
"What I've seen is not legal analysis; it is a complete misread of the law on its face," Sullivan said. "You don't need a law degree to understand that."
Janey and Councilor Michael Flaherty have also said they're considering a mayoral campaign. Both have also said they plan to vote in favor of the home rule petition.
Sullivan added that the memo was an "overt attempt to misuse the law to silence the voices and neutralize the power of the women of color who have declared their candidacy for mayor and the Black woman who will become acting mayor."
Several councilors defended the city's attorney, if not the legal interpretation itself, including Councilor Lydia Edwards, who as chair of the committee on government operations had asked for the opinion. Edwards, who is also Black, said she simply asked for legal advice and did not mean in any way to question the integrity of her colleagues, noting that the state Ethics Commission was the "final voice" on the subject.
"At the end of the day, my colleagues went to the highest source on this," Edwards said. "They have spoken."
Get Boston.com's browser alerts:
Enable breaking news notifications straight to your internet browser.