Politics
Elizabeth Warren presses Robinhood CEO over decision to restrict trading of GameStop and other stocks
"Robinhood's actions revealed a new set of questions about its relationship with large hedge funds and other financial institutions."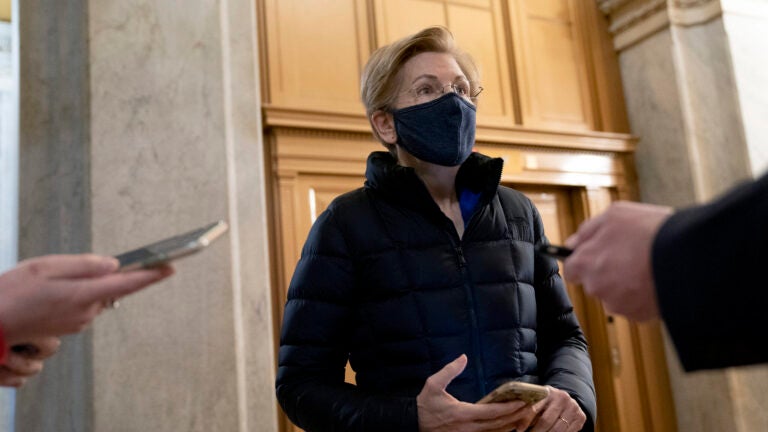 Sen. Elizabeth Warren has said that the frenzied GameStop stock-trading rollercoaster over the past few weeks illustrates the need for "clear rules" against market manipulation from the federal regulators.
But the government isn't the only one that she says needs to be more transparent.
In a letter Tuesday to Robinhood CEO Vladimir Tenev, the Massachusetts senator raised questions about the popular retail stock trading company's controversial decision to abruptly restrict users from selling the volatile stocks like GameStop on its platform last week.
"In addition to putting customers' finances at risk, Robinhood's actions revealed a new set of questions about its relationship with large hedge funds and other financial institutions, and follows past criticisms of Robinhood's insufficient investor protections," Warren wrote.
"Robinhood has a responsibility to treat its investors honestly and fairly, and provide them with access to the market under a transparent and consistent set of rules," she added. "It is deeply troubling that the company may not be doing so."
The social media-driven surge in GameStop's share price, which crescendoed last week, came at the expense of several major investment firms that had made financial bets against the video game retailer.
However, Robinhood briefly blocked users from buying additional GameStop stock last Thursday and has continued to limit trading on a handful of companies. The company, which is popular among small investors, said the move was due to pressure from Wall Street clearinghouses to sharply increase the deposits they're required to make to cover the trades until they're settled.
"It was not because we wanted to stop people from buying these stocks," Robinhood said in blog post Friday. "We did this because the required amount we had to deposit with the clearinghouse was so large—with individual volatile securities accounting for hundreds of millions of dollars in deposit requirements—that we had to take steps to limit buying in those volatile securities to ensure we could comfortably meet our requirements.
Still, the decision resulted in an immediate backlash from small investors, who felt the company had capitulated to the industry it simultaneously relies on and promises to disrupt. GameStop's share price, which rose from less than $20 earlier this month to as high as $469 last week, has since fallen back to around $100.
Warren, who has made leveling the political and economic playing fields a theme of her career, wrote to Tenev that the public deserves to know more about "actions that appear to be treating individual investors in an unequal or unfair fashion."
Specifically, she noted that Citadel Securities, a Chicago-based financial services giant that executes Robinhood trades and is affiliated with a hedge fund that made an emergency investment in another firm facing massive financial losses due to the GameStop surge, "raises troubling concerns" about the startup's relationships with large financial institutions:
The announcement of a "$2.75 billion emergency cash infusion into Melvin Capital Management, a short seller that was facing steep losses due to the huge rally in GameStop's stock," by Citadel raises further questions about potential conflicts of interest affecting Robinhood's business practices and relationships, as "the deal meant Citadel, the hedge-fund firm, was propping up a fund that had bet against GameStop stock, while Citadel Securities had been profiting from the order flow of small investors placing bullish bets on GameStop."
Warren also raised past concerns about Robinhood's "insufficient investor protections" and the inclusion of forced arbitration clauses in the company's customer agreement. She ended the letter with a list of detailed questions about Robinhood's decision to restrict trading, its contracts with large hedge funds, and its process for addressing customer complaints.
"The public deserves a clear accounting of Robinhood's relationships with large financial firms and the extent to which those relationships may be undermining its obligations to its customers," Warren wrote.
Get Boston.com's browser alerts:
Enable breaking news notifications straight to your internet browser.