Ayanna Pressley
'This is the time to reconstruct': Here are 4 ways Ayanna Pressley says the country can recover from the pandemic, and work toward equality
"I say policy is my love language because if we can legislate hurt and harm then we can legislate equity and healing and justice."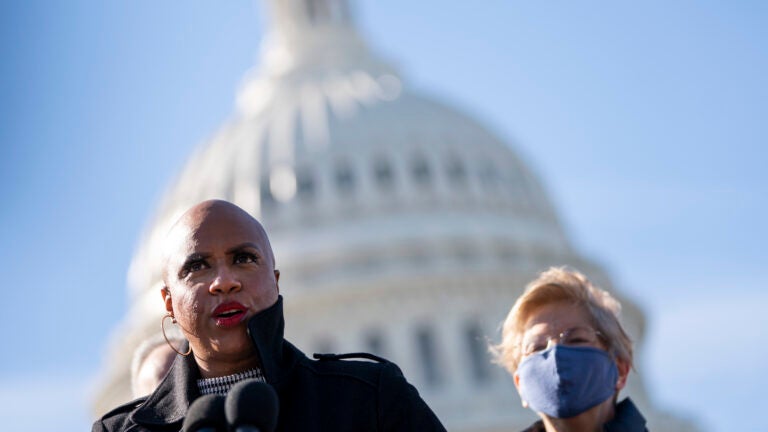 The COVID-19 pandemic's toll on businesses and the economy is no secret at this point, whether it's the shuttering of beloved restaurants or those "hibernating" for the winter, to the hundreds of thousands of people left unemployed.
As lawmakers look to rebuild the economy, and the country continues to put a critical eye on racial injustice and the inequality between white Americans and people of color, U.S. Rep. Ayanna Pressley says there are ways to recover from the pandemic's economic losses, and also move toward equality for all Americans.
In a conversation this week with Sandra McCroom, president and CEO of Children's Services of Roxbury, Pressley noted that while "Black Americans have disproportionately experienced legislated, legalized, precise hurt and harm," politicians can also "legislate equity and healing and justice."
"What we can't have is a recovery from this pandemic both in a public health response and an economic recovery that level sets us to the pre-COVID unjust status quo, inadequate normal," the congresswoman said Tuesday. "We cannot recover to that normal. So this is the time to reconstruct."
Due to COVID-19, a projected 40 percent of Black-owned small businesses may remain permanently closed, according to Pressley. Black homeownership is also at its lowest since the Fair Housing Act was enacted in 1968. 
Wealth disparities can also be seen just several miles apart, according to Pressley. Between Cambridge and Roxbury, the median wealth drops by $50,000 between the former and the latter. The same is true for life expectancy — it's 30 years less in Roxbury compared to Cambridge, she said.
There's also a vast difference in wealth between white Bostonians and their Black counterparts. White families have a median net worth of about $247,000; it's just $8 for Black families.
Here are four policies Pressley said she's pushing for that would help close that gap and move toward equality:
1. Canceling student debt
Student debt has a snowball effect that can lead to challenges far later in life, according to Pressley. She said policies like redlining have made it much more difficult for Black families to be able to build wealth over generations.
Roughly 85 percent of Black students are forced to take out student loans due to a lack of family wealth to be able to pursue a higher education degree. Black students are also five times more likely to default on the loans.
"That affects your credit store," Pressley told McCroom, "which then determines the complete trajectory of your life in American society."
On Thursday, Pressley stood with Sen. Majority Leader Chuck Schumer, Sen. Elizabeth Warren, and others during a press conference calling for President Joe Biden to cancel up to $50,000 in student debt for all borrowers.
Schumer pointed out another troubling disparity between white and Black student borrowers: After 20 years, just 5 percent of white students still have student debt. For Black borrowers, that number is 90 percent.
"Let me be clear, the student debt crisis has always been a racial and economic justice issue and for too long the narrative has excluded Black and Latinx communities and the ways in which this debt has exacerbated deeply entrenched racial and economic inequities in our nation," Pressley said during the press conference. "These disparities didn't just magically occur. They are the consequences of generations of systemic racism, discrimination, and what I call policy violence that has systemically denied Black and Latinx families the opportunity to build wealth, forcing our families to take on greater rates of student debt for the chance at the same degree as our white counterparts."
2. 'Baby Bonds'
The proposed American Opportunity Accounts Act, also known as "Baby Bonds," is another way Pressley said the country can address economic inequality. This program, if passed, would start savings accounts for everyone — $1,000 into an account that would gather interest until it can be dipped into when a child turns 18.
Annually, a deposit would be made into these accounts, up to $2,000 for the lowest-income families, and incrementally lower deposit amounts to families with higher income. The accounts would also garner about 3 percent in interest. For the poorest families, the account would reach nearly $50,000 by the time a child turns 18, according to Pressley.
The money would have very specific uses, like higher education, buying a home, or starting a business.
In a conversation with Sen. Cory Booker on Instagram Live on Thursday, Pressley noted that recovering from the pandemic is like a third Reconstruction, referring to ideas from the Rev. William Barber II, a pastor in North Carolina who also serves as president of the state's NAACP. Pressley noted that the baby bonds bill is "critical to that Reconstruction, is critical to a just and equitable recovery."
"This is the sort of prescriptive, targeted, race-conscious policies that we need to be advancing at this period of reconstruction," she said said.
3. Support for reparations
In her conversation with McCroom, Pressley referenced H.R. 40, a bill that calls for a study and to develop proposals for reparations to African Americans. It's a bill that has been on the table for decades and would address the harms to African Americans enslaved in the United States for 250 years up until the Civil War, which was followed by decades of violence and discrimination, and practices like Jim Crow.
4. Saving Our Street Act
The fourth piece of legislation Pressley said could help address inequality is the Saving Our Street Act, which would provide grants up to $250,000 to small businesses as part of a $124.5 billion program.
This "targeted relief," as Pressley described to McCroom, would help Black-owned small businesses like barbershops and beauticians, bodegas, and restaurants recover from the pandemic.
"I say policy is my love language because if we can legislate hurt and harm then we can legislate equity and healing and justice, and that is the work that we must do now," Pressley said to McCroom.
Get Boston.com's browser alerts:
Enable breaking news notifications straight to your internet browser.