Politics
3 key points Republicans made to Marty Walsh during his Senate committee hearing
"If you want $15 an hour in Boston, knock your socks off. But in Kansas, that would be a pretty big job-killing wage."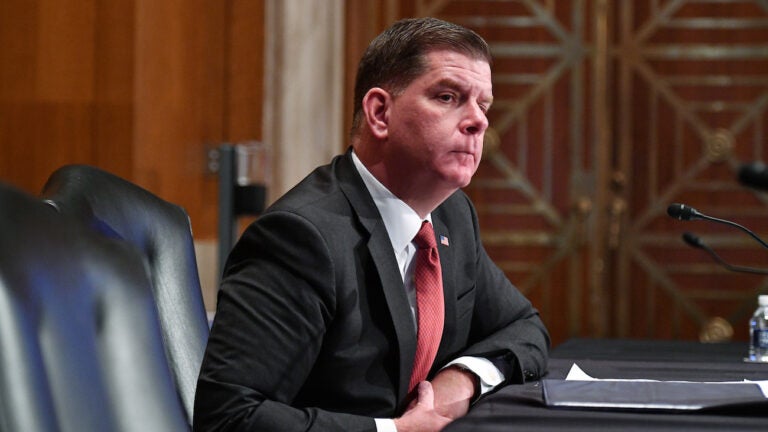 With millions of Americans out of work and small businesses strained by losses born out of the coronavirus pandemic, Washington lawmakers made clear Thursday they intend to move quickly on putting Marty Walsh, the labor secretary nominee, to work soon.
"This is a job that needs to be filled today," Sen. Richard Burr, a North Carolina Republican, told Walsh, as the Boston mayor sat before the U.S. Senate Committee on Health, Education Labor, and Pensions.
Such was the beginning of the Dorchester native's Senate confirmation process as President Joe Biden seeks to bring him aboard his cabinet. With Congressional approval, Walsh, a former Building and Construction Traces Council leader and Laborers Local 223 president, would become the first union head to helm the Department of Labor in decades.
And, at the moment, it appears a Senate vote could come swiftly. Walsh's dialogue with Senators on Thursday was notably devoid of the partisan-bickering and back-and-forth, heated arguments that have come to increasingly define national politics, particularly in a time of intense divide and only months after a bitter presidential election.
Almost a month to the day before Walsh's hearing, supporters of former President Donald Trump, frustrated with the results of that election, staged an insurrection in the halls of Congress — a riot that left five dead.
But Walsh pledged to keep an open ear across the aisle as labor secretary.
"Throughout my career I've led by listening, collaborating, and building partnerships. That's how, if confirmed, I will lead the Department of Labor," he said in his opening remarks. "Right now, we're depending on workers, men, and women to keep us going as they always have done, and we are always depending on them. I believe we must act with urgency to meet this moment with determination to empower our workforce and rebuild."
Burr, the HELP committee's ranking member, cited the pressing problems produced by the ongoing health crisis as reasoning for why he agreed with Committee Chair and Democrat Sen. Patty Murray, of Washington, to begin Walsh's vetting process "as soon as institutionally possible, without unnecessary delays and roadblocks, and I hope we will do the same for your confirmation."
"You quite frankly have the qualifications to be considered for this position," he told Walsh. "I believe you're here though because in your career you've called balls and strikes, and I think that's important in the position of secretary of labor."
Committee members will have until Friday evening to submit questions and 10 days to file additional materials for the record.
"It is my intention to schedule a vote in committee on Mayor Walsh's nomination as quickly as possible so we can move his nomination forward and he can begin the important work of leading the Department of Labor," Murray said.
Still, Republicans raised some key policy disagreements with the Democratic nominee, who avowed his support for a $15 federal hourly minimum wage and the Protecting the Right to Organize, or PRO, Act, which would build on workers' rights.
Some pondered how the Biden Administration will either recoup or surpass the number of jobs lost when the president nixed the planned Keystone XL gas pipeline last month.
Here are three main points Republican lawmakers raised to Walsh during the hearing:
The impact of a $15 federal minimum wage on employment
In recent weeks, Biden and fellow Democrats have mounted a push to increase the federal minimum wage, which has sat at $7.25 an hour since 2009.
The president has proposed the pay raise through a $1.9 trillion COVID-19 relief package that, if passed, would also provide $1,400 stimulus checks and $130 billion for schools to reopen.
Walsh has supported the wage move for years, and Massachusetts lawmakers in 2018 passed their own gradual increase of the state's minimum wage to $15 an hour by 2023 — which Walsh touted on Thursday.
"When I think about the minimum wage on a federal level, it's been 11 years since we've raised the minimum wage," Walsh said. "The average family on a current minimum wage salary with the federal government is roughly $15,000 a year. It's impossible to raise a family of one on that, never mind a family of two, three, or four."
But Republicans questioned the mayor about how a nationwide increase would impact businesses and warned the sum employers would have to put up to pay workers would limit job growth.
Republican Sen. Roger Marshall, of Kansas, offered a quick comparison of cost of living between his hometown, Great Bend, and Boston, highlighting the median home sales price in the latter is notably higher compared to $83,000 in the former.
"If you want $15 an hour in Boston, knock your socks off," Marshall said. "But in Kansas, that would be a pretty big job-killing wage."
Sen. Mike Braun, a Republican from Indiana, raised concerns about how wage increases would affect tipped workers' pay, especially in the restaurant industry which has faced some of the largest financial losses of the pandemic.
Braun said he spoke "to our restaurant association, and an owner, telling me how his tipped wage employees were making between 15 and 25 bucks an hour. By taking that away to the sector most devastated, you'd then be putting them into almost a different paradigm, if you push forward with a comprehensive minimum wage of $15 bucks.
"In this case, I think you need to look at it where you reflect the differences between places, and that you don't have a one size fits all," he said.
In a July 2019 report, the Congressional Budget Office found that a $15 minimum wage in 2025 would result in pay increases for approximately 17 million workers who would otherwise be making less, while another 10 million people already earning a slightly higher rate may see raises, too.
The CBO's "median estimate" is that 1.3 million would lose their jobs, and there remained a "two-thirds chance that the change in employment would be between about zero and a decrease of 3.7 million workers."
Walsh said Biden would like to have bipartisan support on a measure to increase wages.
Walsh highlighted a recent conversation with a Boston restauranteur who owns businesses across the nation. The owner said he has to "do a better job of talking to my colleagues around the country, treating their workers with respect so that this doesn't become an issue of the tip wage," according to Walsh.
"What I'm looking forward to is working with the administration, working with you, senator, and I will continue this conversation … on how we move forward here," Walsh said.
Job losses as a result of Biden's opposition to the Keystone XL pipeline
During his first day in office, Biden signed an executive order to revoke a permit for the controversial Keystone XL oil pipeline, which was slated to bring almost 800,0000 barrels of oil every day from Canada to the Texas coast
Republicans have lamented that the shutdown of construction means the loss of thousands of jobs.
"It reduces good-paying, union jobs that allow workers to provide a middle-class standard of living to their families," Sen. Bill Cassidy, a Republican from Louisiana, said Thursday.
Keystone XL has said the decision resulted in the need to cut over 1,000, mostly union, jobs filled to date. Pipeline owner TC Energy Corp, a Canadian company, had estimated that construction would have generated 10,400 temporary jobs in the United States and 2,800 jobs over the border up north.
Biden, however, has maintained he plans to create 10 million jobs in clean energy sectors — a promise he made on the campaign trail.
"There's an opportunity that we have to build back better by creating hundreds of thousands of green jobs," Walsh said.
Cassidy asked the mayor if those jobs would be available tomorrow.
"The Keystone XL jobs are going today — actually, last week," he said. "The jobs you're describing are … hopefully within a year, more likely longer than that."
Walsh told Cassidy the jobs lost in the Keystone project "will be more than made up" under the Biden Administration, which has incorporated clean energy job creation in its "Build Back Better" plan.
"I applaud the efforts to employ those tradesmen and women on other types of activity," Cassidy said. "But we will be disingenuous if we don't recognize the impact it has upon them right now."
The effect of the PRO Act on 'right-to-work' states
On Thursday, Democrats re-introduced the PRO Act, which seeks to strengthen workers' protections.
The law, if passed, would give workers more abilities to participate in strikes and would authorize the National Labor Relations Board to fine employers who violate employee rights, among other provisions.
Walsh called the proposal "one step towards helping people to organize freely."
"I do believe in the right of organizing," he said. "I do believe in the right of people being able to join a union if they want to join a union."
But Republicans have raised alarms about the bill's impact on weakening — passed by the House of Representatives last year — so-called "right-to-work" laws, which allow employees to bypass certain union membership and contribution conditions.
Sen. Tim Scott, a South Carolina Republican, cited figures from a 2018 NERA Economic Consulting report that says in the 28 states that have some form of right-to-work legislation, employment in the private sector rose by 27 percent between 2001 and 2016, compared to 15 percent in other states.
That report also stated that on average, unemployment was slightly lower annually — by 0.4 percent — in states with those laws, as Scott noted.
"If you can have more jobs, making more money, with lower unemployment, that sounds like a recipe for this nation," Scott told Walsh. "Unfortunately, the PRO Act literally overnight squashes the dreams of millions of people living in those 27 states."
With a divided Senate, Scott asked Walsh to speak with lawmakers from both parties on the issue.
"I hope that you will come to both sides and have a conversation about how to move forward with something that will be devastating to states like my home state of South Carolina," Scott said. "Is that something you can commit to?"
"Absolutely, senator," Walsh said. "That's something I would be proud to do. I generally like to be a collaborator. I … will not surprise you."
Material from the Associated Press was used in this report.
Get Boston.com's browser alerts:
Enable breaking news notifications straight to your internet browser.