Politics
Could this become the Mass. state dinosaur? A state lawmaker's poll showed a clear preference.
One dino received 60 percent of the votes submitted from over 35,000 total respondents.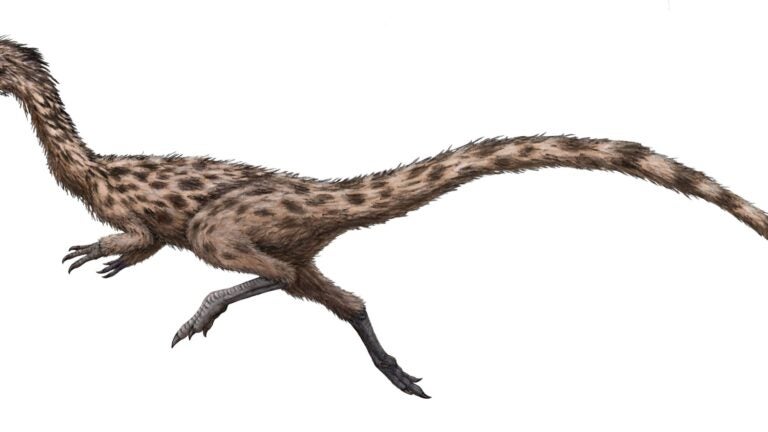 Massachusetts has a clear preference for an official state dinosaur — and no, it's not the famous orange one out on Route 1. (Sorry, Saugus.)
On Thursday, state Rep. Jack Lewis, a Democrat representing Framingham and Ashland, announced the results of a poll conducted over the past month that asked the public to weigh in on what locally discovered dino should be drafted into a bill to settle the subject.
The Podokesaurus holyokensis gathered over 60 percent of the vote from some 35,000-plus total participants, stomping out the Anchisaurus polyzelus in the bid to be potentially enshrined in state law, according to Lewis.
"I'm excited," he said, during a virtual announcement hosted by the Museum of Science. "I've been rooting for this one from the beginning."
It's official! @RepJackLewis, @MindyForMA, and @Jo_Comerford filed a bill today (HD 1392, SD 698) for the Podokosaurs Holyokensis to become our #MAStateDino! #MAPoli pic.twitter.com/ROldhZh4z1

— Museum of Science (@museumofscience) February 4, 2021
The Podokesaurus, a small bipedal carnivore, was discovered near Mount Holyoke in 1910 and was named by Mignon Talbot, the first woman to name and describe a dinosaur. The Anchisaurus, which was a slightly larger, long-necked herbivore and is among the oldest dinosaur remains found in North America, was unearthed in Springfield in 1855.
A lifelong dinosaur enthusiast, Lewis said the idea to declare an official dinosaur of the commonwealth came as he was considering a fossil project for his youngest child's Cub Scout Den. Through research, he learned that 12 states and Washington, D.C., already boast a designated dino, but not Massachusetts.
His goal initially was to help local students understand the legislative process, and perhaps be inspired to consider careers that involve their interests and passions, just like the paleontologists who have assisted him on the bill, he said.
Both House and Senate versions of the legislation were filed on Thursday, Lewis said.
"To young people, one of my big hopes of this project is that you can see the connection between ideas of what you might want to be when you (grow) up … and to realize that for some adults, those ideas, stay with them and they make a career out of them," he said.
Apparently, Lewis's enthusiasm was evenly matched.
"The interest has come from every corner of this commonwealth," he said.
He recalled putting out an initial tweet on the poll last month with about 150 votes cast at that point. The next morning, there was a Huffington Post story on his plans and news inquiries from CNN and media outlets across the state, he said.
By that afternoon, over 7,500 people had voted in the poll. (More than 700 Boston.com readers responded to a similar but separate poll, in which the Podekesaurus also reigned supreme.)
"I'll admit when I sent out that tweet a couple weeks ago, asking for folks to vote in a poll to help me decide which dinosaur I was going to try to insert into state law, I didn't expect this kind of response," Lewis said. "And I am so, so grateful for it."
Get Boston.com's browser alerts:
Enable breaking news notifications straight to your internet browser.