Politics
Kim Janey is 'laser-like focused' on the mayoral transition, pending Walsh's departure
"I am clear and I am confident about what it is I need to do to lead the city."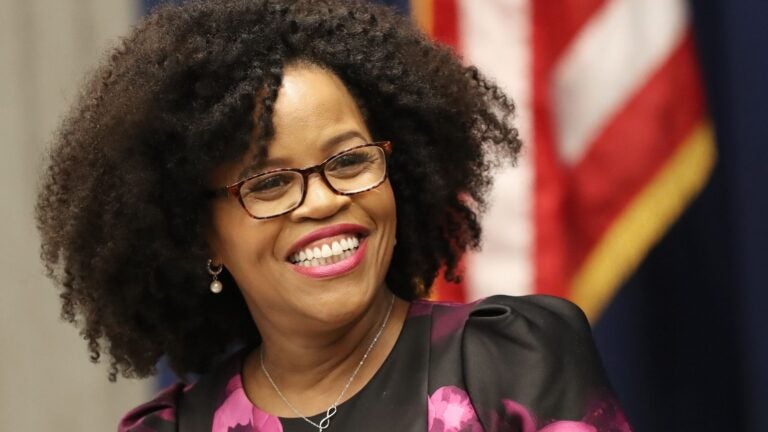 Boston City Council President Kim Janey, poised to become acting mayor if and when Mayor Marty Walsh is confirmed to become the next U.S. secretary of labor, says she has been honed in on the plans for the pending transition.
Janey, in an interview with The Boston Herald on Friday, said she isn't concerned about the limits placed on an acting mayor.
The acting mayor can only make temporary appointments and, as stated in the city charter, "shall possess the powers of mayor only in matters not admitting of delay."
"I'm clear. I am clear and I am confident about what it is I need to do to lead the city, and that I will make the decisions that I need to make — any appointments that I need to make," Janey told the Herald. "So that, again, focus has to be on the people of Boston, so that the people of our great city are well served."
Pending Walsh's departure, Janey will become Boston's first Black mayor and will be the first woman to serve in the office — an experience she said is "humbling."
"It definitely demonstrates the progress we have made," she said, while recalling her childhood in the busing era.
She told the newspaper she can remember rocks being thrown at her school bus.
"What it means for all children — to see diversity and leadership in the city of Boston is incredibly powerful," Janey said.
While Walsh was questioned by Senators last week for his new role, his confirmation vote has not yet been scheduled.
Elected as the District 7 councilor in 2017, Janey represents Roxbury, the neighborhood where she grew up, and parts of Dorchester, Fenway, and the South End. As the city's mayoral race heats up — especially with Walsh absent from the field — Janey's name has been speculated about as a potential contender.
But she has not indicated what her future plans may be.
"I have not made that determination," Janey told the Herald. "I've been laser-like focused on the transition."
On Friday, Janey announced the co-chairs of her transition committee, including Honorary Co-Chairs Sumbul Siddiqui, the mayor of Cambridge, and Yvonne Spicer, the mayor of Framingham — the only two women of color who are mayors in Massachusetts.
Other co-chairs on the team include: Linda Dorcena Forry, vice president of diversity, inclusion, and community at Suffolk Construction;
Betty Francisco, general counsel at Compass Working Capital and co-founder of Amplify Latinx; Steve Grossman, CEO of Initiative for a Competitive Inner City; Quincy Miller, vice chair and president of Eastern Bank; and Kate Walsh, president and CEO of Boston Medical Center Health System.
"These leaders were selected due to their deep devotion to Boston, their commitment to its recovery from ongoing and overlapping crises, and their belief in a more equitable city for our underserved communities," Janey said in a statement announcing the committee. "I am so honored to have their expertise as I assume mayoral office and work to overcome the unprecedented challenges we face."
Janey will step into her new role amid a turbulent time in Boston.
The coronavirus pandemic — which Janey said will be her top priority — is still wreaking havoc on the city's health and economy. And Police Commissioner Dennis White was placed on administrative leave last week only two days after he was sworn in amid the resurfacing of domestic abuse allegations.
"I'm glad that there's an investigation underway," Janey said about the situation in the police department, "and it's important that we let that investigation run its course, so that we understand that there is transparency and we can go from there to make any determinations that might need to be made at that time."
Janey also told the Herald she is receiving regular briefings from the Walsh administration regarding the city's efforts to battle COVID-19.
"We need to make sure that it is equitable but also that people have confidence in that vaccine," she said, regarding the vaccine distribution.
Janey will serve as acting mayor for, at minimum, three months.
Last week, the City Council and Walsh signed off on a home rule petition to scrap a special election to choose Walsh's successor — currently required if the mayor vacates his office before March 5. Should state lawmakers sign off on the plan, Janey's tenure would continue through the already-scheduled general election in November and the swearing-in of the victorious candidate.
Get Boston.com's browser alerts:
Enable breaking news notifications straight to your internet browser.