Politics
Baker administration official resigns following remarks about reducing emissions
"There is no bad guy left, at least in Massachusetts, to point the finger at, turn the screws on, and, you know, break their will, so they stop emitting."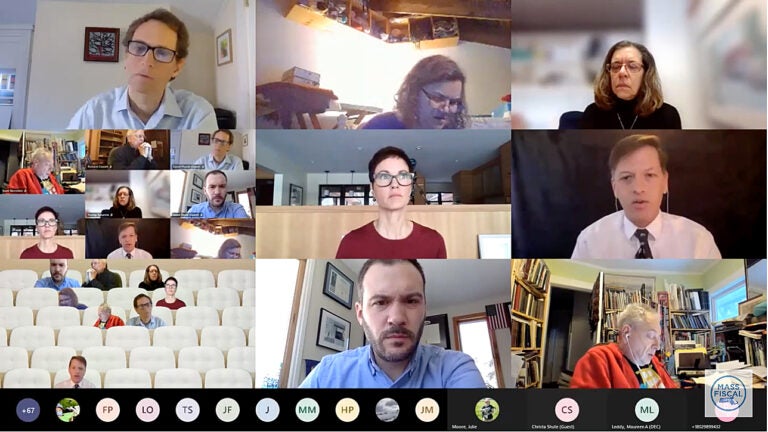 A top climate change official in Gov. Charlie Baker's administration resigned Wednesday night, after coming under scrutiny for remarks during a virtual panel last month about how difficult it is for individual states to reduce greenhouse gas emissions.
In a letter to Massachusetts Energy and Environmental Affairs Secretary Kathleen Theoharides, David Ismay, the state's undersecretary for climate change, submitted his resignation with "great regret" and apologized for his comments, which he said were taken out of context.
"My inability to clearly communicate during that discussion reflected poorly on the Governor, on you, and on our hardworking staff," Ismay wrote. "Although my comments were interpreted by some as placing the burden of climate change on hardworking families and vulnerable populations, my intent was the opposite. In the entirety of my remarks, and as I have elsewhere, I was urging caution in order to minimize such impacts out of a sincere concern that overly aggressive emissions targets may have unintended and harmful consequences on those we most need to protect."
The resignation came after Ismay's comments to the Vermont Climate Council during a Jan. 25 panel discussion were highlighted by the conservative group Massachusetts Fiscal Alliance, which posted a clip of the remarks on YouTube.
Ismay noted that 60 percent of Massachusetts emissions come from residential heating and passenger vehicles.
"Let me say that again, 60 percent of our emissions that need to be reduced come from you — the person across the street, the senior on fixed income," he said. "There is no bad guy left, at least in Massachusetts, to point the finger at, turn the screws on, and, you know, break their will, so they stop emitting. That's you. We have to break your will. I can't even say that publicly."
MassFiscal — which has spoken out in opposition to the Baker administration's major emissions reduction initiatives, such as offshore wind farms and the Transportation and Climate Initiative — said in a press release Friday that Ismay's comments were "reprehensible" and "frightening," saying that he was targeting "ordinary people in Massachusetts like the elderly … simply because they cannot change their lifestyles enough to be acceptable to his climate agenda."
Baker also told reporters last Friday that "no one who works in our administration should ever say or think anything like that" and that Theoharides would have a conversation with Ismay. The Republican governor reiterated Wednesday that the comment "did not speak for the administration in terms of tone, substance, style, or anything else."
In the full remarks, which weren't included in the 40-second clip posted by MassFiscal, Ismay acknowledged that shifting millions of home constructions and car sales over the next 30 years in order to achieve emissions reduction goals would be "very difficult" and somewhat out of individual states' control.
"Massachusetts doesn't control the federal auto industry, right?" he said. "So I'm not saying we can't be ambitious. I'm saying we should put some level of understanding, truly, if you really want to solve climate change, you sort of have to think all the way into it and allow some people to be in the details … but there are some things that are probably outside of control, purely, of the state of Vermont, that will affect your ability to reduce emissions. So I don't mean to be a bummer, but it's a really difficult process."
Ismay added that he thought it was a process that "can be done with care, can be done with attention to equity, can be done with attention to the values we place in other land use aspects."
"But when when any one of those comes to such precedent that it has to be number one, then the climate change mitigation effort is no longer number one, and it like, it just, it basically stops," he said. "It's so difficult that, unless there's some unity around that purpose, it's really difficult for it to go forward."
Get Boston.com's browser alerts:
Enable breaking news notifications straight to your internet browser.