Politics
A Senate committee voted to advance Marty Walsh's nomination for secretary of labor
A vote from the whole Senate is all that's needed to make the Boston mayor a member of the presidential cabinet.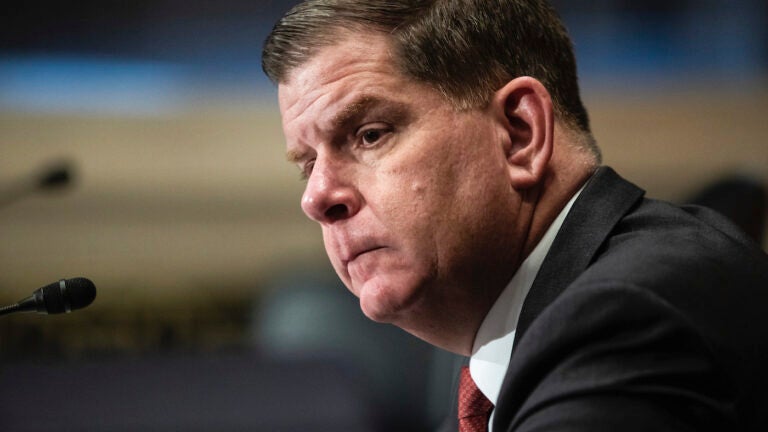 Mayor Marty Walsh is one step closer to becoming the nation's secretary of labor.
The U.S. Senate Health, Education, Labor, and Pensions, or HELP, Committee voted 18-4 on Thursday to advance the Dorchester native's nomination to a full Senate confirmation vote.
The four opposition votes were from Republican senators Rand Paul, of Kentucky; Mike Braun, of Indiana; Tim Scott, of South Carolina; and Jerry Moran, of Kansas. The committee also voted to advance Connecticut Commissioner of Education Miguel Cardona's nomination for education secretary.
"Last week, the committee had the opportunity to hear from both Dr. Cardona and Mayor Walsh, and both proved what was already clear from their past experience: They are well qualified for these roles and ready to work with Congress," said committee Chairwoman Patty Murray, a Democrat from Washington.
Walsh was questioned in a rather smooth hearing before the committee on Feb. 4. Several Republicans pressed the Boston Democrat on some key areas of partisan disagreement, such as his support for a $15 federal hourly minimum wage and President Joe Biden's cancellation of the controversial Keystone XL gas pipeline.
Still, some lawmakers acknowledged the need to swiftly get Walsh to work. Economic fallout ushered in by the COVID-19 pandemic has left millions of Americans unemployed and small businesses struggling to survive.
"Mayor Walsh has the background, the skills, and awareness of the need for balancing conversations between labor and management. He emphasized that he wanted to work with us collaboratively to help the American workers improve and expand opportunities," North Carolina Republican and Ranking Member Richard Burr told the committee on Thursday. "Mayor Walsh respects the importance of job creators and the need for better coordination on numerous job training programs. He committed to make sure commerce and labor work cooperatively. He stated that the workers in a representation election have a right to listen to both sides."
Burr also noted both Cardona and Walsh agreed to be responsive to committee requests and to keep senators updated on their plans.
"We won't agree on everything," Burr said. "But we should be able to find places where we can agree and I look forward to working with both secretaries when they're confirmed."
With a slight Democratic majority in the Senate, thanks to Vice President Kamala Harris's potential tie-breaking vote, Walsh is expected to cruise through his confirmation, although it is still unclear when exactly he will be confirmed.
Should he leave his current office before March 5, the city would be required to hold a special election ahead of this fall's already scheduled mayoral election under the city charter. However, city councilors passed a home rule petition last week to nix the requirement — a measure that requires final approval from state lawmakers.
Walsh and Cardona join several other Biden nominees — including Rhode Island Gov. Gina Raimondo, the president's pick for commerce secretary — now waiting for final approval. The Senate has been occupied this week with the second impeachment trial of former President Donald Trump, and is scheduled to be in recess the following week.
A former Building and Construction Trades Council leader and Laborers Local 223 president, Walsh is poised to be the first union head to lead the Department of Labor in decades.
His departure will also move Boston City Council President Kim Janey into serving as acting mayor. Janey, should Walsh be confirmed, will be the city's first Black mayor and the first woman to serve in the office.
Get Boston.com's browser alerts:
Enable breaking news notifications straight to your internet browser.