Politics
Trump lawyer references Maura Healey and Ayanna Pressley during impeachment trial defense
"I thought today was just Friday, apparently it is also racist trope day," Pressley responded.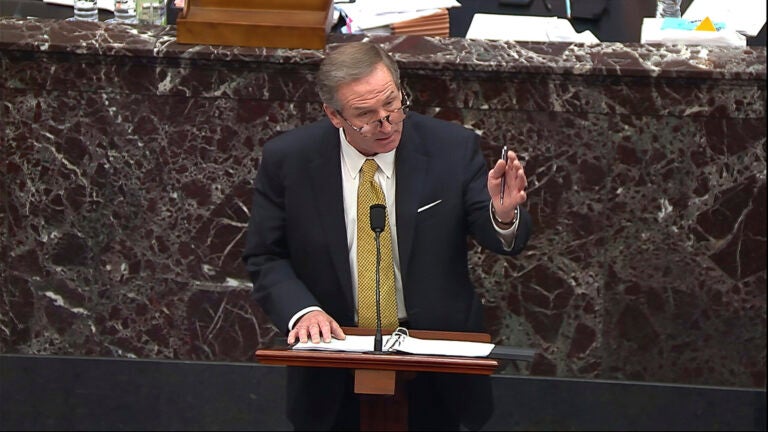 Democratic impeachment managers weren't the only ones invoking the words of Massachusetts elected officials during the Senate trial of former President Donald Trump for inciting the Jan. 6 riot at the Capitol.
During the fourth day of Trump's impeachment trial Friday, the former Republican president's lawyer Michael van der Veen referenced remarks made last year by both Massachusetts Attorney General Maura Healey and Rep. Ayanna Pressley in his opening defense of his client's own inflammatory rhetoric leading up the violent riot last month, which directly resulted in five deaths.
Van der Veen argued that Trump's speech the morning of the riot urging supporters to march on the Capitol and "stop the steal" was "ordinary political rhetoric that is virtually indistinguishable from the language that has been used by people across the political spectrum for hundreds of years."
He went on to cite comments made Democrats after the mostly peaceful protests across the country in the wake of the police killing of George Floyd led to looting and property destruction in some cities, including a June 2 speech by Healey and remarks Pressley made during an Aug. 15 interview on MSNBC.
"The Attorney General of the state of Massachusetts stated, 'Yes, America is burning, but that's how forests grow,'" van der Veen said. "Representative Anya [sic] Pressley declared, 'There needs to be unrest in the streets for as long as there is unrest in our lives.'"
Van der Veen also noted that Vice President Kamala Harris, then a U.S. senator from California, urged supporters to donate to a nonprofit that helps people pay for cash bail following the protests in the aftermath of Floyd's death.
He mispronounced the first names of both Pressley and Harris, both of whom are Black (Harris, in particular, has frequently been subjected to mispronunciations of her name by high-profile Republicans).
"I thought today was just Friday," Pressley tweeted after van der Veen's comments, "apparently it is also racist trope day on the Senate Floor. Donald J. Trump's go to distraction tactic."
The Massachusetts congresswoman reiterated her call for the Senate to convict Trump and disqualify him from holding elected office in the future.
I thought today was just Friday, apparently it is also racist trope day on the Senate Floor. Donald J. Trump's go to distraction tactic.

We see right through him, again.

Convict & disqualify.

— Ayanna Pressley (@AyannaPressley) February 12, 2021
Trump's legal team also showed a lengthy montage of Democratic elected officials, primarily featuring Sen. Elizabeth Warren, using the word "fight." Though, as reporters and Warren's former campaign staffers noted, it would be difficult to construe her words as related to physical violence. The Massachusetts senator responded in a series of tweets Friday plainly dismissing the notion.
In case anyone is wondering what my rallies look like. pic.twitter.com/Q04AyOoZZ2

— Elizabeth Warren (@ewarren) February 12, 2021
There's no getting around the facts here: Donald Trump encouraged a violent attack on our democracy. I took an oath to defend the Constitution. So did every other U.S. senator. We must uphold that oath, convict Trump, and bar him from ever holding office again.

— Elizabeth Warren (@ewarren) February 12, 2021
During the trial Friday, van der Veen argued that the Capitol attacks were premeditated and that "you can't incite what was already going to happen."
However, the defense began a day after Democratic impeachment managers showed footage of Republican Gov. Charlie Baker taking the opposite view, arguing that the riots were the "culmination" of Trump's repeated and unfounded claims that the election was stolen.
"He stoked the flames of outrage for weeks leading up to the events of yesterday," Baker said at the time.
Get Boston.com's browser alerts:
Enable breaking news notifications straight to your internet browser.