Politics
Steve Bannon pitches Boston Republicans on plan to make Donald Trump the House speaker
"We'll have a sweeping victory in 2022."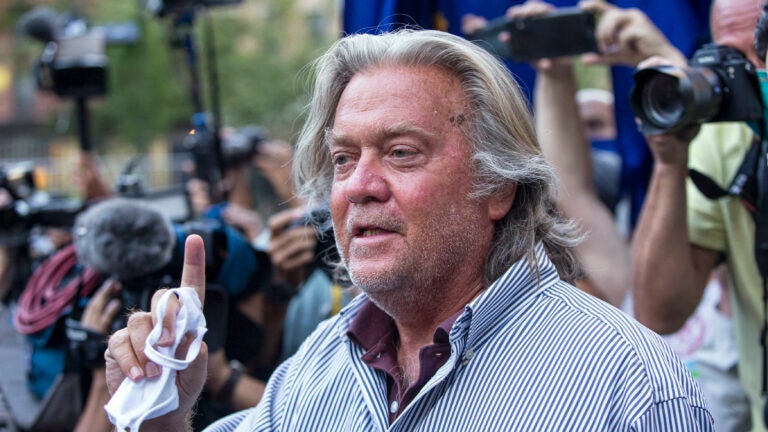 Steve Bannon, the former strategist of former President Donald Trump who was indicted for allegedly defrauding hundreds of thousands of supporters as part of a purported fundraising campaign for a southern border wall, is pitching local Republicans on another ambitious project.
According to the Boston Herald, Bannon told the West Roxbury Ward 20 Republican Committee during a video speech over the weekend that his new strategy is for Trump to run for Congress in 2022, get elected, and then become House speaker — assuming that Republicans also retake majority control of the House of Representatives and then rally behind Trump over the current congressman in line for the position.
Then, as House speaker, Trump would move to impeach President Joe Biden over the still-unfounded and repeatedly debunked allegations of widespread voter fraud tipping the 2020 presidential election, Bannon reportedly said.
"We totally get rid of Nancy Pelosi, and the first act of President Trump as speaker will be to impeach Joe Biden for his illegitimate activities of stealing the presidency," Bannon said during the speech Saturday, earning applause and hollers from the local GOP group, known for its pro-Trump bent, according to the Herald.
The long-shot idea would make Trump just the second U.S. president to serve in Congress after leaving the White House, following Quincy native John Quincy Adams, who served nine post-presidential terms as U.S. representative from Massachusetts. (Like Trump, Adams also boycotted his successor's inauguration after losing his re-election bid; unlike Trump, he did not encourage supporters to march on the Capitol building after his loss.)
It's not clear where — or if — Trump would run for Congress. After living in New York for most of his life, the 74-year-old recently declared residence at his resort in Palm Beach, Florida. His congressional district is currently represented by Democratic Rep. Lois Frankel, who has recent experience defeating a right-wing conspiracy theorist.
Additionally, the Constitution does not specifically say the speaker must be a member of the House, though historically they've always been an elected member.
Either way, according to Bannon, the plan is not for Trump to stay in Congress for long. Rather, from his perch as House speaker, the ex-president would take a third shot at the White House in 2024.
"Trump is a disruptor, but he has a long-term vision because I absolutely believe in the marrow of my bones that he will be our nominee in 2024," Bannon said, according to the Herald.
"He'll come back to us. We'll have a sweeping victory in 2022, and he'll lead us in 2024," he added.
Bannon, who reportedly has begun advising Trump again, was pardoned by the president just before he left office last month. Before the pardon, Bannon had still been awaiting trial for allegedly using $1 million from a private fundraising effort that was said to be intended for new sections of a border wall for personal expenses. He still faces a state investigation in New York.
Get Boston.com's browser alerts:
Enable breaking news notifications straight to your internet browser.