Politics
Could Massachusetts actually, 'finally' pass same-day voter registration?
"It's not time; we're late."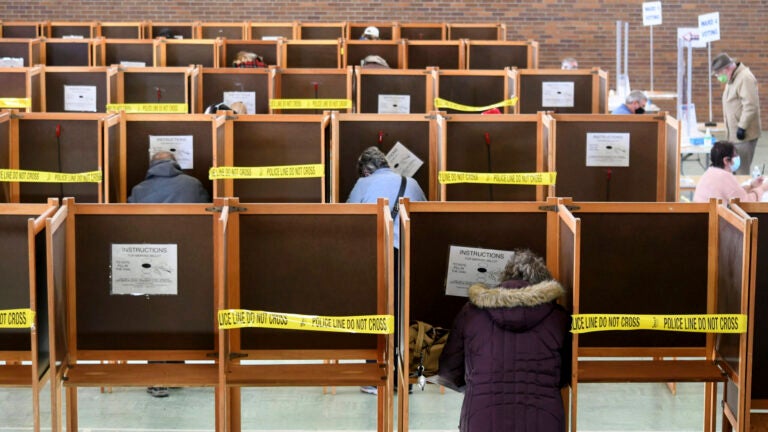 Massachusetts often prides itself for being on the forefront of progressive-minded reforms.
That's not quite the case when it comes to same-day voter registration.
According to the National Conference of State Legislatures, 21 states and most of New England has enacted same-day registration, allowing eligible residents to register to vote when they show up to vote at their polling place on Election Day. On average, those states have historically seen up to 10 percent higher voter participation rates.
"We know that it's an effective measure," says Cheryl Clyburn Crawford, the executive director of MassVOTE.
Massachusetts, currently, is not among them (Rhode Island is the only other New England state without same-day registration).
Despite evidence that same-day voter registration increases turnout even more than reforms like early voting, the Bay State has continued to require residents to register to vote at least 20 days before all primary and general elections, though the cutoff was shortened last year to 10 days in the wake of the COVID-19 pandemic.
But according to state Sen. Cynthia Creem, a longtime supporter of same-day registration, that's "finally, finally" about to change.
As part of the efforts to permanently implement last year's expansion of mail-in and early voting options due to the pandemic, separate legislative proposals by Secretary of State Bill Galvin and a coalition of several dozen state lawmakers would fold in same-day registration among the reforms.
Under the proposals, Massachusetts residents would be able to register when they show up at their local polling site simply by filling out some paperwork and providing proof of residence (those without immediate proof of residence would still be able to cast a provisional ballot, but then would have to follow up later with local officials to show evidence of residency).
"As I have said for several years, I believe that with the appropriate technological safeguards in place, we can implement same-day voter registration in a convenient and secure manner, as several of our neighboring states have done," Galvin said in a statement last Tuesday.
While Massachusetts already has automatic voter registration, that system only enrolls residents when they do things like renew their license or apply for health insurance. Creem, a cosponsor of the so-called VOTES Act, told reporters during a conference call last Wednesday that same-day registration would ensure that the state's voter rolls are kept up to date and that voters aren't disenfranchised due to a missed deadline to administrative mistake.
"No eligible voters should be turned away at the polls due to an error in voter registration information," she said, adding that she thinks the state is ready.
Advocates say the reform is overdue.
"It's not time; we're late," Janet Domenitz, the executive director of the Massachusetts Public Interest Research Group, said during the conference call. "Massachusetts is very late to the same-day registration game."
Maine and Minnesota have allowed residents to register to vote on Election Day since the 1970s. However, the number of states with some form of same-day registration only really picked up in the past decade, more than doubling from just nine in 2010.
Advocates have pushed the issue in Massachusetts during that time as well, and they say they were on the verge of passing same-day registration early last year.
"As people have seen these various other proposals implemented successfully, I think the resistance is diminishing," Galvin said at the time. "They know administratively we can handle it if it's properly done."
However, the pandemic derailed those efforts.
Creem and Rep. John Lawn, the House sponsor of the VOTES Act, say that many legislators felt that implementing same-day registration along with other emergency reforms like mail-in voting and expanded early voting in the midst of the pandemic would be too much of a burden on local clerks and result in longer lines at polling places.
"There was some concern that we were asking the clerks to initiate a brand new process, early voting, that we had COVID, that we didn't know if it was all going to work with early voting, whether mail-in ballots were going to be a problem," Creem said. "And frankly, I got the feeling that they just couldn't do the same-day registration at the same time."
An amendment to add same-day registration to the bill was overwhelmingly defeated by a vote of 16 to 139, with a number of lawmakers who otherwise supported the reform saying the pandemic made it untenable.
Still, last year wasn't the first time same-day registration was brought to the State House floor.
After a 2007 same-day registration bill filed by Creem passed in the Senate with bipartisan support, the measure failed to get a vote in the House. Similarly, in 2014, it was passed in the Senate as part of a larger election reform bill, but didn't make it into the final law, despite Democratic control of both legislative chambers and the governorship.
Some supporters have pointed fingers at unnamed lawmakers who they said were afraid of being unseated by an influx of younger, more diverse voters. Research has suggested that same-day registration would most benefit the geographically mobile, who tend to be younger, lower-income, and disproportionately people of color.
"The biggest obstacle is that many legislators view elections only through a lens of incumbent protection or self-preservation and are afraid of seeing voters they don't already know or haven't already spoken with show up to the polls," Jonathan Cohn, the issues committee chair for the group Progressive Massachusetts, told Boston.com.
Additionally, with Massachusetts's early September primary, the current registration deadline for the primary often passes before many college students have moved in. In the college-dense Boston area, Cohn thinks some legislators oppose same-day registration due to fear that student constituents could back their opponents, particularly in the House where it's easier to swing a seat.
While supporters chalked up last year's vote to the unique circumstances of the pandemic, Lawn did acknowledge that some lawmakers had preexisting reservations.
"As much as I'm very supportive of this, we've still got work to do with some of our colleagues," he said.
Get Boston.com's browser alerts:
Enable breaking news notifications straight to your internet browser.