Politics
Ayanna Pressley is calling for a federal jobs guarantee. Here's how it would work.
"They would be jobs that would address urgent national problems."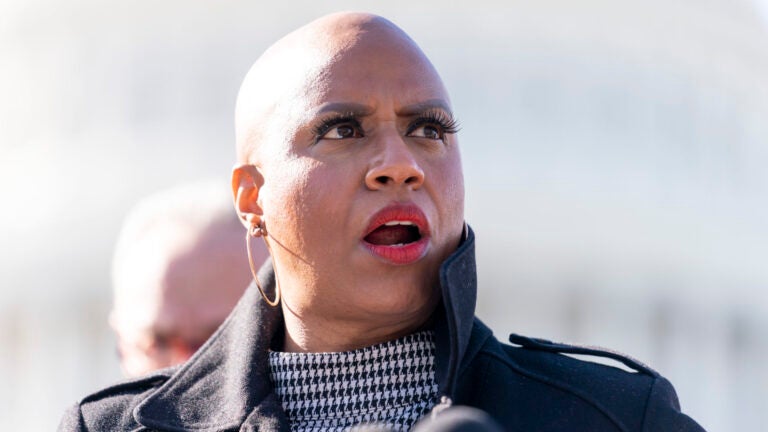 Last week, Rep. Ayanna Pressley introduced a congressional resolution calling for the creation of a federal jobs guarantee.
With roots in President Franklin Roosevelt's New Deal and the civil rights movement, the concept of a government program offering a job to any American adult seeking employment isn't especially new. But it's reclaiming some mainstream credence, particularly in the wake of an economically devastating pandemic and reenergized racial justice movement.
A reliable job. A living wage.

A federal job guarantee lays the foundation for economic justice & freedom. pic.twitter.com/NMpLtjU5xh

— Ayanna Pressley (@AyannaPressley) February 23, 2021
According to Pressley and some prominent economists, a federal jobs guarantee would go lengths to reduce poverty and close longstanding racial wealth disparities resulting from years of institutional discrimination. It could also support efforts to upgrade the country's infrastructure or address the shortage of childcare workers.
How exactly would it work?
Pressley's legislation provides a rough outline.
According to the text of the resolution, the jobs program would be funded by the federal government, but implemented at the local level; the Labor Department would direct money to local employment offices, which would match job seekers to specific projects.
During the first three years of the program, funds would be directed to "areas of greatest employment need." It would also create a "legally enforceable right" to a job for eligible individuals.
The guaranteed jobs would be available on both full-time and part-time bases to residents over the age of 18, while 16 and 17-year-olds could get part-time jobs.
Similar to the New Deal-era Works Project Administration and Civilians Conservation Corps, the jobs program would be aimed at neglected public projects, from repairing streets and cleaning up vacant lots to environmental initiatives like retrofitting buildings to be more energy efficient.
Pressley's resolution doesn't just target physical infrastructure. The program would also include "human infrastructure" jobs, such as providing more quality care for children and seniors, strengthening after-school and HeadStart programs, and public art projects like the WPA's own Federal Art Project.
Under the program, a job's salary would start at $15 an hour and include health care, retirement benefits, and paid sick and vacation time. Employees could also join public sector unions and access on-the-job training.
Proponents — which historically include Coretta Scott King and Sadie Alexander, the nation's first Black economist — say the program would help fill gaps left by the current job marketplace, while also putting pressure of private employers to raise their standards.
"They would be jobs that would address urgent national problems," Nina Banks, a professor of economics at Bucknell University, told reporters during a conference call last week, adding that the program "is not going to displace the private sector."
Pressley's resolution does not include a cost estimate. However, a 2018 study estimated that a federal jobs program would cost between $655 billion and $2.1 trillion a year, depending on the uptake rate. At the same time, the same study said that "a substantial portion" of that spending would be offset through reduced enrollment in existing social insurance programs, as well as increased economic productivity and tax revenue.
"Like anything that is a priority, we appropriate the funds," Pressley told reporters, noting that Congress approved hundreds of billions of dollars last year for things like defense spending and pandemic relief.
"But the reality is we are already paying by not having this policy," she added.
Get Boston.com's browser alerts:
Enable breaking news notifications straight to your internet browser.