Politics
Jon Santiago announces campaign to be mayor of Boston
The state representative, emergency room doctor, Army Reserve captain, and South End resident is the fourth candidate to officially enter the 2021 race.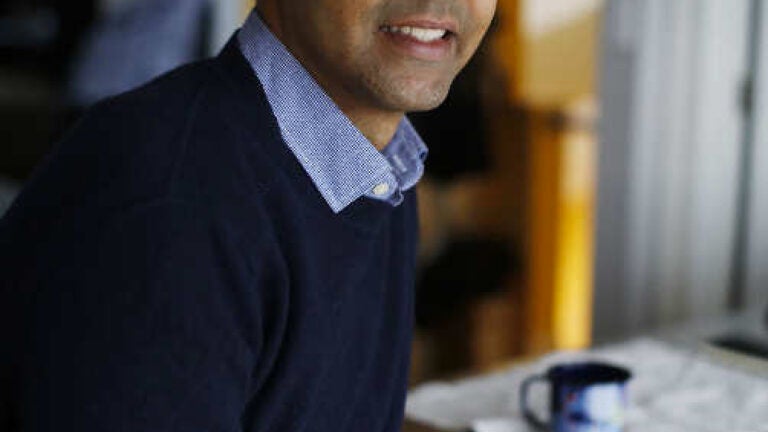 Jon Santiago is making it official.
The second-term Massachusetts state representative, who also serves as an emergency room physician at Boston Medical Center and as a captain in the U.S. Army Reserve, announced Tuesday that he is seeking a new job: mayor of Boston.
"The only reason I got into politics is because I wanted to have a bigger impact," Santiago told Boston.com in an interview, highlighting the stark inequalities that have only been deepened by the COVID-19 pandemic.
"If COVID-19 has shown us anything, it's that it has taken the lid off these inequities — exposed them and exacerbated them," he said. "I think someone who understands the intersectionality of all these issues is what the city needs to lead us through this crisis and get us back on track."
Santiago is the fourth candidate to enter the 2021 race to replace Mayor Marty Walsh, who is on track to be confirmed as President Joe Biden's labor secretary.
In a video released Tuesday, the South End Democrat drew on his experience on the frontlines of many of the city's challenges. The 38-year-old grew up in subsidized housing and attended Boston Public Schools, before serving in the Peace Corps after college. Santiago went on to get his medical degree from Yale and returned to Boston a decade ago, after five years working and traveling abroad. He now works as an emergency medicine doctor at BMC — which mostly serves low-income and elderly patients as the city's safety net hospital — and finished a deployment to the Middle East this past December.
Santiago won his 9th Suffolk District seat in 2018 after a successful insurgent challenge against longtime state Rep. Byron Rushing in the Democratic primary.
Since the onset of the COVID-19 pandemic, he has become a prolific local voice, often using his social media platform to provide updates on the virus and shed light on its impacts, particularly for the most vulnerable communities.
"I've come to learn that my patients are a reflection of Boston," Santiago said in his launch video. "Their stories speak to our greatest challenges. Disparities in health and wealth; rising rents; struggling schools. I've spent my life in service to tackle these very issues. I'm running for mayor to lead Boston through this crisis to a recovery rooted in equity and opportunity."
Santiago says 2021 will be "the most consequential mayor's race in our city's history," referring both to how the pandemic upended all aspects of society but also the opportunity to "bring back Boston stronger than ever before."
Santiago joins three Boston city councilors who have already entered the race: Michelle Wu, Andrea Campbell, and Annissa Essaibi George. John Barros, the city's economic development chief, is also reportedly close to announcing a bid. And soon-to-be acting mayor Kim Janey, the City Council president, is also considering running for a full term.
Born in Puerto Rico before moving to Boston in elementary school, Santiago is also the first Latino to enter what's poised to be a historically diverse race in a city that has never elected a woman or person of color as mayor (Wu is the daughter of Taiwanese immigrants, Campbell is Black, and Essaibi George's parents were born in Poland and Tunisia).
But according to Santiago, his distinct background and experience set him apart.
"I think this moment right now in Boston's history transcends politics as usual," he told Boston.com. "It's going to require a leader and a public servant, who's ready to tackle this crisis head on, and I've done that my whole life."
Santiago also said that "no one" else in the mayoral race has forged the relationship that he has with the state legislature and Gov. Charlie Baker.
"It's incredibly important," he said. "A significant part of the funding for the city of Boston comes from the state legislature. You have to work in partnership with them. And I'm fortunate that I have many colleagues and folks up there who who know me, who have relationships with me, who we've worked together, and that will be supportive in this campaign."
Additionally, as a Latino former BPS student, Santiago said he can uniquely relate to the community; nearly 80 percent of BPS students are low-income and 40 percent of them are Hispanic, the city's fastest-growing population.
"That's me when I was a kid," he said. "I see them. I hear them … and I want to make sure that I'm working on their behalf so they can participate, not just in the 21st-century economy, but in Boston's economy."
Santiago added that the city should be leveraging its thriving biotech and life sciences industries to expand STEM opportunities, from K-12 students to UMass Boston.
Coming off three consecutive overnight shifts at BMC, he described treating patients who had been shot or couldn't afford medication or struggled with substance abuse because of lack of those sorts of opportunities (according to a spokesperson, Santiago will begin cutting back on his clinical duties as he launches his campaign and, if elected mayor, will not work as an ER physician while in office).
"They're in the emergency room when I see them because of what's going on in their respective communities," Santiago said. "The lack of educational and economic opportunities that they have, that will ultimately manifest into some sort of medical emergency that lands them in the ER. And frankly, I got into politics because I wanted to transform the communities that create that type of situation."
Get Boston.com's browser alerts:
Enable breaking news notifications straight to your internet browser.