Politics
Elizabeth Warren says her wealth tax plan would allow the country to 'build back better.' But is Joe Biden on board?
"He has a lot of respect for Senator Warren and is aligned on the goal of ensuring the ultra-wealthy and big corporations finally pay their fair share."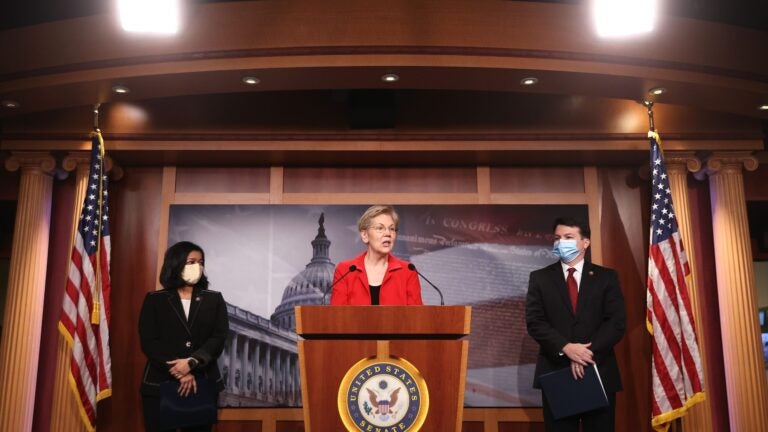 Sen. Elizabeth Warren is unveiling a wealth tax plan — again.
This time, it's in very different circumstances.
After joining the Senate Finance Committee, the Massachusetts Democrat introduced legislation Monday to tax the wealth of "ultra millionaires," an idea that was a central aspect of her 2020 presidential campaign. And in the wake of the COVID-19 pandemic and its widening effect on economic inequality, Warren says the need has only grown.
Like her campaign plan, Warren's legislation would place a 2 percent annual tax on household assets between $50 million and $1 billion, and a 3 percent tax on the assets of fortunes above $1 billion (the bill also includes language to raise the tax on wealth above $1 billion to 6 percent if a single-payer health care system is established in the United States, as Warren proposed in 2019).
Unlike a tax on income, Warren's wealth tax would apply to the net worth of things individuals already own — from stocks to real estate to fine art; proponents compare it to property or estate taxes, but targeted at the "top 0.05 percent." The bill also includes a one-time 40 percent "exit tax" on the net worth above $50 million of any American who renounces their citizenship, as well as $100 billion in funding to bolster the Internal Revenue Service's ability to valuate assets and enforce the tax.
According to a report last week by the advocacy group Americans for Tax Fairness, billionaires in the United States saw their collective wealth increase 44 percent, from just under $3 trillion to more than $4.2 trillion, during the first 11 months of the pandemic.
"A two-cent wealth tax would just help level the playing field a little bit, and create the kind of revenue that would let us build back better, as Joe Biden says," Warren said during a press conference Monday afternoon, invoking the president's 2020 campaign slogan.
Warren said the revenue — by some estimates, up to $3 trillion over 10 years — should go toward investments in childcare, schools, and infrastructure, core priorities of President Joe Biden and congressional Democrats.
Warren introduced the bill Monday alongside Democratic Reps. Pramila Jayapal and Brendan Boyle. And according to her office, two dozen other Senate and House members have signed on so far, including big-name progressives like Sen. Bernie Sanders, Rep. Ayanna Pressley, and Rep. Alexandria Ocasio-Cortez.
However, the level of buy-in among Democratic leaders remains unclear.
Unlike Warren and Sanders, Biden did not embrace any wealth tax concepts during the Democratic presidential primaries. Instead, he campaigned on undoing Republican cuts to the corporate income tax rate and income tax rate for those in the highest tax bracket, as well as raising the capital gains tax for those making over $1 million to the same level as individual income tax.
Asked about Warren's wealth tax bill, White House press secretary Jen Psaki told reporters Monday afternoon that Biden "strongly believes that the ultra-wealthy and corporations need to finally start paying their fair share," but said the administration's focus is on the COVID-19 rescue plan currently moving through Congress.
"Addressing the inequities in the tax code is something [Biden] talked about as part of his Build Back Better agenda and is something he remains committed to," Psaki said. "He has a lot of respect for Senator Warren and is aligned on the goal of ensuring the ultra-wealthy and big corporations finally pay their fair share. He's laid out a lot of ideas, and when we get to that point in our agenda, he'll look forward to working with her and others in Congress."
Warren said Monday that she'd be "delighted to see us move forward with the wealth tax at any point."
Warren also said she had spoken to Senate Majority Leader Chuck Schumer and House Speaker Nancy Pelosi about the subject, but declined to say if they were supportive.
"I shouldn't speak for someone else," Warren said.
In a statement to Boston.com, a Schumer spokesperson said the New York Democrat "believes the federal tax code must be made more progressive, and he is looking at a variety of proposals from Senate Democrats, including Senator Warren's, to accomplish that."
Pelosi's office did not immediately respond to requests for comment.
Even if Democrats do unite behind the idea, the wealth tax — not unlike most legislation — faces a tricky path forward
Polls have shown broad public support for her proposal, even among Republican voters. But GOP elected officials and many business leaders have stood against it — raising questions about how Democrats would pass the bill through the 50-50 divided Senate.
Warren reiterated her support Monday for abolishing the filibuster that requires most legislation to get 60 votes to pass, though some moderate Democrats have pledged to block that route.
Another option is the Senate process known as budget reconciliation, which applies to tax laws and requires a simple 50-vote majority. In a statement earlier this month after joining the Senate Finance Committee, Warren said she would be "an aggressive advocate for accomplishing much of our agenda through the budget reconciliation process."
However, after the recent effort to pass a $15 minimum wage through reconciliation was blocked, Warren said Monday that the "real solution is get rid of the filibuster."
As one of the three lawmakers behind lectern Monday afternoon, Boyle acknowledged that wealth tax proponents have work to do, but expressed confidence they would be able to rally support.
"I have no doubt — none whatsoever — that this is an idea, a concept, that will go very quickly from impossible to inevitable, because it is fair, and it is right," he said.
Get Boston.com's browser alerts:
Enable breaking news notifications straight to your internet browser.