Politics
3 things we learned from John Barros's mayoral campaign launch
"I want to get back in there."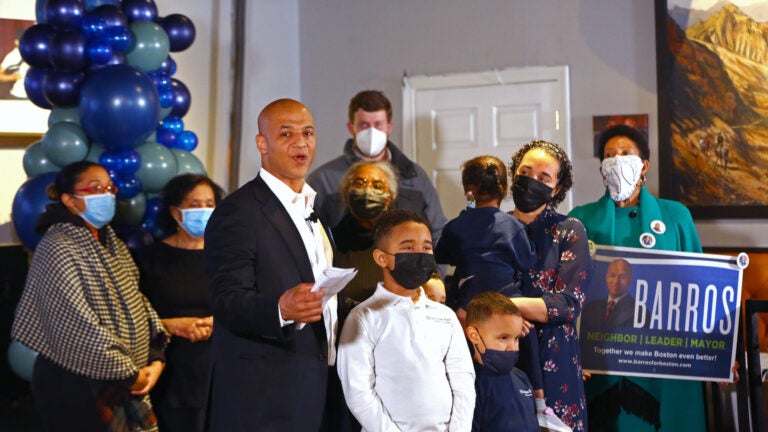 After serving seven years as Boston's chief of economic development, John Barros is taking another shot at a mayoral campaign.
Barros, who also ran in the 2013 mayoral race, kicked off his 2021 campaign Thursday morning alongside family and supporters at a restaurant he owns in Dorchester, becoming the fifth candidate to enter the increasingly crowded race to replace Mayor Marty Walsh, who is set to become President Joe Biden's labor secretary.
A lifelong Bostonian and former community organizer in the Roxbury and Dorchester neighborhoods, Barros has been a longtime presence in the city. The 47-year-old also served on the Boston School Committee prior to becoming economic development chief in 2014.
As mayor, Barros said he would focus on a safe and equitable recovery from the COVID-19 pandemic, and his campaign website lays out a list of priorities. During his launch event Thursday, he was also pressed on a few key questions and issues in the race.
Here's what we learned:
1. How a Barros administration would be different than the Walsh administration
Barros said he was "proud" to be part of the Walsh administration, crediting the mayor for the city's triple-A bond rating over the last seven years and "responsible" response to the pandemic.
However, after the city came under scrutiny for awarding the vast majority of contracts to companies owned by white men, Barros said he would be "intentional" about diversity. While he praised Walsh for his recent leadership and said the city was doing some "amazing" work, Barros called the history of racial disparities in contracting "atrocious."
"I'm ready to go in there and change those trends that have haunted our city for centuries," he said.
A study released by the city last month found that just 2.5 percent of the $2.1 billion in city contracts signed during Walsh's first term went to minority-owned businesses. Another 8.5 percent of the contracts went to businesses owned by white women, the study found.
Walsh subsequently signed an executive order making it a "goal" for 25 percent of city contracts in any given year to go to businesses owned by women or people of color.
"I want to get back in there to make sure we meet those goals," he said. "We need to make sure that we can get in there and split contracts up that are large. Most Boston spending comes through large contracts. And our women- and minority-owned businesses need to be able to access those contracts, so we need to split those contracts up and make them accessible."
Barros also pointed to the city's "affirmative marking" efforts to do outreach to groups less likely to get contracts.
"I'm really excited to get back in there to make sure that, when we have a contract opportunity available, that we are reaching out," Barros said. "We're not waiting for people to come into government and try to figure — we're reaching out, because the study we just did completed an engagement process that now gives us real, live information of who the people of color-owned businesses are and who the women-owned businesses are."
2. Barros says 'all measures' on the table to address housing costs
Though cities and towns have been banned from implementing rent control measures since 1994, some local elected officials, including Boston city councilor and mayoral candidate Michelle Wu, have recently pushed to change that.
Asked about rent control, Barros said Thursday he would "look at all measures" in an effort to ensure the city has more affordable housing, though he did not express outright support.
"There is a major challenge in our city in terms of housing and housing affordability," Barros said. "Even during the pandemic, when rent softened, it's not like they changed the structure of the expensive nature of rent in the city of Boston. And so we need to continue to make sure that we can provide affordable housing. We need to continue to make sure that we can produce more affordable housing."
City councilor and mayoral candidate Andrea Campbell has similarly said rent control should be part of the discussion, while not saying she favors it. City councilor Annissa Essaibi George and state Rep. Jon Santiago have suggested they oppose rent control.
Barros said Thursday that he was "really excited" about the city's move to increase linkage fees on large-scale commercial developments, the funds from which go toward affordable housing.
"We were able to make sure that the economic growth of our city is going to create more money, so that we can create more affordable housing in our city," he said.
3. Police reforms call for 'budget changes'
Several candidates, such as Wu and Campbell, have vocally supported cutting the Boston Police Department's budget and using those funds to make investments in social support and public health services.
Asked about the so-called move to "defund the police," Barros said he had talked to many local officers across the racial spectrum, and he wants to discuss shifting "duties and roles that, in fact, will move the budget around."
"The police get called for everything," he said. "They get called when there's a child missing, they get called when someone's in front of your house who might be intoxicated and needs assistance, they get called when there is a mental health issue, they get calls when there is domestic violence. And not all of those calls should be responded to first by police. In fact, most of those calls should have other professionals who are ready to respond and be there and be attentive. Some of them might be responded to with a professional and a police [officer], but the police shouldn't be the front, shouldn't be the face of those responses." 
Barros reiterated that reforming how the city responds to issues "will mean budget changes."
"That will mean moving resources around, so that we can create a whole new system for how Boston responds to these things," he said.
Barros also pledged to implement recent recommendations by a city-commissioned police reform task force.
"I'm going to work with the police officers who get it," he said. "We're going to work with leadership who gets it and is ready in fact to have the hard conversations of the kind of transformations that we're ready to do."
Get Boston.com's browser alerts:
Enable breaking news notifications straight to your internet browser.