Politics
Why did New Hampshire's two Democratic senators vote against a $15 minimum wage?
"We need a path forward that is appropriate for workers and small businesses and could actually pass."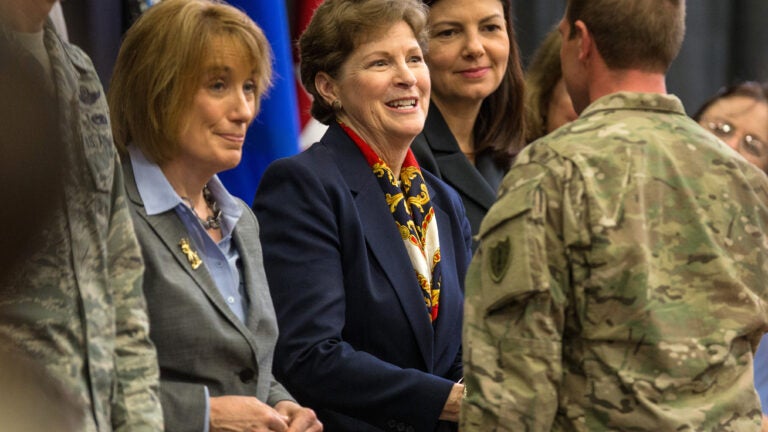 New Hampshire's two senators, Jeanne Shaheen and Maggie Hassan, want to raise the federal minimum wage.
They just don't want to do it as part of the massive COVID-19 relief bill working its way through Congress.
The two New Hampshire Democrats were among the 58 senators who voted on Friday to uphold a procedural objection to a proposed amendment to the relief bill by Sen. Bernie Sanders that would have incrementally raised the federal minimum wage — which has idled at $7.25 an hour since 2009 — to $15 an hour by 2025.
Shaheen and Hassan were joined by fellow Democratic Sens. Joe Manchin, Kyrsten Sinema, Tom Carper, Chris Coons, and Jon Tester, as well as independent Maine Sen. Angus King and all 50 Republican senators in opposition to the amendment.
Every other Democratic senator, including Massachusetts Sens. Elizabeth Warren and Ed Markey, voted in favor.
The vote Friday came after the Senate parliamentarian, an official who interprets procedural rules, said last week that the minimum wage hike could not be included in the $1.9 trillion dollar relief bill because it did not meet the budgetary requirements of the reconciliation, a process that allows legislation to be passed by a simply 50-vote majority (therefore averting the now-routinely used legislative filibuster that requires bills to get 60 votes to pass).
However, Sanders urged his Democratic colleagues in the 50-50 split Senate to ignore the ruling, calling it "absurd that the parliamentarian, a Senate staffer elected by no one, can prevent a wage increase for 32 million workers."
President Joe Biden has also stood by his support for a federal minimum wage of $15 an hour.
Asked why the New Hampshire senators broke with the vast majority of their party on the vote Friday, aides to Shaheen and Hassan pointed to separate interviews they gave earlier this week with WMUR.
Both senators have called for raising the federal minimum wage to $12, but said it should be done in a separate bill.
Shaheen's office said Friday that the senator supports raising the minimum wage to $15 an hour, but with "safeguards" in place for small businesses and restaurants that have been particularly hard-hit by the pandemic. In her interview with WMUR, Shaheen also expressed concerns about local nursing homes already struggling to employ people "because of the wage scale."
.@SenatorHassan was also a "no" on the $15/hr minimum wage procedural vote. In an interview with @WMUR9 earlier this week she told @WMUR9 she, like @SenatorShaheen, backs a separate bill to increase the minimum wage. #NHPolitics #NHSen #WMUR pic.twitter.com/2ZJX1pi1d8

— Adam Sexton (@AdamSextonWMUR) March 5, 2021
In a statement Friday afternoon, Hassan said she was "open" to a $15 minimum wage, but also focused on a bill that "could actually pass."
"People who work 40 hours a week should be able to get by and shouldn't be living at or below poverty level," Hassan said. "I've long supported raising the minimum wage to $12 an hour and I'm open to $15 an hour. We need a path forward that is appropriate for workers and small businesses and could actually pass."
While the $15-an-hour minimum wage has increasingly caught on in cities and states across the country over the past decade, Republicans have largely resisted those efforts, though Sens. Mitt Romney and Tom Cotton recently introduced a bill to raise the federal hourly minimum wage to $10.
Prior to the pandemic, researchers found that incremental minimum wage hikes had little effect on employment, though a recent government study reignited the long-running debate.
New Hampshire is the only New England state that hasn't raised its minimum wage to at least $11.50 an hour (Massachusetts, Connecticut, and Rhode Island are all on track to raise it to $15 an hour in the coming years). In fact. the Granite State's minimum wage remains at the federal floor for $7.25 an hour.
In each of the past two years, the then-Democrat-controlled New Hampshire state Legislature passed bills to raise the state's minimum wage to $12 an hour over three years. Each time, Republican Gov. Chris Sununu vetoed the bills.
Get Boston.com's browser alerts:
Enable breaking news notifications straight to your internet browser.