Politics
Massachusetts will officially move to Phase 4 of the reopening plan Monday, even as some advocates urge more caution
Gov. Charlie Baker's administration confirmed Thursday that the first step of Phase 4 will begin next week, a move some groups called "unacceptably dangerous."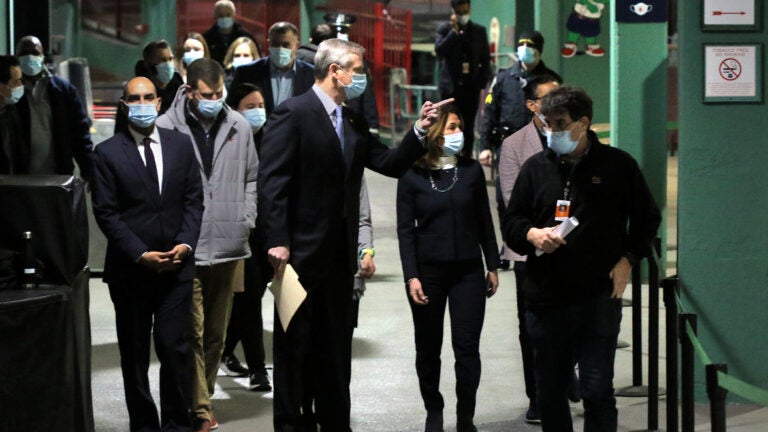 Massachusetts is moving forward with plans to begin the fourth and final stage of the state's reopening plan next week, even as a coalition of community groups urges Gov. Charlie Baker to reconsider.
After announcing tentative plans last month, the Baker administration confirmed Thursday that the state will enter the first step of Phase 4 of the plan Monday. The move will allow indoor and outdoor stadiums — such as TD Garden and Fenway Park in Boston — to reopen under a 12 percent capacity limit.
Officials indicated Thursday that those capacity restrictions will be eased over time if favorable trends in the state's COVID-19 rates continue.
While many settings — from nightclubs to amusement parks — included in Phase 4 must remain closed, the step Monday also allows exhibition and convention halls to reopen, permits dance floors at weddings and other events, and paves the way for overnight summer camps to resume this summer. The state is also relaxing gathering limits for event venues and public settings to 100 people indoors and 150 people outdoors, while private gathering limits will remain at a maximum of 10 people indoors and 25 people outdoors.
Public venues remain subject to the state's mask mandate, as well as other sector-specific safety rules and guidelines.
When he first announced the plans on Feb. 25, Baker said the move to Phase 4 depended on whether the state's "public health data continues to get better," after the precipitous drop in COVID-19 infections and hospitalizations since early January.
While the steep decline that occurred through mid-February has somewhat flattened both in Massachusetts and across the country, Baker's office noted Thursday that statewide hospitalizations and deaths due to COVID-19 are down 20 percent and 24 percent, respectively, since the beginning of March, when the state last relaxed restrictions. The state's average positive test rate also remains below 2 percent.
At the same time, nearly 1 million Massachusetts residents have been fully vaccinated against COVID-19, including many of the state's most vulnerable populations. Baker said Wednesday that he took "a lot of comfort" from the fact that 75 percent of residents over the age of 75 and two-thirds of residents over the age of 65 have gotten at least one dose of a vaccine, in addition to most health care workers and nursing home residents.
However, a coalition of health equity advocates say that's not enough.
In a letter Thursday to Baker, the Massachusetts Public Health Association implored the governor to delay changes affecting indoor public venues for at least four weeks.
"Moving to the next stage of reopening before sufficient numbers of people have been vaccinated is both premature and reckless," MPHA Executive Director Carlene Pavlos said. "We implore the Governor to be patient and to prevent more avoidable illness and loss of life."
Given the increased risk of COVID-19 spread inside, the group specifically objected to the easing of gathering limits for indoor venues to 100 people, as well as the opening of convention halls, overnight camps, and dance floors at indoor venues. They also noted the state's move to Phase 4 comes amid the rise of more contagious variants of COVID-19, as well as the Baker administration's move to require K-8 schools to resume in-person classes five days a week next month.
And while the group acknowledged the "instrumental" role of vaccines in the reopening process, they noted that the vaccination rate among people of color in Massachusetts has lagged disproportionately behind their white peers (state officials have attributed the disparities to some of the state's age-based eligibility requirements, in addition to other structural barriers).
Advocates say that means the risks in reopening will not be borne equally.
"Delaying further reopening of indoor venues by a minimum of four weeks will allow the state time to better assess these threats and make appropriate decisions at that time," said the letter Thursday, which was signed by 28 groups. "Moving forward now in the face of these threats to our recovery – threats that will be disproportionately borne by workers, schools, and communities of color — is unwise and unacceptably dangerous."
Top national disease experts — including Dr. Anthony Fauci and Rochelle Walensky — have sounded similar notes, generally urging states to be more cautious as the decline in cases plateaus.
"If we do this and start coming up, then we're going to go right back to the road of rebounding," Fauci said on CNN last month, noting how cases spiked last summer in many states after they relaxed their rules, forcing them to reimpose restrictions.
Asked about Fauci's comments, Baker said at the time that his administration is constantly reassessing the public health data in Massachusetts. Given the decline in cases and the vaccination of those who are most at risk to complications due to COVID-19, he said it was "appropriate to make some adjustments."
"We will continue to review the data every day and every week," Baker said. "And if we see stuff in the data that concerns us, we'll make adjustments again."
Get Boston.com's browser alerts:
Enable breaking news notifications straight to your internet browser.