Politics
Kim Janey is Boston's first Black mayor. A local historian broke down the significance of the milestone.
"This is going to be a watershed moment."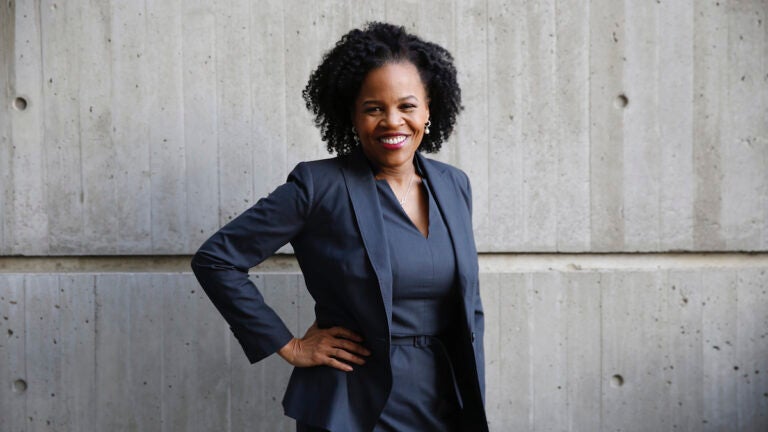 Kim Janey's time in the mayor's seat marks a historic moment in a city whose history and progressive politics have influenced a nation for centuries, yet which has long eluded this particular milestone.
As of Monday, Janey, the former City Council president, is now Boston's first Black mayor.
The 55-year-old District 7 councilor and Roxbury native — who is also the city's first woman mayor — became acting mayor after Mayor Marty Walsh resigned Monday to serve as secretary of labor to President Joe Biden.
While her powers as acting mayor are somewhat limited, Janey has emphasized in she intends to carry out what needs to be done as Boston continues to face the staggering ramifications of the COVID-19 pandemic and works through the phases of the vaccine rollout.
Janey is also quite aware of what this unprecedented moment means for the city.
"I just feel incredibly humbled to be stepping into this role as the first woman and the first Black mayor for Boston," Janey told The Dorchester Reporter in February.
She can remember her childhood in the 1970s during Boston's desegregation of schools, or "busing" era. Rocks were thrown at her school bus windows as a then-11-year-old Janey was trying to go to school — experiences she described as "the darkest days in our city."
"To think, all these years later, that I am poised to become the first Black mayor of Boston is incredibly humbling," Janey told the Reporter. "I think about what that means for my grandchildren, particularly my 6-year-old granddaughter, that she can look to the Mayor of Boston and see herself reflected— and what that means for all children of color throughout our city— more than that, what it means for all kids to see what is possible in our great city and to see what leadership looks like."
But as Janey looks towards the future, one local historian says there's already a mighty chorus of women from Boston's rich Black history whose legacies Janey joins.
Kabria Baumgartner, associate professor of American studies at the University of New Hampshire, sketched out Janey's place within the centuries of work of her political grassroots predecessors in a recent piece for The Washington Post.
Baumgartner, who studies 19th century African American life and culture, sees a through-line connecting Janey through leading women as far back as 1831, when Maria Stewart, the first publicly known Black woman political writer and lecturer in the country, published her pamphlet, "Religion and the Pure Principles of Morality," calling on Black Americans to fight racism and slavery.
Stewart was also a strong advocate for education, and was especially passionate about Black women pursuing knowledge — one of several trailblazing Black female educators from the 1800s, according to Baumgartner, who sees a natural connection to Janey.
'Raised in rich black soil'
Before she was elected to the City Council in 2017, Janey was the senior project director at Massachusetts Advocates for Children, pushing for policy reforms in Boston Public Schools — one entry in her resume of activism advocating for the city's youngest residents that dates back over 20 years.
During the lead-up to her first-term election to the council, Janey, the daughter of two educators, told The Boston Globe she had "dedicated my entire life to education, for children and for families."
During her victory party, she spoke of her granddaughter and vowed to work to make certain she will see her grow up in "the neighborhood that gave me so much," the Reporter wrote at the time.
"I'm a Roxbury girl raised in rich black soil," she told her supporters, borrowing the quote from a local artist.
Nearly 200 years before Janey's time, Black women were planting the seeds that would someday bring their successors to the seats of power and to becoming the makers of change.
On the frontlines, they pushed for equal rights in schoolhouses around Boston, Baumgartner highlights in her piece.
A state law adopted in Massachusetts in 1855 ultimately prohibited school committees from considering a student's race when placing them in public schools. The Black activist leader William Cooper Nell credited Black women and girls such as Charlotte Forten who collected petition signatures, lobbied, and raised money, Baumgartner wrote.
Generation after generation, new advocates built on the progress of those before them into the 20th century — Melnea Cass among them in the 1940s and 1950s. Cass, known as "The First Lady of Roxbury," took on issues such as housing discrimination, school segregation, employment, and voter intimidation, Baumgartner noted in her article.
"There's this great tradition of Black women's grassroots activism and organizing," Baumgartner said in a recent interview. "And that really has paved the way for this sort of newfound representation of Black women in formal politics."
The changing face of Boston City Hall
Indeed, Boston has seen a change in recent years in who sits in its halls of power. Janey presides over the most diverse City Council in history, with a majority of councilors being women and also people of color.
Three of them — Michelle Wu, Andrea Campbell, and Annissa Essaibi George — are now running for mayor in this year's election in hopes of holding the office for a full term. (Janey has not indicated whether she will join the race and has told reporters lately that she remains focused on the transition from Walsh.)
Baumgartner looks to Janey, Campbell, U.S. Rep. Ayanna Pressley, and Danielle Allen, a political theorist at Harvard University currently exploring a possible run for governor, as among those who have followed the first round of local Black women elected to office, such as former Boston School Committee member Jean McGuire and former state Rep. Doris Bunte, who passed away last month at 87. Both were the first Black women to serve in their respective bodies of government.
She said the recent shift of more women of color seeking and holding office and bringing new issues to light is "particularly inspiring and motivating" for her.
"I think there may have been, at least in the past, quite a few Black women who didn't see themselves as political leaders, formally," she said. "And now, they're seeing that possibility and they're seeing the opportunity, and they're connecting it to what it's going to mean to help their communities. And I think that's something that's very — it's very powerful."
Earlier this month, Janey told the Globe the work of Bunte and Cass and Mel King, the former state representative and first Black candidate to advance to the final election for mayor of Boston, influenced her.
"That spirit of activism shaped me and who I am," Janey said. "It's why my focus is on racial equity."
The changing face of Boston City Hall is particularly significant in a city that has long struggled with race — a dueling reality with the city's reputation as a hub of progressive politics in one of the country's most liberal states.
Boston gave birth to public education in the United States and was the predominant home of the nation's abolitionist movement. For the past two decades, Boston has been a "majority-minority" city, where residents of color account for most of the population.
But stark racial disparities persist. A 2015 report by the Federal Reserve Bank of Boston, Duke University, and the New School found that the median net worth for non-immigrant, African-American households in Greater Boston is $8 compared to $247,500 for white households.
A Boston Globe Spotlight investigation in 2017 highlighted numerous other inequities that remain embedded, from a stagnant number of Black students at local colleges and universities to discriminatory treatment in housing and disproportionately low representation in government and corporate board rooms.
The time to listen
In her work, Baumgartner describes Boston as "Janus-faced." A Black mayor is long overdue, she said.
"I think there's … a civil rights history in Boston. Some of us know it, some of us don't know it as well," she said. "And I mean, in some ways, if we knew that history, we would know why it has taken this long to see … Black women's representation in formal politics in Boston, if we sort of, you know, remembered that history."
Baumgartner admits she's "not in the business of predictions," but, on the cusp of witnessing history — living history — adds this point in time "is going to be a watershed moment."
She's excited by the next generation of Black women lawmakers and what policies they'll create and issues they'll advocate for, she said.
"Now is the time to listen, really, to Black women leaders in politics, formal and informal, and to hear what they have to say, what policies they wish to promote, how they're going to govern, how they define leadership. I think this is the moment for us to be listening pretty intently and intensely as well," Baumgartner said. "We have to listen to them, and we also have to be ready to listen to them. And I get the feeling that we are ready."
Get Boston.com's browser alerts:
Enable breaking news notifications straight to your internet browser.