Politics
Charlie Baker backs Massachusetts's strict gun laws as a national model
An assault weapons ban. Expanded background checks. Red flag laws. The Republican governor says it would look "real good as federal policy."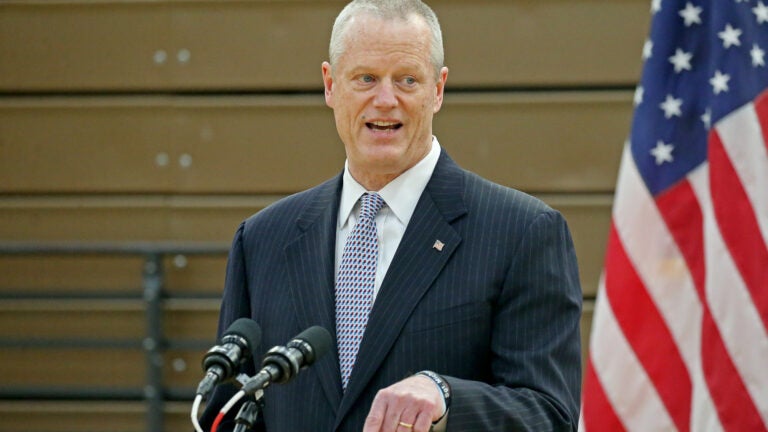 As Democrats in Washington, D.C., again push for stricter federal gun laws in the wake of two mass shootings that killed 18 people in the span of less than a week, Gov. Charlie Baker said Wednesday afternoon that the country would be well served to replicate the tight rules in Massachusetts.
"I think what we've done here in Massachusetts has worked, and worked well," Baker, a Republican, said during an interview on GBH, when asked if he would lobby Republicans in the Senate to support federal gun law reforms. "And if I could be a voice to share that with folks at the national level, I'd be happy to do that."
Baker said he didn't know the specific details of President Joe Biden's proposal, which includes a ban on assault weapons and an expansion of background checks for gun sales. Democrats have long called for stricter gun laws, though any such bill faces uncertainty in the evenly divided Senate, where it would need votes from at least ten Republicans to reach the 60-vote threshold needed for most legislation.
Baker, a rare Republican who has received endorsements from gun safety groups, said Wednesday that he would support Biden's proposal "if most of the stuff that's in there is consistent" with what Massachusetts has on the books, including the so-called "red flag" law he signed in 2018. The state also has a ban on assault weapons and high-capacity magazines, as well as near-universal background checks for gun sales and transfers.
"I think what Massachusetts has done is terrific, and I would be perfectly happy to argue that a lot of that stuff would look real good as federal policy," Baker said, adding that he "absolutely" supported a federal assault weapons ban.
According to the Centers for Disease Control and Prevention, Massachusetts had the lowest rate of gun deaths of every state in the country in three of the last five years. In the other two years, the state had the second-lowest rate.
Get Boston.com's browser alerts:
Enable breaking news notifications straight to your internet browser.