Politics
'A new day': Kim Janey sworn in as Boston's first Black, woman mayor
"I come to this day with life experience that is different from the men who came before me."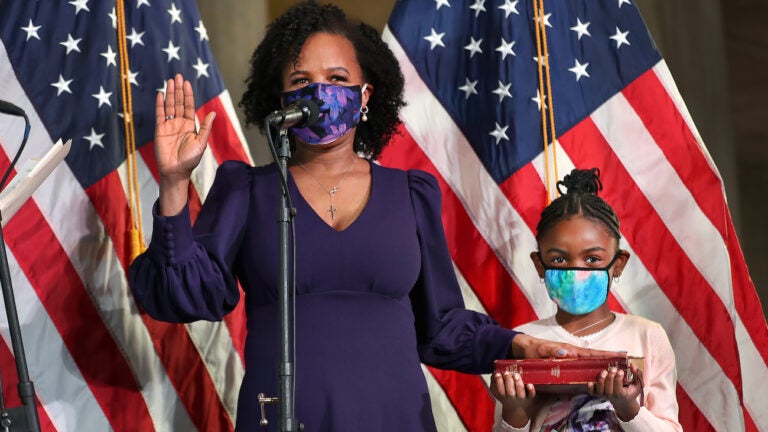 Kim Janey, a former education advocate turned city councilor, raised in Roxbury, who endured Boston's busing era as a child and was a single mother, was sworn in Wednesday as the city's first Black and woman mayor.
The historic ascension arrived on the heels of former mayor Marty Walsh's resignation to become the U.S. secretary of labor and placed Janey, the District 7 city councilor, as acting mayor — the 55th chief executive in nearly 200 years to hold the office, previously only held by white men.
"Today is a new day," Janey said shortly after taking the oath of office. "I stand before you as the first woman and the first Black mayor of Boston, the city that I love. I come to this day with life experience that is different from the men who came before me."
Wednesday's ceremony in ways both direct and subtle paid homage to Janey entering the ranks of trailblazers and the future, with this milestone now reached, that lies ahead.
Chief Justice Kimberly Budd, the first Black woman to lead the state's Supreme Judicial Court, administered the oath of office to Janey, who stood beside her 6-year-old granddaughter, Rosie.
In the audience sat four generations of Janey's family, including her mother, Phyllis. Under Janey's hand was the family Bible, once owned by her maternal grandfather, a Baptist preacher.
"This is a proud day for the city of Boston and all Bostonians," Rep. Ayanna Pressley, the first Black woman to represent the state in the U.S. House of Representatives and Bostonians on the City Council, said while introducing Janey. "But I know this has a special meaning for those who dared to dream a different future for our city across the generations. Today, that seemingly improbable dream is a reality."
Inheriting a city facing the throes of the COVID-19 pandemic and longstanding racial and economic disparities, Janey, 55, vowed to deliver "bold, courageous leadership," beginning with "an unrelenting focus" on the once-in-a-century health crisis.
She pledged to work to make more testing and vaccines available, particularly in communities hardest hit by the virus.
"In my administration, there will always be a place for those who have felt left out of power," Janey said. "And I will also welcome those who have held power to join us in building a better future."
Here's what else Janey said during her first speech as acting mayor:
On those who came before her and where she's been
As a child, Janey spent her life between Roxbury and the South End. She recalled the aunts, uncles, grandparents, relatives, family, and neighbors that supported her — her own "village," she said.
"But when I was just 11 years old, school busing rolled into my life. I was forced onto the front lines of the 1970s battle to desegregate Boston Public Schools," Janey said. "I had rocks and racial slurs thrown at my bus simply for attending school while Black."
Janey acknowledged she had to grow up quickly when she became a mother during her high school years. She remembered cleaning bathrooms to afford Smith College "to give my daughter everything she needed to succeed."
Community organizing ultimately inspired Janey into working in education advocacy and at the nonprofit Massachusetts Advocates for Children, where she sought to promote equity in Boston Public Schools.
When Janey's three teenage grandsons were born, Boston had never seen a Black woman serve on its City Council.
"Today, my 6-year old-granddaughter, Rosie, and other little girls can see themselves represented in Massachusetts highest court, the halls of Congress, and now, in the 55th mayor of Boston," Janey said.
Grateful for the inspiration of Pressley and Budd, Janey acknowledged the Black Americans and women whose work led to the historic occasion on Wednesday. 
Both Budd and Pressley "are part of a long line of Black women in our city who have broken down barriers, women called to lead: whether activism, like Melnea Cass; journalism, like Sarah-Ann Shaw and Liz Walker; or public service, like Doris Bunte, Jean McGuire, and our district attorney, Rachael Rollins," Janey said. "I stand on their shoulders."
Pressley shared a similar sentiment through reciting the words of Dr. Martin Luther King Jr.: "We are not makers of history; we are made by history."
"The historic ascension of Kim Janey which we celebrate today is not an individual achievement," Pressley said. "It is the culmination of the ancestors prayers, their hopes, dreams, struggles, and achievements. Some we may know by name, many more we don't, but we are the beneficiaries nonetheless of their sacrifice."
Pressley first met Janey while serving as city councilor and remarked about the change the city has seen in its politics since then. 
As City Council president, Janey oversaw the most diverse incarnation of the body in city history — its current make-up: the majority of the councilors being minorities and women.
"It is incredible to consider just how far we have come," Pressley said. "We have borne witness to a shifting political landscape. We have seen great and historic strides made in leadership parity in the corridors of power and around policy and decision-making tables. Kim Janey has been a profound force in that transformation."
On COVID-19 in Boston 
As Boston and the country at large continue to face the health and financial hardships of COVID-19, Janey pledged to work with federal, state, and local officials to increase testing and vaccination access across the city.
"Our recovery must include working together on behalf of our children," Janey said.
To that end, the acting mayor said the city must safely reopen its schools and vaccinate teachers, invest in "summer opportunities" for students, and work with district leaders to rally others in the city "to help our children recover, academically and emotionally."
"I've worked for over 20 years to increase equity and excellence and education for all students in Boston Public Schools," Janey said. "Too many of our kids are hurt by an opportunity and achievement gap that limits their true potential. The isolation that many students experienced during this pandemic has only made things worse. We must do everything in our power to support our teachers and ensure every student succeeds."
Speaking to reporters Wednesday afternoon, Janey affirmed city officials must continue to monitor public health data to track virus spread and expressed support for the work of mobile vaccination clinics to meet residents "where they are."
Janey also said she has been in touch with Gov. Charlie Baker about the vaccine rollout.
"We have to get the vaccine out so that we can continue to open up businesses, get workers back to work, particularly those who were displaced and let go of when the pandemic began," she said.
On the issues ahead
The pandemic has "laid bare" issues that have long challenged the city: affordable housing, fair wages, public transportation, and climate change among them, Janey said.
"What's different is that these problems now impact even more of us," she said.
Janey vowed to maintain an equity lens for carrying out her work as acting mayor, including in the city's pandemic recovery.
"Today in the city of Boston, we have an enormous wealth gap. The median net worth for Black families is just $8," Janey said. "Eight dollars is not an accident. It is the product of discriminatory policies that we have all inherited. We need to call it out, and we need to implement new policies to address it."
She pledged to act on the racial disparities present in how the city awards public contracts  "with creative new solutions" aimed at increasing the number of minority-owned businesses that work with the city and with new strategies to hold City Hall accountable.
"The time for action is now," Janey said. "Dismantling systemic racism also includes reforming how we police our city. As City Council president, I have advocated to address racial profiling and excessive use of force and banned the use of facial recognition software. As mayor, I will continue to be an advocate and lead the implementation of these reforms, together, working with our police department."
Janey said she will serve to be a "mayor for the entire city, for every neighborhood, and for you."
"If we all work together, there is nothing that Boston can't accomplish," she said.
Get Boston.com's browser alerts:
Enable breaking news notifications straight to your internet browser.