Politics
Here's what Amtrak's vision for 2035 looks like for New England
The national passenger rail operator's "bold vision" includes new service in Maine, Massachusetts, New Hampshire, and Vermont.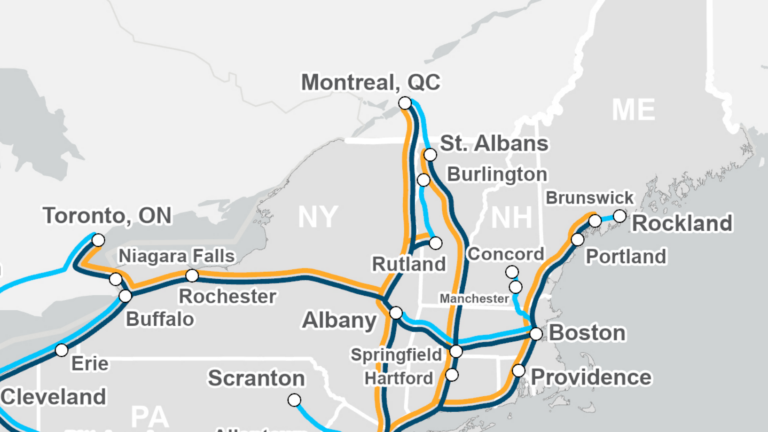 Amtrak says it could reach "millions" of new customers with increased funding from President Joe Biden's new infrastructure plan — including some in New England.
Following the release of Biden's plan Wednesday, the quasi-public national passenger rail operator released a new version of its 2035 expansion proposal, which includes more than 30 new routes and more frequent service on over 20 lines (you can view the full map here). According to Amtrak, the plan could serve up to 160 new communities across the country over the next 15 years.
Several of them would be a short trip from Boston.
Amtrak's proposal includes a new route from Boston north to New Hampshire, including stops in Manchester and Concord. It also includes extending the Amtrak Downeaster line in Maine past Brunswick to Rockland, which officials have been considering for several years. And there would be new connections between Rutland and Burlington, Vermont, as well as a new route connecting St. Albans, Vermont, with Montreal, which would allow people in Massachusetts to take the Vermonter line directly from Springfield into Canada.
The vision also includes "new service" between Springfield and Boston, which is currently served by just a single daily two-hour Amtrak train. A state study released this past January found that a so-called "east-west" rail link between Boston, Worcester, Springfield, and Pittsfield could serve between 922 and 1,554 passengers each weekday, depending on the speed and frequency of the trains.
There would also be enhanced service along the two north-south Amtrak lines running through New England.
Amtrak has yet to provide more details on what the new and enhanced service in the region would look like but says it plans to do so soon.
"In the coming weeks, Amtrak will present to Congress our reauthorization plan that will include expanding service in key city pairs that are not served well by passenger rail today," Jason Abrams, a spokesman for the rail agency, told Boston.com in an email Thursday.
Biden's sweeping $2 trillion infrastructure plan calls for a total of $80 billion in new rail funding to address Amtrak's repair backlog, modernize the Northeast Corridor, improve existing corridors, connect new cities, and enhance programs to support passenger and freight rail safety, efficiency, and electrification, according to the White House.
With that funding, Amtrak — which is publicly funded and privately operated — said Wednesday that it would be able to execute on many of those goals, including improving Northeast Corridor trip times and expanding service to underserved communities across the nation.
The proposal would be the first major expansion in the 50-year history of the agency, which was approaching profitability prior to the COVID-19 pandemic. Since its creation in 1971, Amtrak has barely seen any changes to its route map and has faced local opposition to expansion in some parts of the country, as The New York Times recently reported. However, Amtrak CEO Bill Flynn said Wednesday that Biden's plan could finally set those plans in motion.
"Amtrak has a bold vision to bring energy-efficient, world-class intercity rail service to up to 160 new communities across the nation, as we also invest in our fleet and stations across the U.S.," Flynn said. "With this federal investment, Amtrak will create jobs and improve equity across cities, regions, and the entire country – and we are ready to deliver."
Get Boston.com's browser alerts:
Enable breaking news notifications straight to your internet browser.