Politics
Acting Boston Mayor Kim Janey enters race to seek a full term
"The work to address the challenges we face from COVID and racial inequalities that have been inherited from centuries of structural racism will take longer than a few months to change."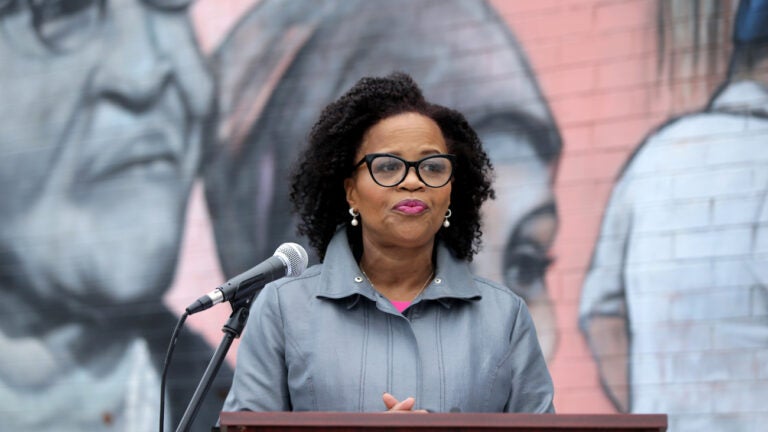 With a call for bold leadership to address deep-rooted inequity as Boston climbs out of the COVID-19 pandemic, acting Mayor Kim Janey announced Tuesday she will seek a full term as the city's chief executive this fall.
"The work to address the challenges we face from COVID and racial inequalities that have been inherited from centuries of structural racism will take longer than a few months to change," Janey said at a press conference in Roxbury's Nubian Square. "It is going to take fearless leadership, bold action, and a commitment to doing the hard work to make Boston the equitable city our residents want, need, and deserve — and I am 100 percent committed to leading this change."
Janey, 55, the District 7 city councilor and former City Council president, was elevated to her current post two weeks ago following former mayor Marty Walsh's departure to serve as the U.S. secretary of labor.
An education advocate-turned-politician, Janey is the first Black and woman mayor in the city's history. With her candidacy, she joins a burgeoning field of diverse candidates, made up solely of people of color, the majority of whom are women.
In a campaign announcement video released earlier Tuesday morning, Janey paid homage to Boston's trailblazing Black leaders of the past and present, from Mel King, the former state representative and first Black candidate to advance to the final election for mayor of Boston, to Congresswoman Ayanna Pressley.
I am leading Boston through a lens of equity, justice, and love — but I know the challenges we face will take longer than a few months to overcome. I am running for a full term as Mayor to ensure a better, stronger city for every Bostonian.

Join us: https://t.co/DW05r0zErI pic.twitter.com/ZZoA4AEGrO

— Kim Janey (@Kim_Janey) April 6, 2021
Janey said her life experience stands alone from that of her predecessors at City Hall.
"As a daughter of Roxbury and the South End, I understand the challenges so many of our residents are facing from structural racism, food and housing insecurity, failing schools, and faltering public transportation hurdles to homeownership and the fear for our families' and neighbors' safety," she said. "I understand these challenges, because I have lived them.
"Those experiences inform how I govern and how I will lead the city through a lens of equity, justice, and love for every Bostonian," she added.
As the coronavirus pandemic continues, Janey said the city must continue its focus on equitable vaccine distribution and economic assistance to those in need. She also called for the safe return of students and teachers to brick-and-mortar classrooms.
To that end, she touted her efforts last month to launch a city hotline for vaccine appointments for residents who have been hit disproportionately hard by the pandemic and a $1.5 million grant initiative to partner with community groups to help boost vaccine awareness and access for those communities.
Last week, her administration allocated $50 million for COVID-related rental relief, and the city began offering free MBTA and Bluebikes passes to 1,000 workers in a pilot program centered on determining how financial incentives impact commuting behavior amid a COVID-19 recovery. Janey said Tuesday she has a goal of providing 5,000 summer jobs for city teenagers.
Janey also vowed Boston cannot return to the same problems the city faced before the health crisis.
"We need to reimagine policing in our city," she said. "We also need a greater focus on the root causes of crime: The lack of economic opportunity and education system that leaves too many kids behind, and the lingering and untreated trauma that infects too many of our neighborhoods."
Asked about that work, Janey said reforming law enforcement is "not just about overtime" spending, which the City Council has been trying to rein in to meet budget goals set by Walsh to reallocate part of those funds to other city programs.
"It is about how we reimagine our response to crisis in the city, and working very closely with the police department to lead change and reform that looks at a broad range of issues," she said.
Janey also said Boston must have a "world class transportation system" and emphasized the need for "building housing that actually works for the residents of Boston."
"We need housing for working families that are being displaced, and we need to make home ownership, and the generational wealth that it creates, possible for those who have for far too long been denied the American dream," she said.
With her bid for a full term, Janey could follow in the steps of the late former mayor Tom Menino.
Menino served as acting mayor in 1993, after his predecessor, Ray Flynn, was tapped by then-President Bill Clinton to serve as U.S. ambassador to the Holy See. Menino went on to win a full term, and ultimately became Boston's longest serving mayor before leaving office in 2014.
At City Hall, Janey is referred to as "Mayor Janey" in official communications and among employees, with the "acting" part of her title absent — a distinction some have said may play into the advantage of incumbency during election season.
Asked Tuesday about a potential leg up in the race in a similar vein as Menino, Janey said she is "very focused on delivering for the residents of Boston."
"And I will leave any speculation around advantage or leg up to the political pundits," she said.
Get Boston.com's browser alerts:
Enable breaking news notifications straight to your internet browser.