Politics
'Don't do this job in fear of losing it': Kim Janey got advice from mayors of 2 other major cities. Here's what they said.
"The critics are everywhere."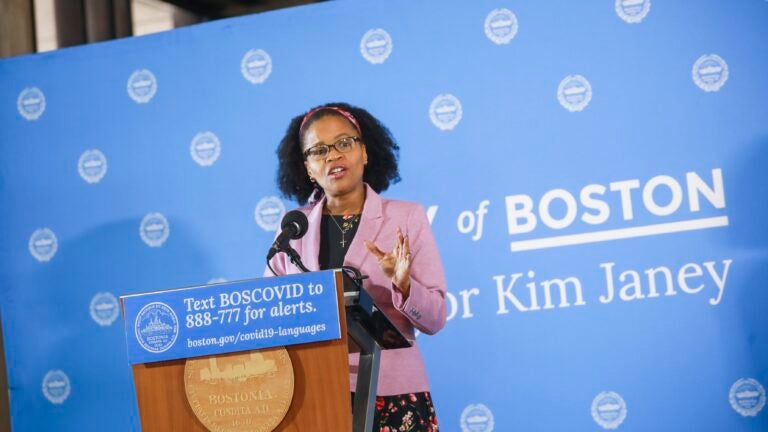 Stay true to who you are. Stand for something meaningful.
Those are among the words of wisdom two Black, female mayors offered Thursday to the latest woman to ascend to their rank, Boston's acting Mayor Kim Janey.
In a virtual panel discussing the role municipal leaders play in creating inclusive and diverse innovation economies, hosted by MIT's Sloan School of Management, Janey was given advice for her job from two of her contemporaries: mayors London Breed and Lori Lightfoot, of San Francisco and Chicago, respectively.
"You have a vision — and make sure that your team understands it, that they're very focused on executing on your vision, and don't let the critics throw you off," Lightfoot told Janey. "The critics are everywhere."
Janey took office last month, setting new precedent as the city's first Black and first woman mayor after former Mayor Marty Walsh resigned to become the U.S. labor secretary.
The history-making nature of her tenure is one both Lightfoot and Breed know well. Both mayors marked the similar "firsts" in their own cities.
Breed was elected as San Francisco's first Black woman mayor — the second woman to hold the office in city history — in 2018 and was re-elected for her first full term the following year. Lightfoot was also elected in 2019, becoming Chicago's first Black woman mayor as well as the city's first openly gay mayor.
"Don't do this job in fear of losing it," Breed told Janey on Thursday. "I say that because it's just like what Mayor Lightfoot said: Stay true to who you are because you're going to have to make really hard decisions, and there are going to be some people who love you for it and there are going to be some people who don't love you for it.
"And at the end of the day, you know, what does your gut tell you? What does your faith tell you? Why are you in this position in the first place?" Breed added. "Never lose sight of that."
Here's some other advice the two mayors had for Janey:
Chicago Mayor Lori Lightfoot
Lightfoot told Janey she keeps a copy of Theodore Roosevelt's "The Man in the Arena" speech, which she refers to as the "Woman in the Arena," for inspiration.
"The biggest takeaway of course is it's not the critics who count," Lightfoot said. "No one will walk in your shoes like you do. No one's going to bear the weight and responsibility, but also the awesome opportunity that you now have as mayor.
"And the way in which you are going to set a different course for the history of your city, just by virtue of who you are, where you come from, what your values are, the ripple effect across the entirety of Boston and the surrounding area will be significant," Lightfoot continued. "Do not underestimate your power and what you can do, simply by your presence."
Lightfoot also drew inspiration from another quote, one from the Bible: "Faith without works is dead."
"You can't be a leader without leading and setting the course, and holding people accountable, and being bold in this moment," she said. "You know, after a history of never having a person of color, never having a woman as mayor of the City of Boston, you have a blank canvas on which to paint, and we are all here to support you and excited about the prospects."
San Francisco Mayor London Breed
Breed cautioned Janey against playing into the part of politics that sometimes requires appealing to one group over another.
"Either you stand for something meaningful because this is why you're here, or you don't really deserve to be here," Breed said. "Either you're willing to put it all on the line because of your values and what you care about, or what's the point? What difference is it going to make? So I would just say that no matter what, there are going to be both sides of the table. Stay true to who you are, be open minded, listen to all parties, but … do what you believe is the right thing to do."
She also advised Janey to tap into the nation's network of mayors when she needs guidance.
"Your predecessor was very active with mayors throughout the country and I think that will definitely serve you well," Breed said.
Thursday's discussion focused primarily on how each city is working to expand and promote opportunities for diversity in the economy in the face of significant racial inequity.
Janey, like her counterparts, highlighted sharp wealth disparities between white residents and people of color in Boston. Bridging the divide also requires leadership from the business community, not just the city alone, Janey said.
She also urged schools and higher education institutions like MIT to actively diversify their student bodies.
"We're talking about an innovation hub and what can we do. We've got to build that pipeline," Janey said. "For too long, too many people who look like this panel here have been denied the opportunity. We have the best universities and colleges, some of the best in the entire country, and yet the students that graduate from our public schools have less opportunity and access to get into these colleges and universities."
Janey said she takes the advice she received to heart.
"You know, trusting your gut has been advice that I have given to anyone who will listen," Janey said. "At the end of the day, you have to be able to look yourself in the mirror and lay your head on your pillow and be able to rest well knowing that you made the best decision for yourself and your community. That is how I have tried to live my life."
Get Boston.com's browser alerts:
Enable breaking news notifications straight to your internet browser.